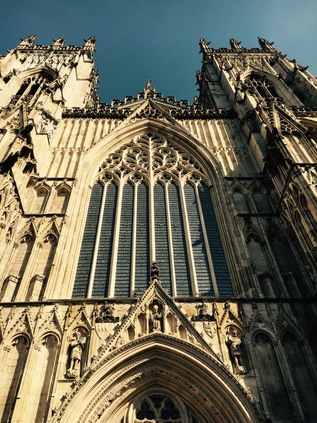 Posted in Travel on Wednesday 31st August 2016 at 5:08pm
---
It was good to be back on the road. The lead in to this long weekend away had been painful and sad, and there was a point where I feared we wouldn't get away. But as we made progress on the now-familiar stretch of motorway through Somerset and Gloucestershire, it felt surprisingly right to be heading away from home for a few days. This break had been planned for a while, and given how intense my work routine had become lately it felt absolutely necessary to be taking a proper holiday during the summer - something I've rarely ever done. After a now traditional pause at the impressive Gloucester Services we headed north and east, skirting Birmingham and heading for the M1 - the reverse of a journey we'd made at the start of the year. The traffic was heavier southbound than in the direction we were heading - the holidays were coming to an end as we set off for ours and people were heading for one final fling in the South West before normality returned. So the timing, in some senses at least, was good. The journey flew by surprisingly quickly and with less sadness than perhaps we'd expected - once again showing the power of travel and movement to quiet the mind - and after another brief break we were crossing into Yorkshire and passing the huge cooling towers of Ferrybridge. It's fair to say I didn't take many pictures during this trip - but I managed to capture the majesty of these now dormant monoliths on the skyline. We were soon in York, heading in from the A64 along a well-remembered route. Once we had checked into a curiously haphazard Premier Inn, we dashed out into the summer rain to a fine little restaurant where we lingered over great food and enjoyed genuinely friendly service. For a few days we could escape the sadness and enjoy being away from home in a city we both loved.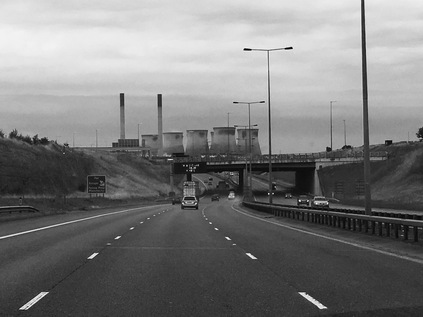 Being away for a longer while than usual, our mornings followed a familiar pattern - I'd rise early and potter around the city walls to the station where I'd get coffee and watch the world go by. York is one of the locations on the network which were early targets when I began exploring by rail. I recall my first trip to the city in the early 1990s - a quick dash around the railway museum and lots of time spent marvelling at the huge curve of the roof before heading homeward on what seemed like an impossibly long odyssey back then! So, to start each day here was a privilege - I'd only stayed in York twice before, despite many visits over the years. Our first morning though was rather unusual - as we strolled into the City to revisit Brew and Brownie - a breakfast spot we'd enjoyed on our last visit, we stumbled on the Micklegate Soapbox Run - a drag-race down the steep, cobbled city street in makeshift go-karts. We watched a team of local Fire and Rescue staff hurtling by in a surprisingly well-appointed craft while crowds cheered them on. The previous evening's rain formed a water hazard in the middle of the track, and the hyperventilating local radio DJs providing running commentary whooped loudly as the cart thundered into it. It was, in fairness, remarkably good fun - and the turn-out of locals and visitors was fantastic. As we squeezed into a busy breakfast venue, we ruminated on how people up here were more open, friendly - maybe far more likely to do that kind of thing?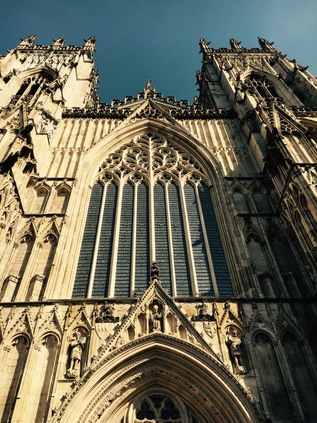 On our last visit, the pre-Christmas flooding had swollen the River Ouse to the point that many pleasure craft were marooned between the two bridges in the city centre, and we'd noted that there was a river-borne tour company operating in the city - though not during that deluge. Given somewhat calmer conditions we sought out Kings Landing later in the afternoon, and enjoyed a pleasant beer while we cruised through the city, seeing evidence of the former port and the lesser River Fosse along the way. My interest in minor waterways was piqued by the sight of the confluence, and I made notes to trace it's route on the map later. We saw it again when we tackled the City Bus tour too - curving in it's channel around the historic city, the walls of the city using it as a defensive ditch. In the pleasant sunshine the Bus Tour was a delight too - a chance to review the lie of the city and to find new corners to visit. We disembarked in the centre of the old city and navigated the narrow, overhung streets to another spot we'd wanted to visit for food: the medieval drinking hall above the beer shop at The House of Trembling Madness. After eating far too much, surrounded by ageing taxidermy in a very atmospheric room, we stumbled out to rest beside the great front of the Minster before a quick visit to the Railway Museum just before it closed. The railway interest didn't end there - as I'd booked onto a Branch Line Society tour on Bank Holiday Monday. It felt odd to be waiting with a crowd of enthusiasts on a platform again - but it was a fine trip along lines I'd not visited for years.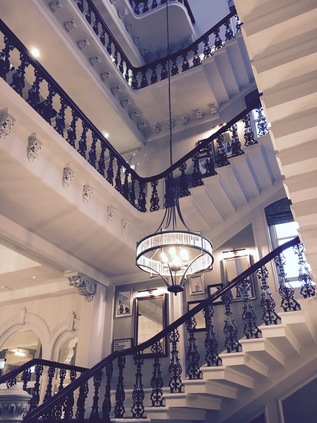 Because it felt like a temporary relief to be away we decided to stay for another night. We'd been mildly disappointed with the somewhat clumsy Premier Inn here, and as they were now charging premium prices for late bookings we ended up at the rather more upmarket Royal York Hotel. I'd always wanted to stay here. It's entrance directly onto the station made it one of that group of Railway Hotels which have always intrigued and delighted me. Indeed, it transported us back to the golden age of rail travel - classically good service in a modern reception, which led into a grand square of staircases winding up into the building. While we waited for our room to be readied, we sipped tea and coffee in the Garden Room. This felt like a special treat indeed - as did the meal in the hotel's excellent restaurant later. We had ticked another York hotel I've always been keen to visit off my list.
Heading home, later in the week than we'd planned and having had a memorable and relaxing trip, I felt almost guilty for enjoying myself. We were coming back to difficult times and sad tasks - but we were certain we'd be heading back to York again. There are few places which could have diverted us from how we were both feeling these past days, and few places which could have felt so friendly and strangely homelike when the sadness did break through. For now though, it was good to see that first glimpse of the Severn as we descended from the hills near Clevedon. Coming home won't be quite the same, but it's still home.