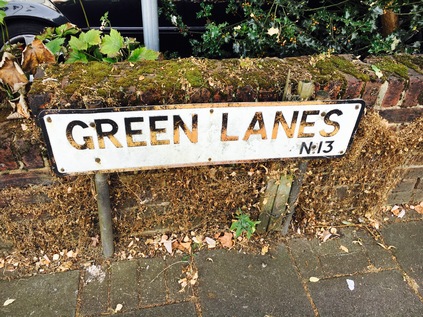 Posted in London on Saturday 3rd September 2016 at 11:09pm
---
It had been a troublesome morning... I sometimes wonder if Network Rail can tell when I really need to walk. It had been a difficult week, by turns sad and frustrating, and the opportunity to dispel some cobwebs and get out into London was welcome. As we came to rest in Swindon roughly on time, I somehow knew something wasn't right. I suppose that the ability to sniff out railway trouble is still somehow strong despite my long absence from the rails? In any case, as we finally left an hour later, even this hackneyed old rail traveller was surprised at the delay. I've never before had the entire service into London stop because a signaller couldn't be found. While there is no accounting for times when safety critical staff get taken ill, of course, the idea that no relief could be found thus stopping the job for well over 90 minutes aside from any residual delays, is startling. Somewhere in the midst of this I complained bitterly to a member of GWR staff that while I'm used to all kinds of delays and even relatively sympathetic when the railway suffers an incident way outside its control, this was pretty bad going. A nearby passenger decided to take me to task - I wasn't helping, it wasn't the staff's fault, did it matter if I was late getting to my destination? Well, despite noting that he probably wouldn't agree with my view - yes! Yes it did matter. I needed this walk. So when I finally arrived in London I wasted no time in getting over to Kings Cross where I knew there had also been early morning signalling issues. I quickly hopped onto a fast service to Finsbury Park which departed from the main trainshed - something I've not done for a good while. In just a few minutes I was disembarking and dashing downstairs, around a corner and up again despite what could have been a cross-platform change if the correct side doors were open. I decided as I collapsed into the all-too-hard seat of a tired looking Class 313 that things had been sent to cause maximum irritation today. I had to look at the positives - I was probably only an hour later than planned, and there was some slack in today's only moderately planned walk. Out of the window I could see some of the territory I'd be walking. Suburban rooftops and patches of parkland glinting green in the morning sunshine. Somewhere down there were hidden rivers, ancient tracks and unexpected corners. Things could have turned out far worse I suppose!
My walk started in earnest at Grange Park Station. A curious little place with the feel of a country halt at platform level. The silent, elevated station seemed to be nestled in an endless sea of trees and rooftops, with the land rising to distant heights to the east and west. Two little shelters and a closed coffee concession at platform level didn't signal much activity, but the ticket office and Oyster readers at the foot of the slope to the street gave away the commuter-belt role of the station at busier times. In the distance, I spied the raised ground which I'd walked just a short while back. I pondered my recent excursions into this landscape which had once been an inert, suburban gap in my atlas - realising how curious it was that so many of my walks over the past months touched on my target today: Green Lanes. This is possibly the longest 'street' in London, at least in terms of a continuously named stretch of road. Its length is testament to its history - an ancient drover's road, worn wide and flat by cattle being walked to Smithfield to be slaughtered and sold, or to the great livestock market at Caledonian Road. The road strikes an ancient path, hugging the same contour line as the New River as it makes a final approach to Islington. Along its length villages and towns have sprung up as proto-service stations, before being swallowed by the conurbation. Some of them persist only in name or memory, others have mutated into distinct settlements within the city often frequented by the Turkish and Greek families which have gravitated towards Green Lanes. Walking this route might have started as a gimmick or conceit - but it had taken on a significance which surprised even me. This approach from the north would tether Highgate to Hackney, link the heights of Alexandra Palace to the lowlands of the Lea Valley, and guide the tiny Moselle towards the mighty Thames. These northern ridges, so long just stops on an Underground map, had suddenly become vital in their ability to explain the topography of North London - and running like a single main vein through the system was Green Lanes.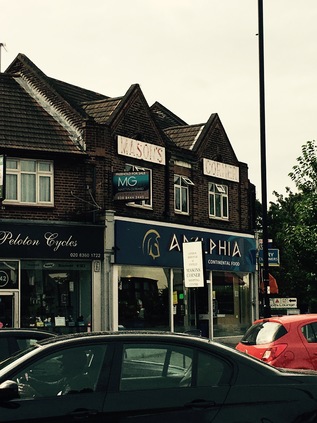 From Grange Park, I needed to make a short detour to find the start of Green Lanes. In reality it's far from the start of the track, and as I approached Bush Hill by walking a route parallel to the tiny but unseen Salmons Brook, I noted the perfectly straight course of the narrow lane from North to South. If I turned away from London now I'd soon pass through Enfield, and on to Forty Hill, this venerable road slowly aligning with the main road to Cambridge. There was a clear route here which was evidently the northern continuation of Green Lanes - but for me the course lay to the south. A raised grassy bank behind municipal railings masked the course of the New River. I would be crossing and re-crossing this old friend repeatedly on my trek, and it was tough to resist the temptation to walk its grassy bank rather than pounding the pavements today. But that could wait - and after paying my respects briefly to the river as it curved sedately under Ridge Avenue, I turned back to face the beginning of my walk. The origins of Mason's Corner appear lost - whether some local is honoured by this spot, or whether it's a play on the tools of the trade is unrecorded - and now it is marked only by a fading sign on the parade of shops facing the twisting crossroads where Green Dragon Lane meets Green Lanes. There is a dry cleaner, a Chinese takeaway, and the somewhat tired but intriguingly named 'Eagle Letting Bureau' among the premises ranged along this beginning of the road. Somewhere among these businesses is No. 949 Green Lanes - the highest numbered property I could find on the map. I set off at a fair pace - I was aware of being later than I planned, and I hadn't thought through a fitting ending for this walk at all. As I passed an almost unbroken string of small shops, I quickly realised that all of my fraught missions to find breakfast in Central London had been badly misdirected. Here, almost every second store was a café serving a genuinely all-day offering of slick, fried finery. It was hours since my on-train breakfast and the temptation to stop and take the rare opportunity to eat a morning meal was strong. In the centre of the city, breakfast is a concept only - a brief phase which establishments pass through and abandon before most people are ready to eat - especially at weekends. Brunch is no substitute at all, merely a hint at establishing a reasonable drinking hour. But in the suburbs, honest stocky men were returning to their white vans while mopping sauce and grease from stubbled chins even at this late hour. Solid tea mugs left their stains on formica tabletops in an appealingly straightforward fashion, next to mobile phones abandoned for the duration of the breakfast ritual. Nothing was artisanal or locally-produced. Everything was available in larger portions. Green Lanes is typified by these eateries - often run by generations of the very same Greek or Turkish families who have clustered around this byway, performing as local caffs by day alongside their role as busy restaurants and community meeting places. Even when the breakfast aromas ceased as the day drew on during my walk, the smell of charcoal grills replaced it and the establishments filled with young men, talking excitedly in foreign tongues while their elders watched sagely over tiny cups of impossibly strong coffee. This was a challenging walk for an unhealthily caffeine addicted carnivore.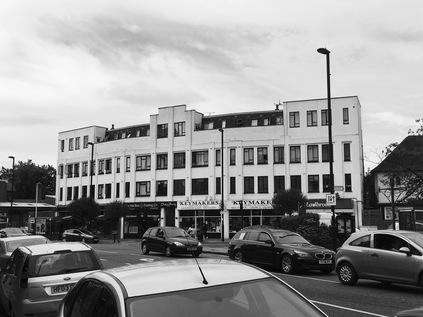 After an initial swing westwards, the road soon found its straight, southern course with the New River meandering back into line after skirting a sizeable sports ground. I was now approaching Winchmore Hill and despite its suburban character, there was a pleasing sense of this village being planned rather than evolving wholly by accident. The main shopping area was arranged around two large triangular junctions, and running between them on each side of Green Lanes were matching ranks of impressive, gabled shops with bright white stone trim. The careful curves of the shopfronts were matched by a newer, 1930s block of offices which echoed their grand facade but in freshly painted white plaster. It was hard not to feel that this was a prosperous corner on first appearances, and I reluctantly pressed on without entering any of the restaurants or stores. I was, it's fair to say, hungry and thirsty. As I progressed south, the road now converging closely with the river, I soon realised that my regular diversions into side roads to peer over the parapet of the frequent river bridges were delaying both the walk and my access to sustenance! I finally found a deceptively large Sainsbury's tucked inconspicuously behind a tall brick wall and headed inside. My frustration with the rest of humanity today quickly resurfaced as the locals of WInchmore Hill did their best to obstruct and irritate me. Once provisioned, I finally escaped back to the road and set off again with fresh determination not to converse with another soul today if I could possibly avoid it. Soon, the river parted company with the road and I turned slightly to the west towards Palmers Green. My previous, brief visit here had been in similarly hungry and challenged circumstances only a month back - but this time at least I saw a little more of the area. By far the most impressive building remains the stylishly municipal Southgate Library with its neat modern extension, which sits beside the crossroads which I'd passed on my last walk. Nearby, the road crosses the broad curve of the New River once again - but I was on the lookout for a different prize. Further south, I triumphantly spied the rather overgrown trickle of Pymmes Brook passing largely unnoticed under Green Lanes. I'd roughly approximated the route of the Brook when I walked it to avoid crossing and re-crossing major roads, but I'd missed some opportunities to see this elusive waterway winding through the suburbs here, and it was good to fill in a little more of the story. Otherwise, Palmers Green felt like a lower-rent Winchmore Hill - less symmetrical, more confused, a little more downbeat and tired.
It was also a long, strung-out sort of place, hugging Green Lanes for a little longer than was necessary or decent. In fact, the thing which finally put paid to the elongated sprawl of Palmers Green was the intrusion of the North Circular. That ever-present thundering gyratory which has slunk it's noisy, reeking way through most of my travels this year crosses Green Lanes at one of the few remaining suburban crossroads on its route. Six lanes of high-speed, through traffic career to a halt at traffic lights where the comparatively ancient but less travelled old arterial crosses on the way to London. Pedestrian access here was scant and provisional. A small group of us, perfect strangers, seemed to be huddled together for safety on the crossing to the central island. I almost hung back here for a picture of the broad sweep of the road west to east. I didn't quite dare though and I found myself scuttling after my new companions only to part company as soon as we found the kerbstones. Perhaps I'd been too hard on humanity today after all? I pondered if a walk of the North Circular was possible, or indeed in any sense advisable, as I trudged a long, straight stretch of the pleasantly suburban road hoping to find a spot to stop and eat. It felt like a future target - if a somewhat masochistic one perhaps? Finally, with the clouds beginning to shuffle overhead to form a solid, grey dome, I found Woodside Park - a deep curved bowl with a playground at the bottom surrounded by a wide sweep of grass which filled the remainder of the large square plot. I found a bench and rested before I headed, temporarily at least, along a road which wasn't strictly Green Lanes at all...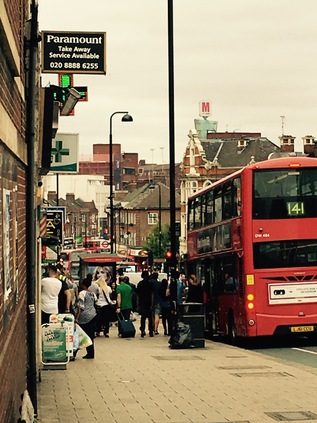 I had been prepared to accept that High Road was a historical blip - a little inconsistency in my conceit to walk the length of Green Lanes which was likely down to some municipal twist or other. I consoled myself by thinking it was still Green Lanes really and that as Wood Green had grown from wayside stop to sprawling village and eventually to a small town in its own right, the civic fathers had needed to mark this change. What surprised me was how different the character of High Road was: how swiftly it switched gears from suburban shopping strip to edgy, urban menace. This was the fringe of Noel Park - purpose-built around 1880 as an early garden suburb in the treacherously damp Moselle Valley then extended out to reach the High Road in the form of decently built brick shopfronts. As I passed the deceptively small frontage of the long, snaking bus garage and the well-established drinking school inhabiting the War Memorial Gardens, the road fell away steeply to reveal a chasm of retail ahead of me. The long terraces of red brick dissolved into a vast glassy cinema complex, then a towering mall development which stacked storey after storey on top of the road. It was fittingly if unimaginatively named The Mall Wood Green. A writhing line of buses ducked in and out of their stops, and people seethed towards me. Turning to look back, a risky move in the pressing human tide, the baleful bronzed glass front of River Park House reared up at me. This blank edifice of not immediately clear purpose is, in fact, the address of numerous departments of the London Borough of Harringey and its partner organisations. Housing the overspill from the inadequate civic hall just a short walk away, the building is disarmingly anonymous - you'd never know it was occupied, let alone so extensively used ostensibly for the public good. As I passed between the ranks of storefronts I realised this was actually rather odd - most malls don't have an outdoor street-front like this. High Road - the proxy for Green Lanes - was hemmed in by this development, dissolved into a glorified underpass. A little delve into the history of the area dates the development to the 1970s, built as Wood Green Shopping City in part on the site of Noel Park and Wood Green Station on the ill-starred Palace Gates line. Opened by HM Queen Elizabeth II in 1981, the centre has undergone several externally evident strata of change - adding housing and parking above a second deck of stores. When a downturn in retail saw it seemingly condemned to house only poundshops, phone accessory booths and charity stores it was saved and invigorated with £30m of investment in 2002. Debenhams signalled their intent to anchor the site - but they didn't follow through, and in 2007 Primark arrived with its ironic burden of post-chav chic. The Mall had found its niche. Its stores outnumbered the mighty Brent Cross now but catered primarily to its local audience. Why go up west or take a bus to an out-of-town retail park when you could strut and leer through Wood Green, gurning at passers-by and howling across the street. Drinking was banned, but a little tot might have calmed these feral tribes which yammered and yelped - men bare-chested, women in jeggings, everyone carefully aligning with a stereotype and defiantly, belligerently proud of it.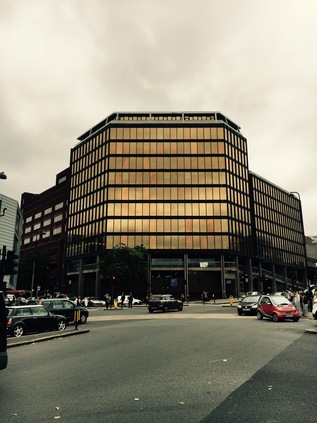 High Road peters out slowly - first, it returns to red brick terraced shops, provided in the late 19th century by the Artizans' Company and filled by slightly off-High Street businesses majoring on serving the diverse ethnic mix of the area. Then it opens out into Duckett's Common, a wide swathe of green stretching along the western edge of the road. As I surveyed the spot for a good picture of Turnpike Lane station, I realised I'd passed this way before while on the trail of the Moselle. A carpet of prematurely fallen autumn leaves filled the common land which I'd crossed on that excursion, and I figured I'd not made a bad job of tracking the hidden river. In fact, it flowed not far from here at all, giving rise to misgivings in the planners' department about the potential for flooding in the foundations of the vast shopping development. Beyond the green which retained the outdoor gym installed in the heady summer of 2012 when we all wanted to improve our athleticism, lay the Harringey Ladder. This long, regular grid of terraced streets leading up the slope towards the railway lines was bisected in its southern reaches by the New River, sidling in from the west. Happily, the main road was once again officially called Green Lanes here and had returned to the mix of small family restaurants and local businesses which typified the street scene further north. The smell of breakfast now completely replaced by charcoal smoke and the tantalising tang of caramelising meat drippings. Meanwhile, the road ahead dipped slightly to pass under a bridge decked out in bright orange Overground lettering: Harringey Green Lanes. I'd never thought hard about this station name before, always assuming it was some quaint play of the regular pattern of avenues climbing the Harringey Ladder. But now Green Lanes had taken on a far more significant part in my London mythologising, and it all began to make sense. I snapped edgily at the bridge with my camera, trying not to catch an unsuspecting shopper in my shot, then headed onwards under the bridge where stairs led up to the platforms. Again, I'd been here before on a railway-related ramble - and it struck me how over the last couple of months I've inadvertently connected up the parts of my London interest by apparently random and disparate bouts of walking the northern suburbs.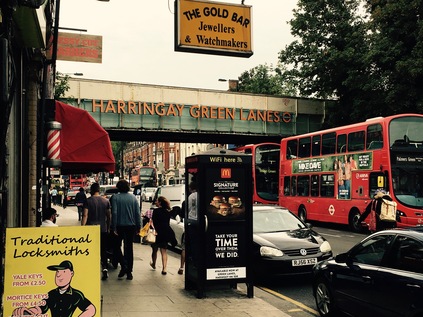 Beyond the bridge, a low curved wall signified the former boundary of Harringay Arena. Originally built in 1936 for greyhound racing, ice hockey and boxing, this huge eight-sided sports facility faced post-war decline despite hosting wrestling and basketball during the 1948 Olympic Games, popular concerts and circuses. It even bore witness to an early appearance by a youthful and fresh-faced Billy Graham. But by the mid-1950s despite even this divine intervention, the glamour was fading and after a short life of only 22 years, the site was handed over to a food storage concern. Briefly, in the early 1980s, an open-air market functioned on the near-derelict land, but somewhere in the early years of the 21st century the sorry-looking site was cleared and the Arena Retail Park arrived. An identikit rank of white warehouse blocks ranged around a curve towards a flagship Sainsbury's. Only a tiny plaque and the insignia at the tip of the totem of store names provided any hint of what was once here and how important it was to the businesses around Green Lanes. However, to the west of the road was an altogether more enduring symbol of leisure. Facing off against the blank wall of the vast Homebase store, the north-eastern corner of Finsbury Park slipped unobtrusively into view, giving no clue to just how huge this green space was. Filling the space between the fan of railway lines leading to Moorgate or Kings Cross and the course of Green Lanes, the roughly diamond-shaped park defines the southern boundary of Haringey. Following the road, the ground rose again towards Manor House station, with the cranes and dead grey cladding of new towers signifying the enforced regeneration of Woodberry Down to the east. The New River, my near but standoffish companion on this predominantly road-based ramble swerved east here to circle the reservoirs which had formed yet another earlier walk in this area and I found myself on a suddenly quiet, mainly residential stretch of Green Lanes. It felt a world away from the noise and bustle of its beginnings, or the dreary retail chasm of High Road. A long hoarding, masking the development spelt out the dominant message in capital letters which revealed a glimpse of an evening skyline behind the text: ENJOY PARK AND WATERSIDE LIVING AT WOODBERRY DOWN it twinkled, invitingly. There was little to suggest this was an area which once encapsulated the equitable vision of municipal housing provision in which the Borough of Hackney was something of a pioneering force. Little too to remind the prospective tenant of just how low this estate had sunk before Hackney Council were forced to address its future. This was all about shifting units - preferably off-plan and before demolition was done or a brick had been laid if possible. Unexpectedly, between two incomplete and fairly inauspicious looking new low-rise brick blocks fronting the street a new vista had opened giving a sudden and startling view across the reservoirs. It was an unexpected and tantalising glimpse of a huge sky and a grey shimmer of reflected tower blocks - but it was cordoned-off and would, presumably be gated when complete. Even the view was to be sequestered for those paying the premium it seemed. I toyed with a diversion around the great pumping-station turned climbing venue of The Castle to see the waters, but decided that given my late start and the threatening weather I should press on towards London.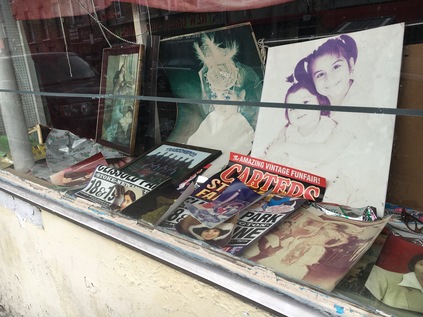 South of Woodberry Down, Green Lanes forms a hazy, meandering boundary between Islington and Hackney as both head for their appointments with the City. Local allegiances are clear here, with 'matchday parking' notices for football at Emirates Stadium, nestling in the nook of a railway junction away to the west. The traffic is sparser and the road is lined by mid-century apartment blocks which glower over the sunbleached grass of Clissold Park. The park extends east, almost reaching the curious urban arbour of Abney Park Cemetary - and I realise again that my history of walks is converging here on this ancient way. The road forks here, and the New River has one last impression to make: underground since it skirted the reservoirs, Petherton Road is divided by a grassy median which marks the former path of the now buried watercourse. If I followed this fork, I could find its last above-ground stretch in Canonbury - but that's another walk for another visit. Instead, I turned south-east, where Green Lanes finds the energy for one last run of shops and cafés before it gives up. Among them is a curious, closed shop filled with what appears to be family memorabilia. Inside is chaos, unopened post and a tumble of furniture. The last building on Green Lanes - or indeed the first should one take the road northwards - was a fitting gateway: a bold, conical brick spire atop a row of Victorian shops. The symmetry is broken though, as the western side of the road has been redeveloped into an anodyne stretch of modern blocks. This timid terminus seemed an inauspicious end to this once vital route from the north. Well established trees screen Newington Green from sight, while buses circle the railings to terminate here. There is an air of faded gentility which is slowly being driven out by hipster eateries and new money. It felt like anywhere on the northern fringe of the city. In transition. My choice is to turn south towards Essex Road, completing the ancient route to town or east towards Dalston and more familiar territory. I head east, along the railway and through the backstreets where Islington finally submits to becoming Hackney. The sun is suddenly beating down again, and the clamour and reek of Ridley Road market is across the street. It feels like a long way from that rural scene at Grange Park station. Like a different city, and certainly a very different time.
You can see a gallery of photographs from the walk here.