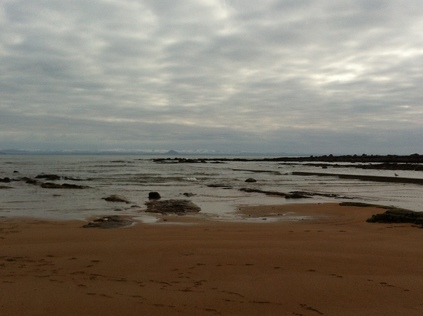 Posted in Travel on Wednesday 10th April 2013 at 11:39pm
---
Way back in early January, around the time that Fence Records usually announce their annual event, things were moving pretty fast around here. As we perused the invite - as ever lacking much in the way of hard information on who might actually be playing - we decided we'd head for Scotland. It was something to aim for - something which stretched out beyond the immediate pangs of separation and the stress of dealing with immigration. I booked the usual spot at The Waterfront, and fired off my payment for two tickets. Then the whirlwind of February and March arrived, and I almost completely forgot about Gnomegame. It felt distant, a long way off, but every so often when things got a little tough or challenging I'd think about Anstruther harbour. It seemed like a noble and fitting way to end a difficult chapter.
So, we found ourselves setting out on a freezing March morning with a flurry of snow gracing our departure from Bristol Temple Meads. Our first leg was an easy introduction - a spin up to Birmingham to overnight, take in some of the significant places for us, and then press on refreshed in the morning for the long trek up to Fife. It wasn't an easy journey, dogged by illness and with a strange gloom over proceedings, we made it to the building site which is New Street Station and found somewhere to eat. Feeling better we made our way to the Premier Inn. Birmingham wasn't altogether different to the previous visit last October where I'd made some very significant phone calls. Realising I hadn't been back since was something of a shock - I'd passed through the city almost weekly at some points over the past five years. I felt oddly groundless, and rather unreal. We stalked the depressing chain restaurant landscape, finding surprisingly good views across the city. It was a strange night to be here.
Setting off early in better spirits and with renewed vigour, we took an early train which wound along the West Coast, taking in sights familiar to me, but excitingly new to others. From the industrial Midlands, through green Cheshire, dark Lancashire and to the open vistas of lakeland mountains, it all appeared to be basking in sunshine we'd not seen for weeks. As we slowed for Carlisle I sent my traditional check-in text home, and we marked the passing into Scotland with coffee. Bearing right at Carstairs, I watched the awestruck response to the bulk of Edinburgh Castle appearing above - and in the fresh sighting I managed to renew my own view of it too. Waverley was busy and chaotic as ever. We settled in for coffee and talked about the trip so far. There was no doubt it was a little overwhelming, maybe too much - but there was excitement and new sights ahead. So, we pressed on over the Forth and into the Kingdom of Fife.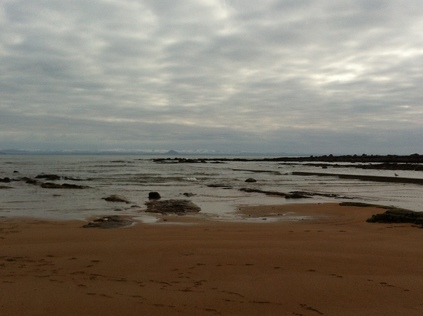 We arrived at Anstruther in something of a traffic jam. The village gets pretty busy in the summer months I know, but this was unseasonal. Finally off the bus - and with another bus still squeezing by ours - we headed for The Waterfront where we'd been assigned a huge room at the top of The Old Bakehouse. Well worth the climb up stairs, and just as comfortable as I remembered it. After checking in at the Town Hall we headed out to the Harbour for ice cream and locally caught fish and chips. The sky was a typical tumble of clouds and patches of blue - it was, in short a perfect Anster evening. We reluctantly made our way back to the hotel - but only because it was time to head for Legends nightclub. Gnomegame was underway...
The weekend becomes a blur of activity here - that first hot, sweaty Legends evening of the mighty Book Group and Cancel The Astronauts, followed by a morning bus ride in wonderful weather out to Pittenweem for churchyard exploration, then to St.Andrews. Picking around the ruins of the Cathedral, eating bridies from Fisher and Donaldson, and exploring the little town all over again was just wonderful - and this long planned trip, although fraught with little worries and issues, was turning out to be pretty special indeed. As dusk began to creep through the tiny streets, we headed for the Town Hall for Saturday night's musical entertainment. The absolute highlights were Randolph's Leap in chaotic but wonderful full-band mode, followed by a shockingly fantastic set by Kid Canaveral. I hadn't seen them for quite a while, and the new material which had been edging around their set for some time has solidified into their new record - and into perfect live performances. We left a little early, a few songs into The Pictish Trail's set with The Massacre Cave backing him. It was a glorious night to walk along the harbour back to the comfort of the Waterfront.
Sunday dawned clear but blustery, and we managed breakfast and coffee before wandering down to the Waid Academy Rugby Club for a very special recruiting event courtesy of the Anstruther Improvements Association and the mysterious Alter-Ego Trading Company. The ulterior motive was to get to see Gummi Bako, Lidh and finally King Creosote in a tiny, intimate - and incredibly hot - venue. A little more of the strange story of his departure from his own label was revealed, along with a rambling, not even nearly true account of how he broke his ankle. We skipped a little music after this wonderful afternoon session, with me resurfacing for Malcolm Middleton at the Town Hall, and both of us making it right to the front for a spellbinding, energetic performance from James Yorkston. We shuffled out happy, cut price F&D fudgies in hand, it had been quite a weekend.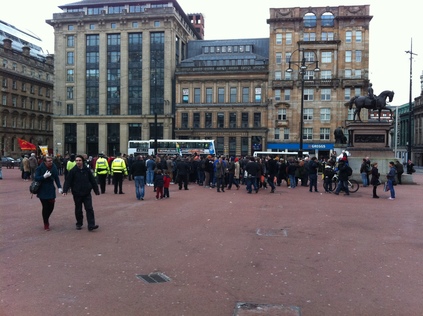 Leaving Anstruther is always tough for me, and I think it had made quite an impression on both of us. After another fantastic breakfast and a final coffee by the harbour, we packed up and hopped onto the bus back to Kirkcaldy, then the train to Edinburgh. During the trip we began to get inklings that Margaret Thatcher was either very unwell or had died - but the one place I thought might be first with the news wasn't updating! The destination was Glasgow - my first visit since last October's strange rediscovery mission, and an interesting experiment. I'd had some shockingly bad times when I'd advised or accompanied friends here before. My odd love for the place doesn't seem to translate well at all. First we had to undertake a little admin, which involved a visit to the Yeeha Internet Cafe. Up three floors in a tall, city centre tenement building, this wasn't an easy ask with a heavy suitcase - but they were helpful and we got our business done swiftly. Once checked in at the new Premier Inn and rested, we wandered out for a walk to George Square. Any doubts we might have had about Lady Thatcher evaporated - there was a George Square Thatcher Death Party in full swing - as predicted by Mogwai. It was odd to watch this rather empty, desperate attempt to celebrate stumbling from dodgy folk song to bagpipe serenade. Having lived through the Thatcher era, having suffered from the cuts and the social stratification it created, it was strangely unsatisfying to see this. A bunch of people - most young enough to have never seen the lady emerge from No.10 themselves - dancing because of the death of an old, sick woman. We lingered, watched the police arrive and intersperse themselves within the crowd, listened to a Liverpudlian folk singer destroying the Beatles' "Maggie Mae" in the name of Socialism, then we wandered off. It was an odd introduction to the city.
After a fine sleep in the new hotel, we headed out for breakfast, and then onto the City Tour Bus. It was a mild, bright morning - ideal for the spin around the sights - but the clear weather also had the odd effect of rendering the more open sites in Glasgow strangely bleak and empty. For me, this was the city I loved and one of it's quirks was on show, but it was interesting to note how it jarred with other sensibilities. We headed back for a decent Italian meal courtesy of Dino Ferrari.
Our last day in Glasgow culminated in something of a surprise - we'd managed to get last minute tickets to see King Creosote again at the Oran Mor. After a jaunty introductory set by Gummi Bako, Kenny took to the stage with Captain Geeko The Dead Aviator, and they played through a long, relaxed set which might just have been the finest I've ever seen him. Drawing on all eras of his output, including some new songs from the benefit CD he has produced for the Scottish Fisheries Museum Boat Club, he seemed happy and content to keep playing. The audience was warm and welcoming, and we were rewarded by another even more absurd take on how he broke his ankle and "sacked himself from his own record company". I realised during the set just what a privilege it had been to get to see this in such a tiny place last weekend.
With King Creosote's last notes still echoing in our ears, we headed back to the city on the bus. It had been a curious trip - with moments of absolute contentment, minor difficulties and lots of memorable moments. Having planned this back in January, while heading for a sad and difficult parting, it was interesting to compare how things were right now. This trip to Scotland was a reward for our persistence and doggedness - and it was a fitting one too.