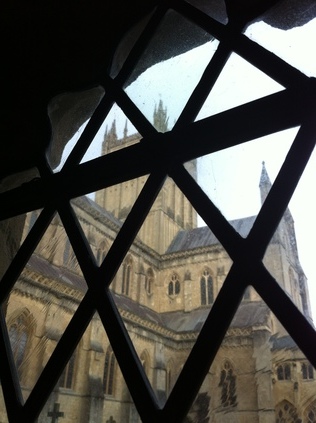 Posted in Travel on Saturday 16th March 2013 at 10:22pm
---
I'm pretty sure I don't need to begin another post by ruminating on change, but suffice to say my travel patterns have dramatically altered recently. It's also pretty clear that over the next few months, surviving on a single income is going to be fairly testing. Travel, for me at least, isn't a luxury. The necessity of commuting is one aspect - the other is the need to escape, to see how the world works and how it all fits together. Geography and ethnography combined - and observed now by two pairs of eyes. But in straightened times a new approach is called for. So, we've taken to the buses in an attempt to rediscover - and in some senses reclaim - Somerset. My old home county has undergone a renewal of interest, and I'm looking again...
The journey was for starters, almost idyllic. The 670 bus wound through the villages and pastures of the levels, lazily charting the course of the River Brue. With the great shoulder of the Mendip Hills flung out to our left, and the distant Blackdowns hazy in a rainy middle-distance, the occasional glimpses of Glastonbury Tor were oddly exciting. Hills, indeed any high ground is scarce enough here to be interesting and mythologised. There were sheep everywhere - something I'd taken for granted for a long time, but I didn't easily tire of having their presence excitedly pointed out. As we edged into Wells, via the former railway lands around Tucker Street, I began to recognise things from a very long-ago trip. I can't even remember how or when - but it's perhaps decades.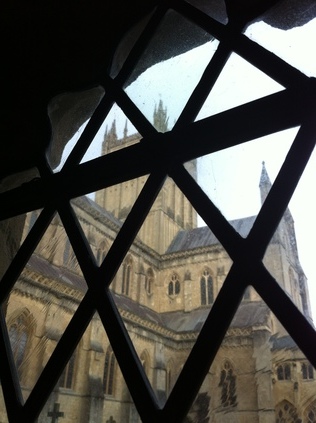 We made our way up the High Street, stopping here or there to enjoy the views which suddenly occurred between tiny houses. The gulleys at the sides of the street ran with clean water rising in the springs which give the city it's name. A unique, strangely enlivening feature. I urged progress - not because of any time pressure, but because I wanted to reveal the secrets I knew lay at the top of the town. Firstly, the Bishop's Palace - a fortified zone, with moat and battlements, and a sward of grass which leads into the strange little patch of land dedicated to St.Andrew and called - strangely - Scotland. Swans glided, the first we'd seen - indeed the first ever for some of us. Again I urged a move onwards - and finally we took the sharp left corner under Penniless Porch and the Cathedral was revealed in all its glorious stone beauty.
As a layman and an atheist, my appreciation of ecclesiastical architecture is perhaps surprising in some ways, but as temples to human endeavour and the power of moving ideas, these buildings are second to none. Their beauty and scale, taken in terms of their great age, is phenomenal - and perhaps no less than Wells. It's east front a riot of statuary, with disciples supporting their chosen one, and Kings of the realm holding them aloft. We made our way inside, moved immeasurably, and spent a happy few hours touring the building. The worn steps to the impressive Chapterhouse were a high point - history brought truly to life.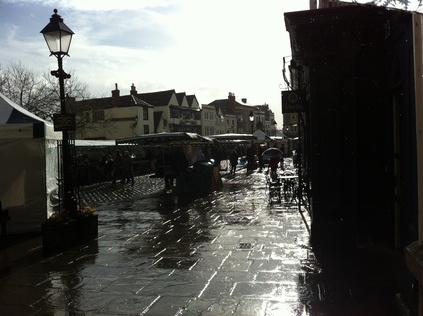 The day had cleared into a bright evening as we left. The slick wet cobbles of the marketplace gleamed back at us as we made our way downhill to the bus station via a fine little coffee place we made a note to revisit. Seeing the UK through the lens of a new migrant is strange, moving, often amusing but as oddly surprising as seeing some of these things were for me many years ago. I think I'm going to enjoy re-exploring my country.