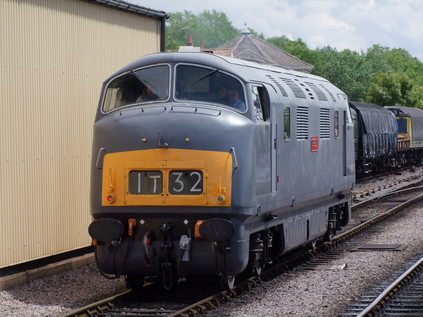 Posted in Railways on Saturday 11th June 2011 at 9:50pm
---
My relationship with the West Somerset Railway is a troubled one. Despite it being my local preservation group, and a fairly successful one at that - I've not got along with the way it's run lately. My obvious beef is that Diesel doesn't get a look in very often on the WSR, and when it does it plays second fiddle. This is despite a fairly ambitious group based at Williton who do a fine job, only to see their charges rusting unused for a great deal of the time. Add to this the slavish drive for authenticity which seems to effectively bar anything in Rail Blue and certainly most things English Electric in origin, and I suppose we're just not going to agree. So, today was the first time I've been to the West Somerset in it's own right for nearly six years. In the interim I've attended a couple of beer festivals and the odd family event with my nephews, but in terms of spending my hard earned cash on the railway, it's been a long while. The occasion was their "Mixed Traffic Weekend". It's a mealy-mouthed attempt to hide the diesel gala from the turn-up-and-go punters who want steam. I'm not sure why they do this because at several points today I was asked by clearly disgruntled normals "What does Mixed Traffic mean then?". Notably the Severn Valley and South Devon railways throw a steam diagram into their timetable for normals, which is mostly understood and tolerated by the cranks - so this policy feels a bit strange on the WSR's part.
Another attraction of this weekend's event was the special shuttle service operated by First Great Western. I've covered the track a couple of times before - not least the first time it was used after reopening, but the idea of an easy way to access the gala was appealing. Instead of keeping it simple, I decided to head to Bristol where the first shuttle of the day started. A non-stop run to Taunton, followed by a slow crossing of all of the mainlines before curving onto the branch at Norton Fitzwarren. Arrived at a busy Bishops Lydeard with 59103 and 59001 at the head of a train on the opposite platform, ready to depart with a curious ensemble of horns and bells attached to the front!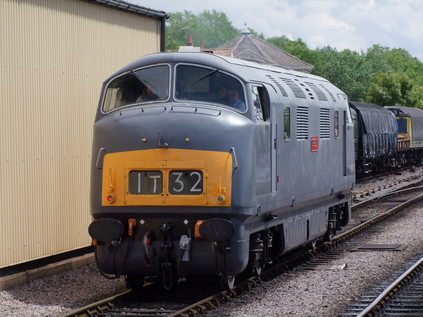 Shrewd organisation meant that you had to be here practically every day of the weekend to cover all the locomotives, especially the 59s. However, it was the line's own hydraulics which seemed to be drawing the crowds - with a few rather uncalled for exchanges from people who felt the modern engines should be here. Frustrating really, as it seems it's novelties like this which draw in the breadth of enthusiasts, and these events would simply not run just on specific niche groups turning out. Having said that, after a double-back to Lydeard using D1661 - a renumbered and repainted shade of the former 'North Star', we had a run with D832 which was running in all-over grey primer.
After a bite to eat in Minehead, and with the rain mostly holding off, we managed a couple of quick switchbacks via Blue Anchor - rather like at the 2005 gala in fact. This meant a couple of journeys behind Hymek D7017, before picking up 59001 and 59103 for the long trek back to Bishops Lydeard. Along the way we passed the Western, having failed on an earlier run being pulled into Williton. However, despite this setback things seemed to be running to time - and as we arrived to catch the last shuttle back to Taunton, D7523 was dropping on to the stock to make the run back in lieu of the Western.
Given it was a pleasant night, and because I wanted to ponder a little, I decided to do the final shuttle all the way back to Bristol again non-stop. Time for a coffee in the late evening sun before catching a train back home, retracing my steps. When this turned up at Temple Meads, I noted it was the curious and mysterious hybrid unit 153399 - made up of half of the fire-damaged 150221 and a stray Class 153, and so number to avoid it being sent where these single-car units aren't allowed to go. It had been a pleasant day of decent engines, good beer and fairly fine weather. Sometimes you don't have to travel miles to find these things...