Posted in SHOFT on Thursday 9th June 2011 at 10:06pm
---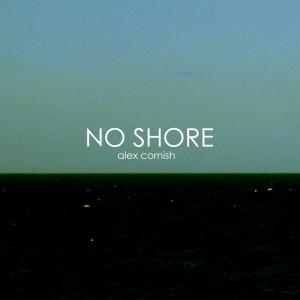 It's a difficult question for the musician at the grass roots, and one probably best avoided much of the time: am I in this for credibility or success? It would be interesting to speak to some of today's giants who set out as bratty NME-bothering nobodies and now stalk stadiums, and to ask at what point the motivation flipped for them - if indeed they feel it ever did? It's always going to be an uncomfortable concept though, and I suspect that sneering claims of authenticity and credibility will always be held over people who are making it work in the business. So I said some fairly dismissive things about Alex Cornish once - I don't think I sneered but I did imply perhaps that he was less than sincere about what he did. But on "No Shore", Alex's third album, there is enough genuine sincerity evident to keep the entire music business afloat just a little while longer while us cynical bloggers get over ourselves. And if it's authenticity that we're really seeking, it's worth noting that Alex records the majority of this work at his home in Dunbar. Aside from some technical wizardry and instrumentation which isn't readily knocking around the house, he also appears to plays the majority of the instruments on the album. There's no shortage of songwriting craft on show here, and anyone who doubts the commitment or the talent here needs only to watch the recent Song, By Toad house gig where Alex performed a remarkable set with a string quartet in an Edinburgh living room. If Alex Cornish is in any business, it's the business of making sure the world gets to hear his songs, and I'm sure that's ultimately the reason every musician does this isn't it?
As if to prove this point, "Rely" sweeps in with a touch of the epic. Ushered in by pensive drums and piano, soon the sparingly used and never overbearing brass section begins to shimmer around the song, returning to give the ending a touch of New Orleans. On both this and the initial "Storm To Pass" Alex's vocal delivery in this rich, dark musical setting immediately reminds me of Mark Eitzel - he sounds almost defeated, but then stretches to reach near impossible notes. There is something utterly compelling to me in listening to an artist striving to deliver a song like this, and any pre-conceptions I had about this record already begin to crumble. Next, piano, reverb soaked vocals and a delicately plucked guitar outline the plan for "Open Your Eyes". This is a tune, and particularly a storming chorus which any of those huge stadium monsters would kill to get their hamfisted mits on, but in Alex's hands it remains a personal and simple effort - heartfelt, on a human scale, and never straying even close to the dangerous territory of self-importance.
There are however a couple of points on "No Shore" where I lose track of things a little in the dizzying array of musical riches on offer, and despite a promising cascade of piano at the outset, "Skyline of Paris" perhaps isn't so engaging and disappears into the background as a result. But the mood is restored by "Keep Focus" which adds a shuffling beat to an expansive ballad, driven by an insistent piano line and shored up with dramatic strings. It's clear by this point on the record that Alex Cornish has mastered the art of writing melodies which linger in memory long after the song has finished - and there are points in my day when I find myself re-running the hooks from "No Shore" in my head. This has to be some sort of mark of the success of any collection of popular music. Adding weight to this theory, "Always A Way" introduces a touch of radio-friendly country to the proceedings, but despite its evident accessibility and potential to reach all kinds of audiences who probably don't read down-at-heel music blogs like this, it remains one of the most interesting vocal performances on the record. The lyric appeals to me too, an age-old tale of a search for a sense of place, which manages to evoke the damp and blustery east coast of it's origins somehow. This will be a controversial viewpoint I'm sure, but at the outset "Breathe Slow" could be a Meursault song. There is something about it's echoing, sweeping vocals and picked banjo and guitar which suggests a not-so-distant kinship, despite the musical approaches employed being poles apart. The whistling mid-song plays a cruel trick by referencing "Always On My Mind', which gives me a weird but not by any means unappealing mind-picture of Neil Pennycook and Willie Nelson maybe one day sharing a stage.
Whatever this record is, it's far from background music - as the majority of Alex's songs here compete hard for your attention and refuse to let the listener off the hook without even just a little emotional engagement. Music designed to for easy listening depends on as little complexity as possible in order to exist just outside the concious attention of listeners, and this is far from that in the sense that it is layered with beautifully executed instrumentation, and full of engaging hooks and twists. The fact it is delivered with such polish and panache is, in itself significant. After all, there are two ways to approach the DIY ethic - by embracing and delighting in the rough edges, the pops and the crackles and letting the music stand as a document of the process, or of making the best of what is available and producing something which belies its humble origins, beating the big guys at their own game with solid hard work. Both are valid, and I never fail to be amazed at what musicians achieve on their own terms nowadays. But Alex Cornish has selected the latter and doesn't let the resources available to him limit his vision. Maybe after all there is something deeply subversive and ultimately very punk rock indeed about a guy recording in his house reaching the Radio 2 audience? If you love well-executed folk pop, have an ear for a tune and recognise a great voice then its worth giving Alex Cornish your attention. You've nothing to lose except your preconceptions, and plenty to gain. If someone as stubborn and old as I can get over myself fairly publicly, then I'm damn sure you can...
"No Shore" is released on 13th June via Bellevue Records. You can find it on Amazon too.

Alex Cornish - Breathe Slow