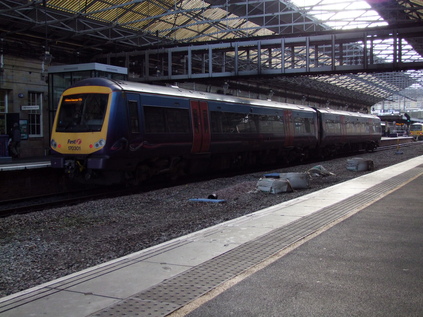 Posted in Railways on Saturday 8th January 2011 at 8:55pm
---
Despite a couple of opportunities for escape over the extended holiday, this was the first relatively normal trip of 2011. This time of year is always a little odd - a bunch of hastily arranged trips to fill in gaps in a sparse programme of tours - and this week was no exception. The programme was a fairly straightforward one - up to Sheffield, then a spin around the route via Penistone for the long haul homewards. Out into a damp but mercifully frost free morning, and onto the first train of the day. The hacking cough which I'd been suppressing poorly for much of yesterday afternoon had turned into the beginning of a cold. I sniffled and shuffled to the station, looking forward to the opportunity to get coffee. It had, in fairness been a pretty bloody awful week in most respects - uncertainty, doubt, disappointment and frustration had defined the first working week of the new year. Still, today was one of those precious escapes and I wasn't going to waste it.
A little longer at Bristol than normal, as I'd decided on the 07:30 direct to Sheffield. I hadn't any recollection how busy this one got, but the station was extremely quiet. Had a fairly big breakfast - because colds always make me hungry - and quaffed absurd amounts of coffee whilst waiting. On boarding, realised I was practically the only person in the carriage. Settled in for a pleasant ride up to the Midlands, listening to podcasts and watching a surprisingly inspirational sunrise. Surprisingly few passengers joined at Birmingham except for a small group of fans off to Doncaster Rovers, so continued my listening and occasional dozing through Derby and on to Sheffield. Didn't feel energetic enough to stroll into town here, despite blue skies and amazingly warm sunshine - so found a window seat on the concourse and enjoyed yet more coffee. This was a good, calming morning.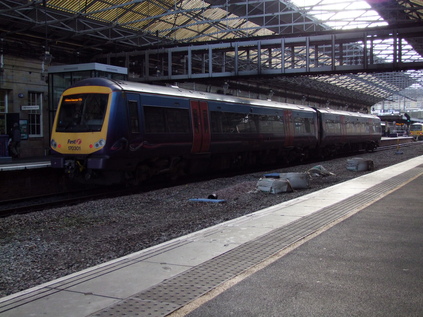 If today had a target at all, then the next leg was probably it. I'd done the line to Huddersfield on an All-Line Rover a few years back, and enjoyed the trip a great deal. This spin would take me in the opposite direction around the loop. Shopped a bit, and boarded the unit which soon filled up fairly well - including an oddly smelly young chap who was downwind of me every time the door opened. Not pleasant, but marginally preferable to the racket coming from a large group of Yorkshire youngsters in the next carriage who whooped and hollered their way around most of the line with me! Headphones on, I enjoyed the stunning views from the window - including some sudden bursts of sunshine as we exited tunnels and crossed viaducts over deep valleys. This line rarely gets a mention in 'great railway journey' articles, but it's certainly worthy in my view. Noted a couple of well-preserved station buildings along the way too - not least at Brockholes where the branch to Holmfirth once diverged. Surprisingly soon we arrived at Huddersfield under darkening skies. It was incredibly cold on the platform, with a strange icy rain blowing in under the canopy. Watched the busy station operations for a while, before hopping onto a slightly earlier than planned service to Leeds.
Feeling grim now, with the cold firmly taking hold - so bunkered down in the coffee shop and necked further industrial quantities of strong coffee. Made some notes about the previous week for future reference - there was a lot to remember, and these stocktaking sessions have become rather important in some ways. As I settled back to finish my coffee, the sun streamed through the roof of the art-deco Northern Concourse. Wandered off to find my train home feeling oddly encouraged. The 15:12 to Penzance started here - which meant no great scramble for seats. Found my spot and settled in for the long ride back via Wakefield, then retracing my steps from Sheffield. As we sped south through Derbyshire, the sun began to set in the clear skies. Reasoned that despite a strange week, today had been a good cobweb-clearing trip out. Even a few minutes delay and the wait for a slightly later connection home didn't seem to matter too much. It's good to be back to normal, even if it's only these journeys which are anything close to it!