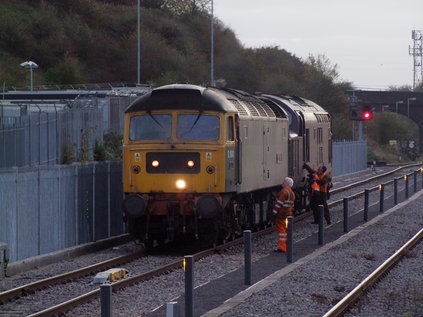 Posted in Railways on Saturday 17th October 2009 at 11:54pm
---
Mr Eliot was wrong - it is in fact October which is the cruellest month. For me at least, if something is going to go awry then it's around this time of year which it will happen. In the past this has ranged from the drastic to the embarrassing - but this year it has apparently decided to focus on railtour activities. As I was preparing to depart for this trip, a final check on the internet revealed that yet another Pathfinder trip had been cancelled - this time the 'Western Rocks' trip on 31st October. There was also a great deal of debate being generated by the Buffer Puffer trips next week, due to loco swaps. Noting the strange coincidence of hearing about other operators cancellations whilst waiting to head for a Spifire trip, I figured that today - and surely October - had thrown all the curveballs it could? I was to be somewhat misguided in this view!
The first, and I thought perhaps riskiest bit of the day went well. The booked transport to carry our small party to Weston-super-Mare ran exactly to plan, by virtue of picking a reliable firm when none of the locals could produce at 05:00 on a Saturday. A short and rather brisk wait for the train, which turned up just about on time with 37516 and 37676 at the front. The stock was a frankly bizarre concoction of Mk I and II stock in a variety of liveries and configurations. Our home for the day was a faded Intercity liveried Mk II FO, which we were soon settled into, and enjoying a liquid breakfast of bucks fizz into the bargain. This, for a seasoned railtour hack like myself, counted as untold luxury. Settled back and enjoyed the racket from up front, intending to snooze until daylight. However, our brief stop at Bristol Parkway seemed to drag on a bit, and eventually we got out to see what was happening. The end of the platform was busy, as a large crowd watched a complicated manoeuvre to swap engines around at the front. 37516 had failed with an electrical fault and 47851 - originally tagged on the back for heating only - was being pressed into service. This wasn't part of the plan, and there was some dissatisfaction voiced - but with the sun coming up and promising a decent day, and as the bacon rolls began to circulate from the kitchen car, things didn't seem quite so bad.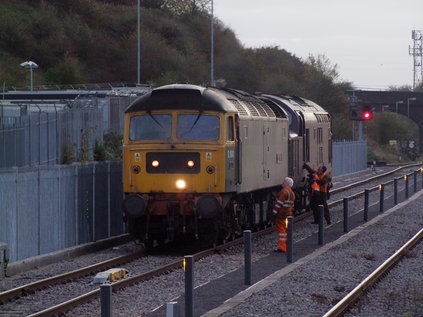 Back underway, but significantly late, we enjoyed a quick and interesting journey north. Taking the alternative route via Worcester and Kidderminster, we paused briefly at Birmingham New Street before pressing on towards Derby. As I had designated this trip my unofficial birthday celebration, enjoyed a few well chosen ales on the trip too - including an unlabelled bottle from RCH donated by Graham - I'm assured it was Steam Silver! After Chesterfield, took the old road and avoided Sheffield, noting an unidentified DRS Class 37 on the curve into Barrow Hill. A brief pause opposite Ron Hull's scrapyard, before heading north again via Ferrybridge and into York. With our 90 minute late arrival, the additional spin around the Harrogate Loop wasn't going to happen. Disappointed, but decided we'd reap the benefits with more time in York.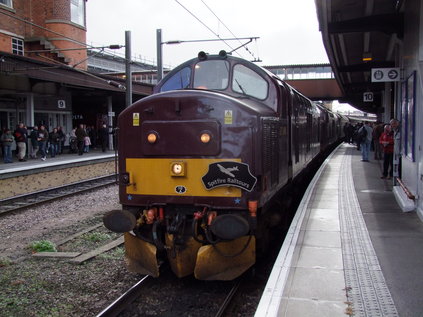 A very pleasant couple of hours spent wandering around the city, and sampling a few different pubs along with some street entertainment and sightseeing. We ended up on the river front, in blazing and unexpected October sunshine drinking outdoors and feeling a bit too hot in fact! Finally tore ourselves away from the scenery and beer, and stocked up on provisions for the return trip including a selection of York Brewery ales for the run back. Once back at the station, we awaited the stock with some suspense - which way around it would be and what would be hauling it? In the event, it arrived with 37676 pointing north and 47851 at the other end. We pondered whether we'd depart via Harrogate just for fun, but ended up heading south on departure with the Class 47 doing sterling work. After the delay in the morning, it was good to be a few minutes early at a number of the stops - despite being held until time on one or two occasions.
We finally arrived back in Weston a little before the booked time, and watched the train depart for it's final stop at Taunton. Today didn't go to plan, but despite that everyone seemed to have a good time and an interesting day. I note that the inevitable backlash has already begun on the web as I type this - and it's disappointing that Spitfire are copping the flak for a failure which could have occurred for any operator. As my strange October of cancelled and revised itineraries continues, I hope things will settle down a little for all concerned.