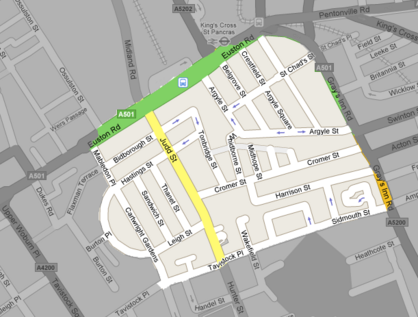 Posted in London on Friday 2nd November 2007 at 10:21pm
---
The strange pattern of streets between Grays Inn Road and Mabledon Place has always intrigued me. Having based myself in Bloomsbury on many of my visits, this strange hinterland bordered by Euston Road to the north and Bernard Street to the south has been frequently explored. Little corner pubs and newsagents have become strangely amplified landmarks in this corner of St Pancras which has almost become home. Not quite West End and not quite city, it seems that the waves of commerce and redevelopment never quite reach the centre of this quiet corner of London.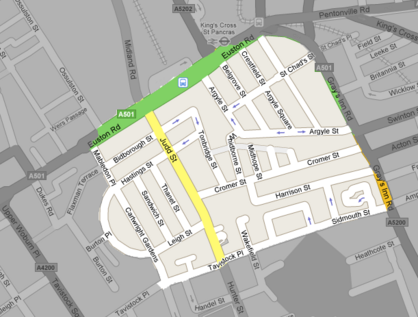 Visiting for the first time in a long time, I found myself staying in the northern corner of the territory, not far from Kings Cross. I'm nervous about my accommodation, but needlessly - it's basic, clean and secure which is all I need for the purposes of my stay. Wandering out to Brunswick Square to shop, I take a long circuit through busy Marchmont Street. Freshman students, not yet quite formed and still wide-eyed in the tumult of post-Office drinkers pass me. They're new here and still apologise quietly for brushing past me. I find Brunswick Square transformed - the strangest of Camden's housing development once sat atop a tired shopping arcade, mostly vacant except for a supermarket and an excellent used book store. Now, the supermarket is an upmarket Waitrose and the square is filled with evening life - the bookstore pushed underground on the fringe of the development. Restaurants and bars fill the once empty shopfronts. Things are changing, Bloomsbury is buzzing again.
Heading back into the dense net of streets north of Coram's fields, all is quiet. The largely residential area is dark, and only the tree-lined and paved Cromer Street with its closed and shuttered shops indicates the strange village I stumbled across a few years back on a walk out to Kings Cross from my Bloomsbury base. Swinging north, the great tower of St Pancras Station looms, scaffolded and ominous above the glassy new station. I want to understand this curious corner - a space that is folded into the map by passing tourists, not seen, it's dimensions not sensed from passing by on the high road. However, I think to understand this quarter one needs to live here in the shadow of the city and it's western neighbour.
Lost::MikeGTN
I've had a home on the web for more years than I care to remember, and a few kind souls persuade me it's worth persisting with keeping it updated. This current incarnation of the site is centred around the blog posts which began back in 1999 as 'the daylog' and continued through my travels and tribulations during the following years.
I don't get out and about nearly as much these days, but I do try to record significant events and trips for posterity. You may also have arrived here by following the trail to my former music blog Songs Heard On Fast Trains. That content is preserved here too.
Navigate Lost::MikeGTN Find articles by category
Search Lost::MikeGTN
Other Places...