Posted in Railways on Saturday 29th January 2011 at 11:57pm
---
I felt out of practice at this railtour business as I pondered the walk over to Temple Meads for today's festivities. In 2010 I'd done more tours than ever - perhaps even more than was strictly sensible, and it had become almost an everyday occurrence to wake up at a ridiculous hour in a hotel to reach the start of some trip or other. But after the customary break which occurs between December and January, it was actually pretty good to be back - and with an interesting itinerary ahead. My spirits were further gladdened by just catching the catering stall opening in the station too - which meant much needed sustenance was available. As I reached the top of the stairs, the stock was just arriving with 66070 at the helm - a new one for me, which was a fine start to the day - and indeed the year. Found myself seated across from a familiar gent who likes his peace and quiet - so left him to it. Across in the bay of four there was a chap who would make up for the rest of us in the talking stakes - a retired solicitor with lots of interesting stories and thought, but with an incredibly booming voice. I learned to tune this out early, and concentrated on the customary sleepy run up to the Midlands.
One curious feature of this trip was the lack of photo opportunities, a short break for the purpose was booked in Sheffield, but I managed to sneak out at the extended pick-up at Birmingham New Street for a shot of the 66. At International we changed for a pair of BARS Class 31s. It was comforting to see them waiting at Stechford as we passed - so we would at last get more of these on the mainline after a long break! Impossible to get a shot of the pair at the station however, as our long train and two locos took up the entire platform. Also thwarted in getting a decent coffee upstairs too, so paid a visit to the kitchen car which was doing a fine trade. Once underway again we headed through the Birmingham suburbs, passing Bescot Yard and avoiding Wolverhampton to reach Crewe. Here we curved around the back of Basford Hall Yard in order to take the Independent Lines through the 'Muck Hole'. Still a favourite bit of line for me - and lots to see in the yards around here too. We resurfaced beside the Manchester line, which we followed as far as Sandbach where we peeled off to take the slow trundle through Middlewich. Given the increased diversionary use this line now sees, it seems odd that such a slow speed is permitted. Noted the locals had erected mock station signs in the town reading "Middlewich Needs a Station Now".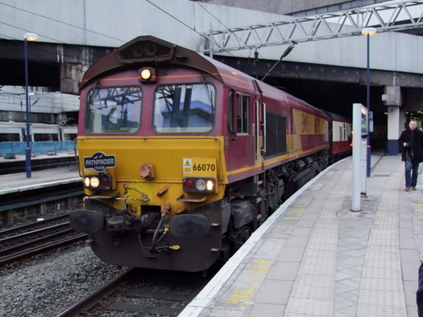 We now entered the confusing tangle of lines around South Manchester which always rather perplex me, despite having fairly frequently used them on tours. First we covered the line to Altrincham, heading east here via Northenden and the freight only link to Hazel Grove. This took us onto the Hope Valley line without getting entangled in the busy routes through Stockport, and we were once again picking up speed and staying pretty much on time. The weather up in the north was bright and cold, which made for fantastic views over Edale as we headed for Sheffield. At Dore and Totley, we came to an abrupt halt - apparently due to a TPWS application. The ensuing delay meant that our booked photo stop disappeared entirely, but we did stick pretty much to time - which meant most of the rare track would be covered in daylight - a bonus at this time of year!
Leaving Sheffield, we reversed and added celebrity locomotive 60099 at Westthorpe - covered on a previous BLS visit before heading through Sheffield on the former Great Central viaduct, passing the near obliterated remains of Sheffield Victoria station. I'd wanted to do this bit of line out to Deepcar for some time, and the views over the city were pretty spectacular in the misty sunshine. The train reached the expected limit outside the exchange sidings, after quite a long run up the valley. A very swift turn around followed, and we headed back down to Woodburn Junction where we turned north towards Tinsley. This line, parallel to the tram route to Meadowhall has also intrigued and confused me in equal measure. Trying to understand the mess of routes around this area and their development over the years is part of my earliest inclination to track bashing. We headed passed the southern curve into the yard, now out of use and very overgrown, and reversed again at Tinsley South Junction to use the northern chord. Once over the level crossing we pressed as far into the yard as possible on what appeared to be the former 'Line 2' according to Quail. The through lines which used to rejoin the 'Old Road' rusted beside us, but there was evidence of a connection into the curiously named Outokumpu steel plant.
Another reversal took us back through Sheffield and into darkness as we headed down the Erewash Valley and through Toton. A couple of final bits of interesting route though as we passed Derby on the goods line and headed right to the buffers in Chaddesden Yard to drop off 60099, before heading south again to Washwood Heath Down Siding, where we swapped the 31s for 66127 for the run home. The trek back south was sleepy and long - and I was finally forced to apply headphones to drown out the booming solicitor chap, who had a habit of not knowing where he was despite the provision of maps and a knowledgeable travelling companion. Rolling into Temple Meads pretty much exactly to time, this seemed like a pretty promising first trip of 2011, and while my stiff legs and back from eighteen hours of railtouring complained, I was pretty happy with the day's travel. It's good to back on unusual tracks.
Movebook Link
---
Posted in Railways on Saturday 22nd January 2011 at 10:51pm
---
In these strange days early in the year, I seem to have developed a set of trips which I repeat. Seemingly it's about a two year cycle, but with some variations and the general pleasure just of being out and about again after the disruption of the festive season, it feels new and interesting all over again. So, it's a couple of years since I last went to Stansted Airport although of course if last year's Class 40 trip had made it, I might have thought twice about revisiting so soon. Today's trip, circling in the opposite direction to my first visit, effectively meant I'd used all of the track into the station. This of course wasn't the aim particularly, I just wanted to get out and about after a rather grim and testing week at work, and this was how I planned to do it.
First up, the traditional combination of the first train off Highbridge and the 07:00 from Bristol. My routine was in danger of falling at the first hurdle as breakfast looked to be in jeopardy, but found an alternative outlet and soon settled into the journey north with music and coffee. It was good to be out and about, the sun barely rising as we headed through Gloucestershire. Pondered the tricky week, and the minor victories which had occurred as we trundled slowly into New Street. Time here for a coffee and to watch the world go by on the concourse. Haven't done that for a while, and it was good to be back - if a little chilly when the icy wind blew through the doors and whipped around the busy ticket counters. Down to the platform for the Stansted service, surprised by a small group of men carrying armour and spears. Figured they weren't revenue protection people, but kept my ticket handy just in case!
One of the great pleasures of this journey is the trip across the fens in the misty winter sunshine. However, there wasn't much sunshine in evidence as we climbed over the West Coast Mainline to call at Nuneaton. Snoozed a bit towards Leicester, as far as I could given a very shrill young lady who sat a little in front of me with her boyfriend. He told her she had a 'cute' voice - but her girlish shrieks actually made my eyes hurt. Slipped on the headphones again, but this seemed to irritate another couple who joined at the next station. I'm not sure the gentle sounds of James Yorkston would have been too alarming - but I heard her check with the guard that I actually did belong in First Class with them. When he assured her I was entitled to be seated there, she simply hissed "disgusting!" at me. Too sleepy and relaxed to be irritated, and I decided to just enjoy the run through Ely and into Cambridge where she and her rather mouselike partner left the train!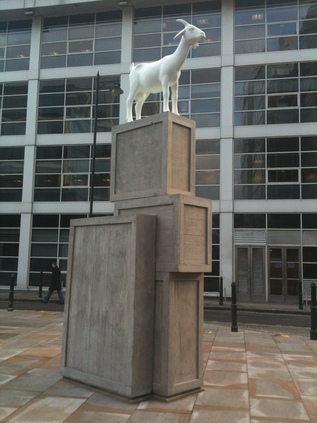 Once at the airport, made for the same coffee shop I'd visited last time, and watched the drama around the ticket's for Fence Records' 'Homegame' play out on the internet. This ended up in some very silly online banter which resulted in my taking a slightly later London-bound train than planned. Had no desire to hang around the airport though, so dashed for the 14:15 which was operated by the ominously number 317666. After being sold overpriced refreshments by a very polite chap, I settled in for the journey - thankfully alone after my irritating selection of accidental companions so far today. Hadn't really thought through what to do with the several hours in London however - beyond visiting the newly aligned and extended Blackfriars. A weekend closure put paid to this, and rather than spending hours at the station on arriving at Liverpool Street I opted to wander over to Shoreditch High Street. This took me on a familiar winter journey along Brick Lane, full of more annoying people today though. Felt like screaming at the top of my lungs that "Excuse me!" was a genuine request to get by, not some sort of post-modern quip! On the way, passed the curious "I Goat" sculpture by Kenny Hunter, atop packing crates symbolising the recurring immigration into the area. From Shoreditch, took the East London Line south to Crystal Palace. Steps retraced, but good to see the line busy as they light started to fade from the sky. Work email kept my attention away from the rooftops though, and I surfaced just in time for the slog up the stairs at the terminus, and over to a Victoria-bound train.
After snaking through the twighlight, I arrived at a very dark but still busy Victoria with little in the way of a plan for the final leg to Paddington. Given the closures on the Circle and District, opted for a 436 bus from Grosvenor Gardens. Waited only a couple of minutes, and was soon heading past Buckingham Palace, up Park Lane and towards Paddington. Time for more coffee and people-watching before boarding the 19:00 home, with a bunch of rail staff heading home from the football crowded into the seats beside me. Today had been an odd, somewhat unsatisfying day where the general public had been pretty irritating and I'd found myself not relaxing as much as I should. However, it was good to be out - and I actually start to miss these winter trips once the railtour season starts!
Movebook Link
---
Posted in SHOFT on Tuesday 18th January 2011 at 6:57am
---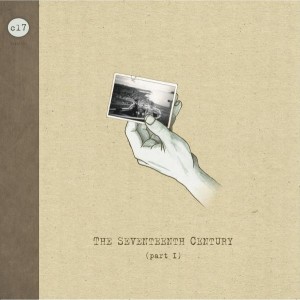 It's strange to think that this is a debut release, because it feels like The Seventeenth Century have been around for ever. When I first began to discover a new tranche of bands emanating from Scotland, they were a name which seemed to be on everyone's lips as a result of impressive live performances and demos. Dubbed 'baroque folk pop' it was perhaps hard to distinguish them in a list from a whole slew of bands tumbling out of Glasgow at the time - however, this time persistence was rewarded....and anyway, I'm a sucker for a bit of antique folkery! My own first exposure was via glimpses at Youtube clips and the occasional compilation appearance - and it was clear that this was something a little different, something worth waiting for perhaps? And so, after quite a wait the '(part I)' EP has finally arrived courtesy of Electra French records. Pressed on serious 10" vinyl and in a sepia-tinted sleeve it looked just like I'd imagine it should from my limited hearing of the band. From the opening military drumbeats of 'Young Francis' this record strikes a strangely uplifting tone. It's hard not to be carried along on a swell of martial percussion, sparkling brass and intricate strings. Powerful though the music is, particularly on this opening track, it's the choir of voices which impress most - ranging from haunting and pained to strident and soaring. 'Roses In The Park' also benefits from the interplay of the band's multiple vocalists - and the pop elements of the band start to shine through the classical mists a little. The ghost of Brian Wilson stalks this multi-layered and intricate production as the voices twist around the simplest of melodies. The effervescent brass driven introduction out of the way, this should become a fragile, awkward sounding thing - but in fact it becomes a startling, almost monastic sounding chant before the brass once again takes the song spiralling into the stratosphere. A genuinely lovely pop song emerging from the curious introduction. Initially sounding like perhaps the most traditional composition is 'Countryside' - a veteran of a compilation (or perhaps two in fact?). Carried in on a quietly strummed guitar and a rather formal folk-tinged vocal, it's not long before the song enters waltz-time and the brass and strings once again turn this rather sad and plaintive hymn to the lost bucolic into a dizzying and playful burst of pop. It's almost as if you can't keep this band down - and no matter how maudlin the story, they just have to burst into triumphant life! Ultimately, this perfectly crafted and genuinely fine set of songs is a wonderful introduction to the timeless and eccentric world of The Seventeenth Century. It's said that '(part II)' is following close behind this debut, which certainly can be no bad thing. The Seventeenth Century - Roses In The Park
Movebook Link
---
Posted in SHOFT on Saturday 15th January 2011 at 11:07pm
---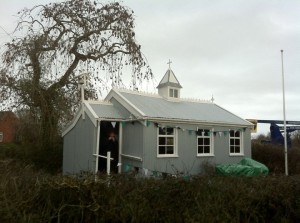 It's not often I need to begin a live review with a picture of the venue, but on this occasion at least it saves a lot of explanation to bewildered readers. Trevor Moss and Hannah-Lou promoted their first album by touring the UK's village halls, and now following signing to Heavenly and in advance of their second record, they are touring the remaining Tin Tabernacles around the land. I'm lucky enough to have one of these originally temporary places of worship fairly near to my home. However, being an avowed atheist, despite having passed by over the years of living here, I'd never been inside until tonight. There was an authentic 'church fete' feel to proceedings from the start. Access to the church was via a narrow bridge over a rhyne, which was signposted with a hand painted board and a little lantern. This was necessary - it was very dark indeed out here in the sticks. Once inside the tiny building, I was greeted with a wood panelled room with small and uncomfortable looking wooden pews. The stage was a tiny raised area beyond the altar rail, and tickets were checked in a cupboard just inside the door. All in all, this was an inspired choice of venue - and I harbour secret hopes there may be ways of using it again. So following a surreal introduction from the local Vicar, first up was Pepe Belmonte. Pepe's origins in West Cork, and from his own accounts a fairly nomadic life, have left him with a curiously placeless and unfocused accent. This allows him to slip effortlessly from his own, simple and precise English folk ballads to a take on 'Carrickfergus' with little effort and a massive confidence. If anything, his delivery was hushed and a little restrained, but that probably had a lot to do with this being a truly tiny venue with the audience quite literally in his face. It may also have been due to the fact that the Church Committee seemed to have bagged the majority of the tiny amount of tickets available for this show, and were clearly expecting some appropriate and wholesome entertainment! Pepe's strengths tonight were in the more upbeat numbers, where his lightning-like picking technique and malleable voice warmed-up the restrained crowd. He closed his set by inviting Pete Greenwood and Trevor Moss onto the spatially inadequate stage for an impromptu and rather excellent take on Gillian Welch's 'Everything is Free'. After a short break, Pete Greenwood took to the stage alone for his brief set. Originating from Leeds, Pete seemed to embody the self-deprecating and gruff northern humour I've always associated with the city. This seeps through his songs, bittersweet stories which by his own account take a darker turn during the writing process. His delivery is quiet, understated and earthy - a whisper of a voice which occasionally soars when the song needs it to, most particularly on his own composition 'The 88'. Again, some truly superb guitar picking held the church spellbound. Somewhere mid-set Pete played an inspired and surprising cover of Stuart Murdoch's 'Another Saturday' - an obscure gem from 2009's 'Dark Was The Night' charity compilation. Pete left the stage as he'd found it - apologetic and clumsy, but without any need. This was remarkable music. We just don't get this kind of thing here! Another interval, where the highly symbolic acts of passing around free glasses of wine and collecting donations took place. I'm assured though that this was to avoid licensing issues, rather than for any more sinister liturgical reasons. Finally, Trevor Moss and Hannah-Lou stepped up and we were treated to a warm, engaging set from this funny, clever and unashamedly enthusiastic pair. Starting with 'The Allotment Song' from their first album, I looked around to see the tiny audience spellbound and open-mouthed at their simple, clear and shimmering performance. The people who'd turned out just because "it seemed like the rather fun thing to do on a Saturday night in Burnham" looked most stunned. This was original music, from genuine talents, and here on their doorstep. The pair's voices twisted around each other - sometimes blending into one clear, high note. Working through a number of further older songs such as 'Concorde' and the desperate and plaintive 'England', Trevor and Hannah interspersed the compositions with banter which felt more like a conversation in the intimate setting. They were genuinely engaging people, clearly very happy to be here - and indeed on this tour of Tin Tabernacles - and grateful for the support, even in this tiniest of venues. Towards the end of the set, they talked about The Lantern Society - the London folk club they'd started, and how they'd met the other musicians on the tour. This led into a very different but equally affecting version of Pete Greenwood's 'The 88', rather a surprise to him too it seemed. The new songs performed tonight bode well for the recently recorded new record too, with Hannah's voice taking perhaps more of a foreground role on some of the numbers, and a new complexity which they pulled off in a tricky live setting without breaking a sweat. The audience reception to the set was as near rapturous as things get around here - it had been a successful night in Edithmead. As people started to shuffle out, delayed by the encouraging activity around the merchandise area near the door and with an exhortation to join holy communion tomorrow morning ringing in their ears, I realised this was probably a one off. If we ever asked the Vicar to let us do something else like this he'd probably cluck and sigh and say "we'd have to see...". So, putting ideas of future cultural activities aside, I contented myself with having been involved in a truly unique evening and hearing some beautiful music.
Movebook Link
---