Posted in SHOFT on Friday 5th August 2011 at 10:08pm
---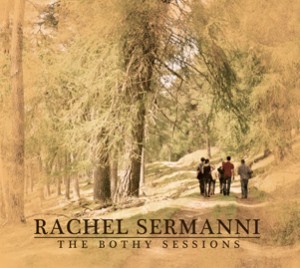 It's always great - not least for people attempting to write about music - when a record has a story behind it. And this debut EP has an incredible one - Rachel Sermanni invites her musical colleagues to a tin-roofed Highland bothy she recalls from her childhood to record some of her songs. She's not really sure who will show up, what instruments they will bring, or quite what they'll record when they get there - but somehow, through a chance assembly of people and place, these songs emerge. Listening to Rachel speak on stage about her songs, about writing and about what inspires her it's pretty clear that she's unlikely ever to take the simple or straightforward path when there is a more interesting one to investigate.
The EP opens with "Waltz", just Rachel's voice and guitar to begin - a simple, almost gentle approach as the unhurried accompaniment seems to drift self-effacingly into the song around the second chorus. Every click of the strings, every swish of a brush over a cymbal is audible in what sounds like an entirely live take. Soon, there is a lot happening - all kinds of instruments vying for time and entering and leaving the song, including what a bit of research indicates is a Chinese flute known as a hulusi. But, above all of this, that impossibly fine voice swoops and dives around the instrumentation - occasionally almost dropping to a whisper before rising again to clear, strong high notes in the chorus. A similar pattern of guitar and vocals starts "Pablo's City", and I'm suddenly struck by an echo of Iris DeMent in the sparse, honest vocal delivery and phrasing. But then things change completely - an unexpected swoon of slide guitar and some nifty jazz drumming send the song spiralling back to the era of the Charleston. However, under the bursts of musical exuberance the lyrics are dark and uneasy - "I have broken the arch in my soul/I keep pacing these streets like a hungry animal". A scrape of well-placed, achingly sad fiddle, and suddenly things transform again with a blaring trumpet solo and a ridiculously joyful tempo-shift. This is a sprawling, sometimes confusing song - but it's also utterly compelling and demands attention as it switches back and forth between a gentle ballad and a swing tune. In total contrast, "Little Prayer" is a tiny, perfect and precise minute of just a picked guitar and vocals. This is perhaps closest to how I remember the momentous performance at Homegame which held the Erskine Hall utterly spellbound as these small-scale but curiously literary stories were spun in front of us all. From the tiny to the epic, as "In The Hollow" closes the record with a return to the theme of dancing which opened the record - but now the dancer, uncertain and somewhat hopeless in "Waltz" has become a fiercer, headstrong creature. Perhaps the most traditional composition on the record, it's a final chance for the singer's voice to take centre stage with a remarkable and affecting performance. It closes with a strange cacophony of instruments, and you can almost hear the rattling tin roof of the makeshift bothy studio.
This is perhaps far from the perfect or polished debut record which might have been expected from Rachel Sermanni given the huge grassroots interest and media exposure she's seen over course of the past year. It is in fact a melancholy, often pitch-dark set of songs with few happy endings and a surprising undercurrent of frustration and discontent. Musically too, it wears it's imperfections openly - as instruments reverberate loudly in the uneven spaces of the bothy. Scrapes and shuffles usher in the accompanying instruments, which sometimes start quietly, almost provisionally before finding their feet. The building and it's atmosphere seem to be in the very bones of this music. But perhaps that's just how it should be - the EP documents a special night, a step along the road for an incredible talent who is still exploring possibilities. Seeing where Rachel takes this next is going to be an intriguing, and I suspect far from straightforward journey.
"The Bothy Sessions" is available on a limited edition of 750 signed CDs via Blue Apple Music.

Rachel Sermanni - Pablo's City