Posted in SHOFT on Wednesday 5th January 2011 at 10:01pm
---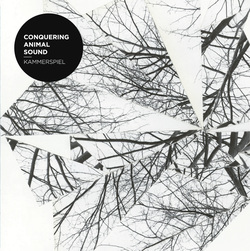 Some records just don't sound like anything else, which makes the lazy art of comparison a redundant tool in the reviewers kit. This is just such a work, and despite the sometimes charmingly ramshackle and unplanned feel to Conquering Animal Sound's output, there is a precision at work in this set of songs. I confess was almost prepared not to like this band when I first stumbled across the beautifully packaged seven-inch single on Gerry Loves Records, on the basis that I have a strange and inexplicable aversion to 'animal' band names! However, I was sold from the start on the simplicity and purity of their sound. Kammerspiel has since become one of the most anticipated releases for some time in the Songs Heard on Fast Trains household.
The band translate the title of the album as "Machine Music", but interestingly it also translates roughly from German as "Chamber Piece" and there is perhaps something rather baroque about the sounds generated by the range of toy percussive and string instruments which are deployed throughout the record, which evoke the harp and the harpsichord. There is more than a hint of a European sensibility about this record too, not least in the strangely stark production which lets the songs echo around their own spaces, and in the sometimes curious phrasing and inflection of Anneke Kampman. Björk comparisons will be inevitable as this record acquires deserved critical acclaim, but I'd risk sacrilege in some quarters by suggesting I prefer Anneke's quieter, atmospheric delivery. In fact, Conquering Animal Sound are an Glasgow-based duo, the other half being the multi-instrumentalist James Scott who manages to combine found instruments and warm analogue electronics with newer technology and good old fashioned musical instruments to create tense, building landscapes. This stall is set out from the outset on opening track 'Maschine' which begins with an insistent clockwork chime, before looped handclaps and a droning undercurrent of low frequency organ lead into a pulse of drums. That this is capped by a vocal which ranges from whispered threats to joyous yelps makes this all the more uplifting a beginning.
Recent single 'Bear' slides in with an insistent heartbeat, and a strange repeated war cry which is echoed and amplified as the song grows into a menacing, glockenspiel flecked paean to being eaten alive. In the sense that there is such a thing a 'single' format anymore this is an obvious choice as it summarises Conquering Animal Sound's manifesto perfectly, with it's understated vocal and final descent into strange, but infectious electronic warbling. Anneke's voice is allowed a wider range on 'Tracer' which is driven by her sweet but oddly sinister singing, over bass and a click-track which hint at Young Marble Giants in their brief, brilliant prime.
I realise I've spent a lot of time describing the processes and the sounds which underlie Kammerspiel which surprises me - and it's possible of course that a record which relies on an unearthly vocal talent and lots of technology could come across as a cold and somewhat distant experience. It's testament to Conquering Animal Sound that they have produced a warm, human record with melodies which although sometimes as fractured and fragmented as the cover image, manage to worm themselves into the listener's mind. I defy anyone not to find Kammerspiel an engaging and uplifting piece of work.
Kammerspiel is released on 7th February, on Gizeh Records . Conquering Animal Sound are embarking on a UK tour during early February.

Conquering Animal Sound - Bear