Posted in Railways on Friday 7th September 2012 at 9:09pm
---
I used to refer to these strange interludes when something went wrong with the plan as "Lost Weekends". They've mercifully been rare over the years - save for the bad patch in 2007 and last year's "Lost Week" which oddly enough coincided with the riots - a strangely distracted and depressing week indeed. It's a little late to claim this as some sort of anniversary of those events, but it's oddly close. So, we face an uncertain Autumn, and sad to say I have a rather worrying sense that for some of the tour organisers, this is now terminal. ASLEF's dispute is about rest day working, and the fact that TOCs should take on more drivers rather than stretch the existing workforce. I think that's unrealistic. They key to success in straightened times is flexibility - and a whole host of new drivers during uncertain financial events just puts a lot of people at risk of redundancy. Some might claim that it suits the unions, as it provides a buffer between their members and the bleeding edge of cuts. But the fact remains that a healthy company is more likely to retain staff, so attacking customers isn't a good strategy. Sadly of course this little niche market is just a fragment of the rest day working done so the lobby is powerless. We're at the mercy of the unions in an uncomfortable way and one of my prized hobbies is dying as a result.
And its exactly because of this that I find myself in Basingstoke.
Last weekend I complained bitterly all over social networks about Doncaster. It was certainly deserved - despite its good shopping opportunities and its excellent position on the ECML, its a grim and occasionally lawless spot. The fact was I had a fairly neutral experience despite the dullness of the time there - I could have been doing other things elsewhere and felt a bit trapped. That was the key to my dismay. But this week, after a fairly good week at a new job I ended up taking a train to Basingstoke. It was planned that this would let me pick up the Charity Railtours trip to East Anglia. This had already taken a battering - banned from the GEML because it fell during the Paralympic period, redated once, and finally cancelled to be run later.
I arrived in Basingstoke late, in evening sunshine. It is, in my experience, the best way to see a town. I'd been here before - the useful station facilities are good and I recall being taxied here from Southampton once too. I'd even waited for a late-running Voyager to arrive in a little more style than a Networker. But once out of the station I was plunged into a mall - a long, insulated stretch of covered shopping space. Having consulted my maps before travelling, I couldn't see any other way to get across town except taking a very long route around. The first mall, a spacious, ominously empty affair gave way to a short stretch of daylight before the doors of another mall reared up. There was no escape or alternative route - except for access to a car park. This second, older mall was white, tiled, shiny - probably of 90s vintage. It was largely empty too - I'd wondered if these routes would even be open in the evening, but it seems that they are so fundamental to getting around town that they have to be. One consequence of the accretion of building projects is that the signage and wayfinding is inconsistent. It's impossible to plot a route without instinct. I pitched it just about right - emerging in a car park at the end of the mall. To my right, an old town street curved up a hill - even that was pedestrianised and made part of the sweep of retail. I veered left, across the empty expanse of parking spaces.
The Red Lion Hotel is a strange, red brick 1970s extension to an old pub. Like many independent hotels of it's vintage it feels a little tired, a little unkempt and weirdly cold inside - but it was pretty good. Clean, safe and staffed by some really good people. A bright, open smile and an unexpected conversation awaited me. It felt like the first human experience I'd had since I left the train and as such was very, very welcome. My room - home for the next two days - was fine too. I had nothing to complain about, yet I was still finding Basingstoke difficult to understand. I didn't want to be here, hated the way the Town Centre space had been privatised and didn't have the planned trip to fall back on as a reason for this. It was a difficult, dull night I faced...
Tomorrow, I'll predictably go to London again. It's still the midst of the Paralympics of course, and I wonder what I'm going to find - I'm also acutely aware how much time I seem to be spending there lately. But it feels like the only reasonable escape from here just now.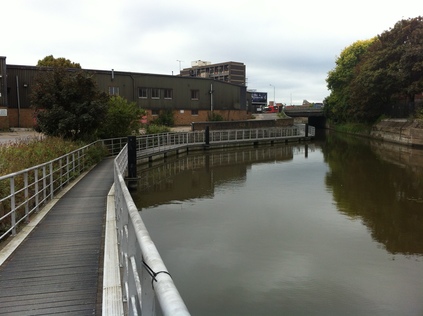 Posted in London on Sunday 2nd September 2012 at 10:09pm
---
Right now, a very low-key bit of industrial action on the part of a train operator means it's very hard to run charter trains. It has already been a tough summer with rolling stock commandeered for Olympic additionals but in effect sitting idle - bought and paid for of course. This, along with a general ban for steam in London and some stringent restrictions on using the area for other tours, has made the summer a quiet one. However, there was a bit of a renaissance on the cards - three tours in three weeks heading for extremities of the network, visiting the unvisited. In the end? All three cancelled due to the work-to-rule. Already pinched tour promoters pushed closer to the edge. The effect on me? A series of stays in cities far and wide. First Glasgow - never a problem - but this week, Doncaster. This was tougher. With a troubled heart and a lack of enthusiasm I found myself looking for something - indeed anything to escape. Thus I found myself on an early train to Kings Cross today. It was busy. Full of Paralympic spectators. All union flags and enthusiasm. Some had their Team GB attired already, others talked excitedly of how they'd buy into the games. I plugged in and switched off. This was a means to an end.
On getting to London, I persuaded myself that heading east was insane. Dug out my notebook, got a very big bucket of coffee and let the atmosphere of bustle wash over me. After Doncaster it was a relief, but it was turning into a beautiful day and I felt a drag to the water. There could be no harm in checking surely? Onto a 205 - empty, almost weirdly so. I hopped off at Bow Station - the road was quiet. An empty train to Bromley-by-Bow, and aside from shoppers and locals, still nothing. As I surfaced beside the familiar strip of road I could see the floodlights of the park shining beyond the Orbit, but aside from the roar of the Blackwall Tunnel Approach it remained quiet. Encouraged - and oddly excited now to be here - I headed along the road searching for a way down to Bow Locks, convinced that I couldn't gain access through Three Mills. After scuffling along the carriageway I found an entrance through a yard, arriving alongside the mouth of the Limehouse Cut which had nominally become my target for the day. However, I wanted to explore the area first and struck out towards Three Mills on the narrow strip of land between the Lee Navigation and Bow Creek. It was now a bright, hot midday and joggers and cyclists were out in considerable force. Huffing past me, mildly scornful of my shamble, managing to look sleek and healthy despite their discomfort. Passing under the railway, I noted that the path wasn't blocked at Three Mills so headed up to the cafe. It was silent and empty. I chatted briefly and found more dismay at the Olympic. It had ruined the summer. The mill struggled on, just, and they wouldn't be too critical. There was a sense that you just don't talk about it. You swallow the effects of the games, because so many people will tell you to "lighten up" or "be patriotic". I voiced my support and left - the guide lazily explaining the history of the House Mill to a group of tourists as I passed.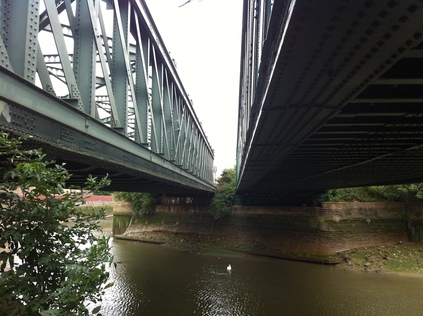 Back to Bow Locks, I struck out along the floating towpath at the opening of the Limehouse Cut. This innovative way of making the canal accessible won awards and was highly regarded, but I still foolishly felt mildly concerned about walking it. It took the tow path around the initial curve of the canal where there had apparently not being a route - at least not for some time. This initial turn to the west led into the long, straight section of the canal. Despite being a fairly featureless section of waterway, the walk was interesting for it's variation. At the Bow end it is derelict industry. Vast premises given over to community use. In one, a gospel group practised loudly, with a drummer banging out a rock rhythm to guide them. Affordable housing surrounded a park to the south - the mingling smells of Asian cooking and Sunday lunch providing a weird olfactory impression of multiculturalism. Beside the path, a rucksack carrying man stood. Looking into the water, a can of Special Brew in hand. He didn't react to my passing at all. I pushed on, under the DLR bridge. From the next access a bunch of Spanish tourists skipped down onto the path and began to shout and jump around. I must have given them a scornful look because they turned their attention to me. Following close behind, aping my ungainly walk and capering like court jesters in front of me. It was harmless but irritating. Eventually a group of fishermen they passed took issue in broad, Anglo Saxon terms. It was unclear if the fishermen should be here either, but they assert this uncertain right in definite terms.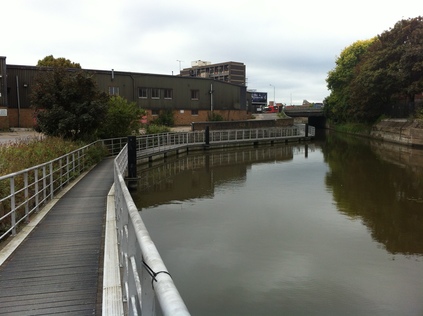 Here I saw the first of the Olympic Water Taxis. Black and silver boats, fitted out with luxurious seats. These must be pre-booked it seems and they putter up the canal towards the Park to order - extortionate fee paid. The Cut curved again at this end, above me Commercial Road roared and the tower of St.Anne's Limehouse was visible. I resisted the urge to surface and pressed on towards the Basin. The scenery changed - redevelopment has been kind to this zone. Luxury waterfront dwellings line the canal, extending out into the basin to form a ring of high-spec flats around the basin - now a marina. I walked over the swing bridge and found the Thames just as it swung south around the Isle of Dogs. The day had turned gloomy and heavy, and a mist hung low over Canada Tower. Across the entrance to the Basin, a pub did a fine trade. I pressed on, circling the basin and taking the Regents Canal entrance under a very narrow bridge. I had half a thought to walk back to Kings Cross, but fatigue and time made me re-evaluate this plan. Instead I decided to follow the canal to where my last walk began at Mile End Road. The sun had returned and the path was busy with cyclists again as I passed through the wilder, southern section of the linear park. A lone brick chimney stood beside the path while on the other bank the scene shifted from housing to derelict industrial scenes and back with surprising regularity. Finally I found the access steps I'd used before and made my way back up to street level. This emergence always seems vaguely surprising and loud, and it took a while to adjust to the roar of traffic. I hopped on a bus back to the city - to expensive coffee and bookshop visits, to a pleasantly quiet train ride back to my northern bolthole.
I'd not intended to be here today - to walk this route whilst the Games continued felt impossibly silly. But I've encountered peace and quiet, perhaps eerily so. People are staying or escaping elsewhere. The Olympic effect in London isn't energising or uplifting, it is pushing down on life, squeezing it back into the suburbs. I'm glad in that sense I experienced this. Its not what I expected - and not what we're being sold officially. I hope the House Mill struggles on, that trade picks up. I hope that the illegal fishermen of the Cut are left unhindered by tourists. This world within a city is precious and strange, and I feel rather privileged to have walked it today.
You can see more pictures from the walk here. As an experiment, you can also follow the route on the map below - the blue line is the walking route.