Posted in Railways on Saturday 23rd October 2004 at 8:10pm
---
A damp, dark morning. Since my itinerary for last week had not included Wales at all, I decided to repeat my trip of almost a year ago, and head for Rhymney. I could, at least, be assured of some Class 37 haulage up the valley and the chance to wander around Cardiff Central for a bit.

Quick change at Bristol, onto a rather busy Cardiff-bound 158. Bang on time, and rather loudly, 37402 arrived. I'd wanted a ride behind 'Bont Y Bermo' for a while, so I settled in for a very wet climb up to Rhymney.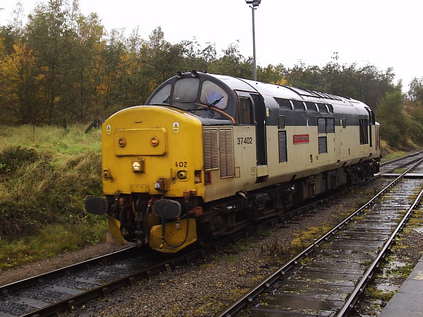 37402 'Bont Y Bermo' at Rhymney
Braved the rain on arrival and hopped out for a photograph of the locomotive as it ran around. As expected, the journey back to Cardiff was much busier. Passed by 37422 and 37425 on the way down. A rather extended stop at Queen Street for a unexpected attempt at changing crew, and back to an ever wetter Cardiff.
Onto the 1300 back as far as Bristol. This also hung around for a while at Cardiff - seemingly down to fitters attention to a jammed window in the drivers cab. On arriving at Bristol, wandered around a little. Very gloomy and quiet. Watched the Weymouth 31's leave, and chatted to a fellow enthusiast for a while.
Not sure if it was the after effects of last week, or the wet weather, but a rather quiet and subdued day.
Posted in Updates on Tuesday 19th October 2004 at 10:29pm
---
The Birthday. I have to confess that this October has seen none of the strange badness which normally plagues the month for me. I've actually managed a successful holiday, made some reasonable work progress, and generally stayed positive in a reclusive sense.

Today however was a little tough. Woke late, feeling appalling - considering most of the UK population I met on my travels had either a severe cold or a stomach bug, I'm amazed I lasted so long before succumbing. Struggled into work, and through six rather tricky appeal hearings, which were none too successful.

Some positives - had my attendance at a conference organised by our software suppliers approved, which means a couple of days of intensive networking and hopefully sharing experiences with other authorities struggling with the same problems. Also arrived home to find my ticket for the LAMAS Local History Conference at the Museum of London. Booked the train ride. Should be an interesting day, just a week after my visit for the Lord Mayor's Show.

On the birthday front, things were quiet - which was what I prefer. Being out of the office for much of the day prevented any ceremony there! A call from my parents and a couple of text messages from important people.
Posted in Railways on Tuesday 19th October 2004 at 7:48am
---
I decided not to post anything about last night's incident on 2W63 at Backwell until I'd heard that people were safe, which I'm pleased to say it seems is the case this morning. This kind of thing happens rarely enough to make it big news, and there is generally a bit of a hysterical response. Happily, aside from some factual errors the BBC seems to have covered events quite soberly so far. Its also comforting to hear that the evacuation was handled calmly and correctly by railway staff, although this seems to have been misunderstood by some (understandably terrified) passengers.

Whatever one's opinion of the Class 143 units, they have been workhorses for Wessex Trains covering the Bristol to Weston/Taunton routes alone or in pairs for much of the day. The nine two-car units have been refurbished to a high standard inside, but admittedly they suffer from extremely poor ride quality and the operational inconvenience of no gangway connection between units. They also have a record of being remarkably safe units. Though unpopular with enthusiasts and passengers to some extent, the loss of a unit will be felt keenly here.

With the Strategic Rail Authority threatening to withdraw funding for some services unless the Class 31 hauled services are replaced with DMUs on the Weymouth and Brighton routes, there is considerable pressure on the small fleet. The simple message is that we need the flexibility of locomotive hauled services here. Running a four or five coach, top-and-tailed service to Weston in the morning and evening peaks would provide more seats and fill the gaps in the fleet to some extent. This solution is also available now - currently three locos and a set of coaching stock are spare at Bristol Temple Meads from Monday to Thursday, and there is reportedly a further 31 available to Wessex. Currently, any additional units will only become available via a cascade of stock involving a range of Train Operating Companies throughout the country, and relying on timely delivery of new units to First ScotRail!

Granted, the Fragonset locomotives have performed poorly - but the SRA decision must be focusing some minds at Fragonset, who will shortly have a lot of locomotives standing idle if things don't improve rapidly. Of course, they are not the only supplier of traction.

Whatever the outcome of the investigation into the fire at Backwell, I sincerely hope that commuter services don't suffer. North Somerset is somewhere where rail can succeed, with some effort from train operating companies.
Posted in Updates on Sunday 17th October 2004 at 1:07am
---
I am sort of back from my week away.

I've spent the last six days zipping around the UK, popping up in unlikely places, wearing the same trousers and badly needing to shave. The tour has taken me to Glasgow (twice - but in total for less than an hour), Dover, Norwich, Manchester, Sellafield, Leeds, Nottingham, Aberdeen, London, Ramsgate, Inverness, Plymouth (for ten minutes - all of them pre-0500hrs) and Redditch among others. I've made dozens of journeys, hundreds of sightings and eaten far too much bad food.

I may try to distill my strange and wonderful week into separate daylog entries once I've crunched the numbers, examined the photographs and got rid of the rails which whizz in front of my eyes whenever I close them.