Posted in Railways on Monday 3rd January 2011 at 10:57pm
---
Today was something of an afterthought. The way that the Christmas and New Year holidays fell made it possible to have an unbroken ten-day stint off work at the cost of only two days of annual leave. This lured me into breaking my usual rule of working between the holidays in an effort to get back to normality. However, the timing also meant that I could easily have gone several weeks without a weekend trip. The effort to get the First Great Western diversions a few days back notwithstanding, I had nothing planned until 8th January - clearly not an easy prospect given how much I rely on these trips. So, whilst sorting out some travel for later in the month I booked an outing for today. Assured that the first train of the day would run, despite being a Bank Holiday I rose early for the first time in what felt like an age, and struggled down to the station. To my horror, as I waited for the train - happy just to be out early with a day of travel ahead - snow began to fall again! However, perhaps fate would smile today. We paused at Uphill Junction for a strangely long time and the ever present threat of points failure occurred to me. Sure enough, the guard walked through the train telling people there was a problem. However, we were soon underway via the mainline, avoiding Weston, and made it to Worle pretty much on time. Thanked my lucky stars and settled in for the rest of the run to Bristol.
Of course, as it was a Bank Holiday nothing was open at Temple Meads. Settled for a fairly poor coffee onboard my next train instead and enjoyed a very quiet run up to Birmingham. The sun struggled up somewhere during this, and I was gratified to note that there didn't seem to be any snow falling - despite fairly sizeable chunks of the fall a week or two back still lingering beside the line. A relatively late breakfast and better coffee at New Street, before heading down to get the service to Liverpool. This trip was a deliberate unravelling of one which occurred in the middle of last year. That one too had been booked late, in less than sensible circumstances, and looking back it seemed like a fairly decent day out. However, it also signalled the start of a very confusing time for me which I realised I was just, rather painfully, beginning to emerge from. So, today was about revisiting locations to erase their significance - a technique I'd used many times before of course, to varied effect. The trip up through Crewe and Runcorn was pleasant enough - the warm unit making me a little sleepy as busied myself with people-watching my way to Merseyside.
On arrival, I headed straight out into town, which was hidden under grey clouds threatening snow. It was, it must be said, absolutely freezing and I wasn't sorry to drag myself across town to the coffee shop I'd visited last time. Today it was very quiet, and I had time for a brief chat with the barista before settling down to collect my thoughts on the trip so far. I wondered if it was my beard which seemed to make me more approachable to people these days? Or did I perhaps just look haunted and desperate - I'm aware either was equally possible today. Spent a while writing and drinking lots of coffee before heading off, my symbolic mission accomplished. Wandered by the book and record shops practically next door, but resisted spending money. Headed back to Lime Street via a much-needed toilet break in a shopping centre. Here was where the real Liverpool was hiding. In the bowels of this cut-price mall people were pushing and jostling for the remaining rump of the sales. The air was full of shouts in guttural Scouse accents, and there was little regard for polite excuse-mes. I loved it - this erased perfectly the distant troubled thoughts I'd brought with me, and made me engage with real life again. I strode back to the station with renewed vigour - even holding my own in banter with a fairly rude beggar!
The journey back had been designed for relaxation - a quick dash across to Manchester Piccadilly, with time to shop and wander a bit before the direct train back to Bristol. Travelling early allowed me daylight at least as far as Stafford, and it was good to have a long trek ahead of me and a stack of fine new music to listen to. I wondered if it was still snowing at home, or if the line through Weston was fixed - but decided not to check and just to enjoy the ride. Today, despite it's largely unplanned nature and rather maudlin mission wasn't all about endings. It was also about the beginning of a whole new year of wanderings...

Posted in SHOFT on Monday 3rd January 2011 at 10:01pm
---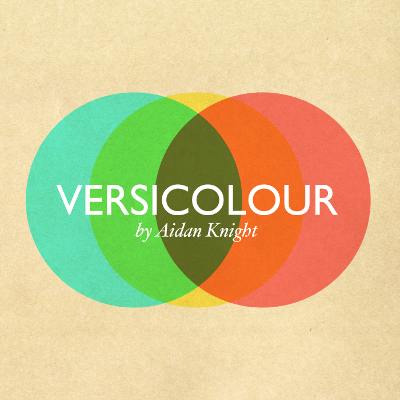 As the end of the year approached, with the 'best of 2010' lists all in and being given due consideration, the last thing I expected to happen was for something to arrive out of left-field which should have been up there among the finest releases in the last twelve months. But, the internet is a strange place - and a chance recommendation channelled through a Facebook posting delivered a video of Aidan Knight performing in his living room. A sparse, empty room which echoed with the strange sounds of french horns and guitar trickery while, appearing rather fragile among the serious looking musicians, Aidan Knight strummed deliberately at his acoustic guitar and sang about knitting!
Granted this doesn't sound like the way moments of clarity normally occur, but the video was so compelling that I found myself on Bandcamp parting with money for 'Versicolour' mere minutes after hearing what I later confirmed was really called "Knitting Something Nice For You". I was rewarded with a gem of a record which deserves wider acclaim than it has received so far for sure. I fired a quick email to a Canadian friend too, just in case I was about to make a fool of myself by waxing lyrical over someone who was a household name elsewhere over the Atlantic, but no - aside from noting that Aidan in his press shots appeared to look like "every other downtown twenty-something right now", they too drew a blank.
So what snared me so quickly about 'Versicolour'? The descriptions dotted around the internet certainly don't do it justice when they trot out the all-too-easy 'chamber folk pop' misnomer, along with the assumption that all Canadian music somehow leads back to The Arcade Fire. This record defies easy categorisation, and whilst built initially around the fragile picked guitar and vocal which Knight himself provides, the ensemble of musicians deserves huge credit for crafting an understated masterpiece. Notably, these songs are simple - some of them almost little more than half-expressed ideas at first, which develop into vast sweeps of brass or weirdly off-key country. By "Jasper" - the official closing track of the album - the band are belting out a gospel and western number, wonderful splashes of female vocal and sonorous bass backing the slide-guitar fuelled stomp through a quasi-religious lyric. Along the way we also get the slower burning, but compelling "Fighting Against Your Lungs", where a simple picked guitar and fragile vocal lead deceptively into a brass-drenched Salvation Army bandstand singalong of a tune. If what I'd heard so far had hooked me, this track - personal associations aside - dragged me dangerously deep into this lush, luminous record.
I'm aware I've not lived with this album long enough to write sensibly about it yet, and that this will come across as a breathlessly positive piece - but I wanted to share the unbelievable rush of optimism and delight that hearing this for the first time provided - and the credit for that belongs entirely to Halina and friends at Glasgow PodcART. There is more to discover here - not least a more recent EP. But I predict pretty soon Aidan's name will be heard in lots of places where quality, workmanship and fragile beauty are valued.

Aidan Knight - Jasper