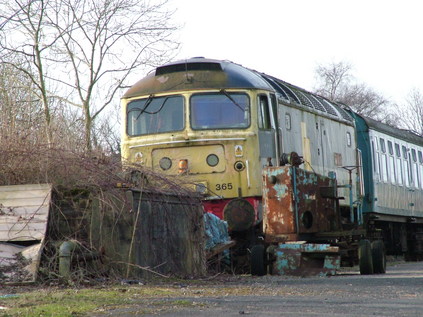 Posted in Railways on Saturday 25th February 2006 at 9:33pm
---
The final Saturday of the engineering possesion which has made Highbridge a railway no mans land for the past three weeks. We had planned a trip for last week, which hadn't happened for a number of reasons. So today, struggling to wake up after a very late night, the party began to assemble here at my flat for a trip to the Mid Hants Railway. Started out well, noting 59204 on 6W20 at Highbridge station as we left. Relying on GPS to get us across country, we noted we were passing through Cranmore in Mendip quarry country. Stopped off to look at the terminus of the East Somerset Railway which was being whipped by an icy wind. Not much to see this early in the day, but tried to get an angle on 47365 which was stored near to the road entrance to the site.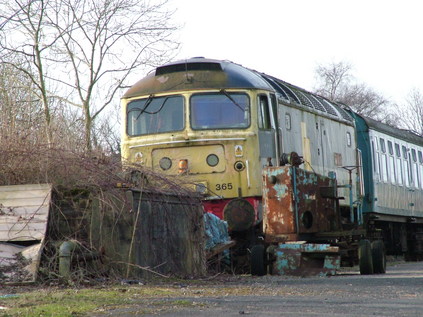 Pressed on, and arrived at Alresford around 11:00. A pretty little market town, which I'd have liked very much to explore further, and hope to at some point. Since we were eager to get onto the railway, visited the shop in the ex-goods shed, and booked tickets for the journey up to Alton. Quite soon after, a Pressed Steel 'bubble car' in pristine Southern Railway green livery arrived. Boarded in a prime seat for the driver's eye view which I remember from the times these operated the Cross City Line in my former home area. Soon off, with some quite lively running along the ten mile line!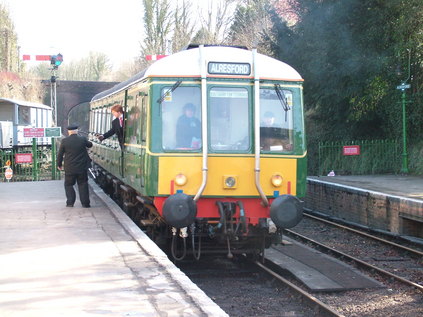 Particularly intersting was Ropley where much of the MHR stock is stabled for engineering and preservation activities. Lots to see here including the mighty 'Bodmin' and a number of diesel locos. Strange topiary in evidence too, which I later noted in some very old photographs of the station also!
Arrived at Alton to find a 450 in the station awaiting departure for Waterloo. We had a number of possible plans now, but finally decided to complete the original route by travelling on to London. Rebooked and boarded the 12:44 departure. Exciting journey, especially since one of the party had never been to the capital before, and several had not been to the LSWR terminus at Waterloo. Some quite frantic EMU spotting went on along the way, much to the horror of some of the normals on board!
Not much time at Waterloo if we were to make it back for the last MHR train to Alresford. Wandered up to the Eurostar platforms, then stocked up on provisions for our journey back to Alton. Considering it was a first trip, I think at least two more members of the party left wanting to visit the city again and to explore more thoroughly. More frantic number gathering on the return journey.
Arrived back into Alton in bright evening sunshine and watched 73096 run around it's stock ready for departure as the 15:55 to Alresford. Boarded and found comfortable seats for the journey back.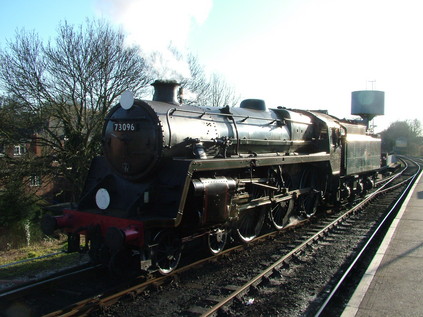 Back at Alton we set off home via a less 'bendy' route at the request of our driver. Another eventful and entertaining trip, with more ideas for future jaunts thrown around during the day. Arrived back at Highbridge a little after 19:00 and waited in Arctic winds with some of the group for the bus back to Bridgwater. With them finally tucked up on the warm bus, retreated to the Cooper's Arms for a well-earned pint.

Posted in Highbridge on Saturday 25th February 2006 at 1:02am
---
For the first time in a very long time, I spent a night out in Burnham-on-Sea. Until a few years ago, I would pop back regularly and catch up. But work and life in general put paid to that, and I spent more time at my parents home than out and about during visits. It's hard to explain the massive gulf between Weston and Burnham - they could be in other countries as far as locals of either burgh are concerned. A trip from one to the other always seemed to involve just a little bit too much planning and effort to be a successful proposition.
So tonight, despite freezing weather I ventured out to the bus stop and did something I've vaguely promised to do for a while - took a trip into Burnham. Arranged to meet people at The Dunstan House. Once a quiet pub, now a busy and welcoming Young's House. Watched the world go by until people I knew arrived - more of them than I expected in fact, including visitors from overseas!
An important birthday was being celebrated, so I was persuaded to stay long after the last bus home - and I have to say I enjoyed my night out. The beer in Wetherspoon's sea front pub The Reeds Arms is far too cold - but its real beer. In fact it was Berrow Brewery's charity brew Berrow S'port. It's also a shame we couldn't persuade the younger folk among us to go into The Crown since if the landlord gets his way, it'll be flats soon.
The night ended for me in Michael's Fun Pub, scene of just too many teenage disappointments and embarassments to be comfortable. It was strangely almost unchanged from my last visits which are a good few years ago. Chatting to a 'senior' member of our party we reckoned that we last regularly patronised the place twelve years ago. Agreed that if we're still around, we should meet up here in 2018 to see if they've redecorated yet, or if the aging bouncers have retired from duty?
A long cold walk back to Highbridge, where I confess I feel more comfortable than I ever did in Burnham. However, I admit it was fun to get out and about in a big gang again, even if I was probably the resident beer-bore! It's slowly dawning on me that I've arranged to be awake and receiving visitors in about five hours...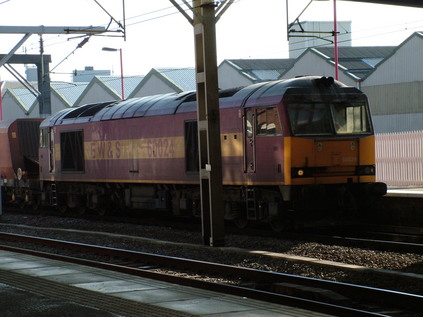 Posted in Railways on Saturday 18th February 2006 at 10:47pm
---
The difficult middle week of the three week closure between Taunton and Bristol. No plan for this week, but a strangely tiring half-term week at work left me wanting to escape, but certainly not relishing the thought of a 95 minute bus ride to Bristol. As late as this morning I looked at possibilities of heading south just to minimise the bus mileage, but I couldn't settle on anything. An urge to continue to pick off bits of new track led me to my Baker, and I settled on the annoying stretch between Crewe and Stoke-on-Trent which I'd missed out somewhere around 1998 when I made a round trip to Uttoxeter. Calculated that it could be done reasonably simply, and set off for the 07:00 bus to Bristol.
As bus rides go, it was I suppose reasonable. It ran to time, and didn't wait pointlessly around at empty stations like it seemed to on previous occasions. Caught a glimpse of a distant Class 66 at Yatton where work on the crossovers continues, but the bus managed to turn in the main carpark, so we didn't quite go far enough to find out what the locomotive was. Arrived at a rather quiet and cold Temple Meads and booked for Crewe whilst waiting for the signaller to decide which platform the 08:58 service was going to occupy. Watched the stock at platform 5 get switched off and locked up, then 220029 fly down through the middle road, before returning on platform 4, with the other set presumably declared a failure.
Somewhere south of Gloucester, a mist descended and stayed around for the rest of the journey to Birmingham. A quick change onto a relatively lightly loaded Pendolino, and off into the mist once again. Somewhere around Norton Bridge we rocketed out of the mist into blazing sunshine. Arrived at Crewe and had lunch on the waiting 12:07 to Derby. Noted a lot more visible locomotives on the Diesel Depot site, and on a more flexible day would have wandered over to platform 12 for a look. Decided to stick with the plan though, and soon left heading east at Crewe South Junction and onto new track via Alsager and Kidsgrove to Stoke, the only way out of Crewe I'd never taken before.
I've passed through Stoke-on-Trent on many occasions, and even changed trains here back in 1998, but I've never visited the City. So, with an hour or so to spare, decided to wander out of the station. Immediately confronted with a statue of Josiah Wedgewood, leaving me in little doubt of the importance of Stoke in terms of industrial history. The station buildings themselves are impressive and imposing. Under the railway, over the dual-carriageway and the Trent and Mersey Canal, and the next landmark is the huge Civic Centre complex. This seat of local government is impressive in its scale, and an art-deco war memorial adds to the feeling of civic importance. However, from here on the city centre declines in grandeur. Stoke is of course, chief among six towns which make up the city. Without seeing them all its hard to judge, but there is little here to inspire. I wandered rather aimlessly around the depressing market building, Little to recommend here, despite the remains of some impressive commercial architecture, and some of the locals appeared truly fearsome! Beyond a drab looking Wetherspoons, no obvious place to sample local ales, so back to the station.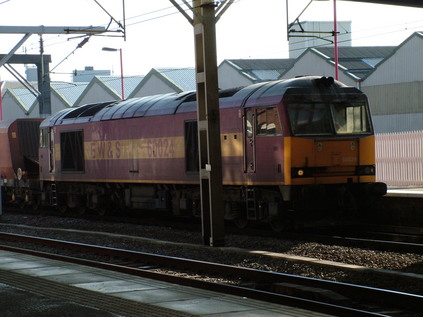 Following 60024's appearance on a stone train, our Voyager home rolled in a little early and very full. Squeezed into the front coach and enjoyed the antics of a couple of children who were playing very surreal wordgames in the seat opposite. Thought about waiting for the 15:12 off New Street and trying to travel on to Taunton for a shorter bus journey up to Highbridge, but given the loading on Cross Country services today, and the possibility of my ticket causing problems, decided to go for the 14:42 and an earlier change at Bristol. Once out of the suburbs of Birmingham, plunged into mists again which south of Cheltenham turned into a good old fashioned pea-souper.
The bus journey back from Bristol was just as tiresome as the outward leg - enlivened to some degree by the driver not really knowing where he was going, and the loud mobile telephone conversations of a young woman in the front seat which were like hearing one side of an epsiode of 'Jerry Springer' or similar. The 66 at Yatton didn't appear to have moved much all day, but I still didn't find out which one it was!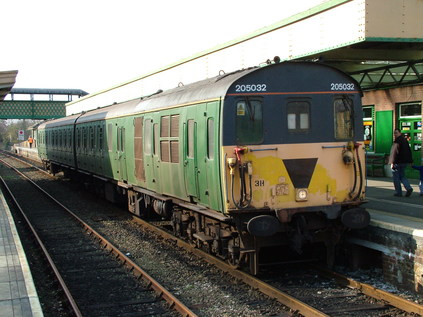 Posted in Railways on Saturday 11th February 2006 at 6:49pm
---
The first day of engineering works around here, but a cunning plan was devised to get out and about. I managed to summon the small gang of us who end up hanging around the railway together. It's been a while since we were all in the same place at the same time, so there was something of a nostalgic atmosphere as we set off by road for Okehampton in amazing weather. The target was the Dartmoor Railway, and eventually Meldon Quarry. This was a little bit of new track for me, and the opportunity to see the stored locomotives at Meldon.
After a simple enough journey along the M5 and A30 we arrived at Okehampton Station to find the 11:00 departure for Meldon waiting in the form of thumper 205032. We'd watched this unit being hauled through Exeter on its way here in January 2005, so it was good to see it in action, now in all-over Southern Railway green. As the only passengers on board, we left the attractive little market town of Okehampton and thumped our way west for a couple of miles, into the fringes of Dartmoor. The guard gave us useful instructions on how to see almost everything at in the sidings.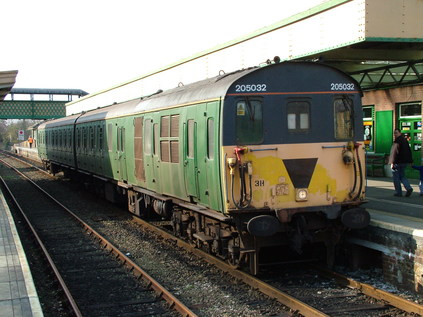 First off, we explored the immediate environs of the station. The Dartmoor Railway has an intersting set up here, with a static display and a buffet in a Mk 3 sleeper coach - not open yet as we were the first train of the day on a winter Saturday! From the buffet and picnic area, there are panoramic views over Dartmoor and in particular the spectacular viaduct. Walked over the viaduct and along the former railway line for a little way, before returning to see what was stored.
Followed a cycleway from the viaduct, behind the DR station and soon found ourselves alongside a row of stored locomotives. Lots of photography going on now! Spent a pleasant hour wandering along the path, looking at the rather forlorn parade of rusting metal, before heading back to the station where the thumper had returned, this time with a few more passengers on board. After the short trip back to Okehampton, took the opportunity for a few pictures of 205032 before exploring the station, then heading into town for refreshments at the Red Rooster Cafe and the Plymouth Inn. Okehampton seems like a busy little place - my one visit back in around 1998 when Wessex began the summer Sunday only service here is a bit hazy now.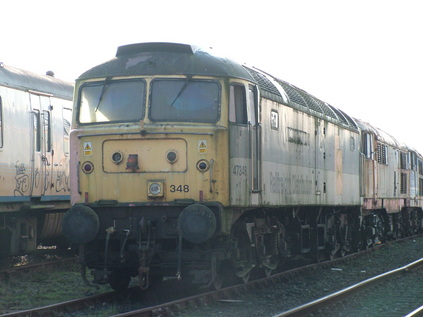 Decided on diversion on the drive back, heading roughly alongside the railway to Sampford Courtenay, North Tawton, Bow and Crediton before turning north to Bickleigh, home of the Devon Railway Centre. Not open, but possibly worth a future visit. Investigated the water mill, before pressing on homeward. Disappointed to see Fairwater Yard empty as we passed through Taunton.