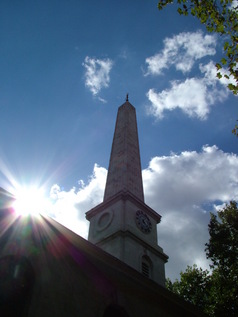 Posted in London on Saturday 17th September 2005 at 11:44pm
---
Before the strange and unexpected work events of the last few weeks, the plan was to be in London for a long weekend to coincide with the Open House weekend. In the event, I decided to travel up today returning this evening. My plans had further altered as I was to meet some friends and lead a tramp through some of the places I felt were more interesting and less crowded. So I set out early, and travelled happily through autumn mists and sunshine. Arrived to find the Circle Line out of action, so headed to Blackfriars then to Kings Cross Thameslink. Time to kill until people arrived, so got a haircut from an Italian barber who was really very angry with Sven Goran Eriksson. Also time to buy perhaps the best bacon roll I've ever eaten practically next door to the station. My colleagues stepped off the train into a predictable Pentonville morning - a carpet of drunks and litter, but amazing sunshine and a slight chill - ideal walking weather. So we struck out towards the Fleet and to Clerkenwell via Exmouth Market. Unsure of how much of a guide I was expected to be, I hung back and apologetcally suggested decomissioned points of interest - The New River, Penton Mound, Coldbath Fields, The House of Detention. A fair observation - why was everything I remarked on no longer extant? A couple of sites visited here - the Marx Memorial Library and the Old Sessions House. Both provided interesting tours - and despite having visited before I thoroughly enjoyed revisiting.
The next stage was to strike out east, to St. Lukes on Old Street. After marvelling at the oddity of Hawksmoor's obelisk we stepped into a modern, ultra high-tech but not unsympathetic music space built for the LSO . The Gamelan was particularly interesting - a shame we didn't get to hear it played. Exchanged contrary views on Hawksmoor with the staff before leaving. Throughout our journey today his reputation took something of a battering.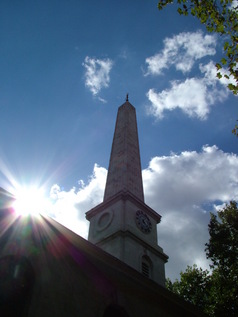 After a walk down Whitecross Street, recalling associations with George Gissing and Workers in the Dawn, we turned east again via a pint at the Artillery Arms, and through Bunhill Fields to Wesley's House and Chapel. An interesting talk in the deserted chapel saw me expound on the significance of pelicans in Christian religious art - which I don't think anyone believed, followed by a strange conversation with the Mayor of Islington's driver. East and south now, with the intention of heading for Spitalfields - an area which one of my friends was casually researching. Approached via Shoreditch High Street, Bishopsgate and Brushfield Street for the maximum impact of Christ Church and its awe-inspiring frontage. A brief refreshment stop was enforced as I'd failed to account for people's personal needs, before exploring the church itself.
Perhaps I made a mistake in my next selection. After walking through the curious houses of Fournier Street and Wilkes Street, we joined the queue at 19 Princelet Street. A different clientele here to reflect the latest wave of immigration to wash over Spitalfields - the young profressionals. Whilst I think the building intrigued and appealed as much as it always does for me, the message behind its current usage was perhaps too politically motivated for others in the party. Perhaps they coped better with Marx and Lenin because they could pass them off as dead ideology? Things took a strange turn - as they always seem to in this part of the city. We escaped via alleyways towards Devonshire Square.
We were the last party to leave the slightly disappointing Osborne House - home of the National Association of Flower Arrangement Societies - not on my personal itinerary. There followed a long, rather surly search for beer. As the Open Houses began to close, so did the local facilities. Back west, into the city via Leadenhall, Bell Inn Yard and Cornhill. We looked for a particular view of St. Pauls recently described to one of our party, and finally found it in Watling Street where we rested and enjoyed the peace and quiet of the closing city.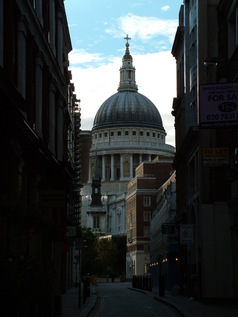 After a quick visit to Paternoster Square and Temple Bar, time for a final pint at the Black Friar before heading back to Paddington for the last train home. Not quite the weekend, or indeed the day I had planned. Still interesting however, and proof positive that I am not a tour guide. When I can perhaps get my head out of the clouds and learn not to project my own strange meanings on to the City, I may find myself better able to explain it to others.