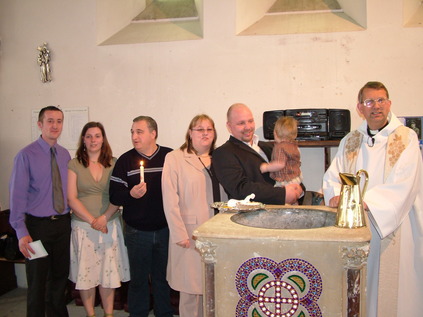 Posted in Updates on Monday 25th April 2005 at 5:47pm
---
After all of the preparation and anticipation, my nephew's christening service went very smoothly yesterday. Set out on the 0933 to Highbridge in much improved weather, meeting an old friend who was slightly surprised to see me dressed smartly on a Sunday! Chatted, then walked to my parents house. People began to arrive from all over the place - I was pleased but amazed by the turn out today. My uncle and I set out for the Social Club to meet my sister and her husband, and to sample the local ale (RCH's excellent 'Old Slug Porter' in my case). The church service was quite short, and the minister made efforts to explain some of the symbolism. I think maybe he did me something of a favour, as perhaps some doubtful members of my family now understand why I couldn't have been part of the service. After church, it degenerated into a typical family party in honour of both the christening and my nephew's upcoming first birthday, which was fun!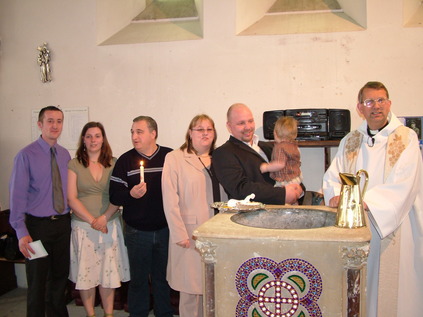 Today, set out for Bristol Parkway to hopefully get a picture of the 0Z87 scrap move from Willesden to Caerwent. Since I'd travelled direct from Highbridge and not read my email since leaving yesterday, found out the hard way that it was cancelled. Not alone perhaps as I noted some familiar faces on an overbridge as I passed Filton Abbey Wood on my way up to Parkway. This move has been cancelled previously and seems destined to run on a day when I'm safely tucked up in my office! Back to Temple Meads to ensure some returning family members get onto their booked Birmingham bound train.
Lost::MikeGTN
I've had a home on the web for more years than I care to remember, and a few kind souls persuade me it's worth persisting with keeping it updated. This current incarnation of the site is centred around the blog posts which began back in 1999 as 'the daylog' and continued through my travels and tribulations during the following years.
I don't get out and about nearly as much these days, but I do try to record significant events and trips for posterity. You may also have arrived here by following the trail to my former music blog Songs Heard On Fast Trains. That content is preserved here too.
Navigate Lost::MikeGTN Find articles by category
Search Lost::MikeGTN
Other Places...