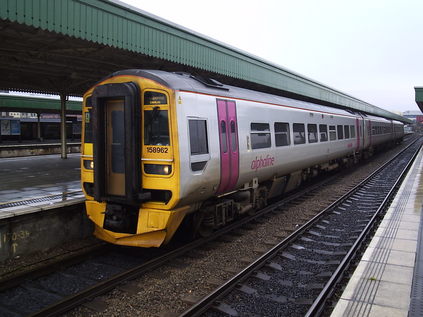 Posted in Railways on Saturday 15th January 2005 at 8:11pm
---
Up later than usual after a good sleep - no doubt due to plenty of rather fresh air yesterday at Rugby. Pottered around until a text message arrived - despite damp weather a trip to Cardiff was on the cards. Got ready and headed for the station for the 1006 to Bristol. Quick change at Bristol onto a severely overcrowded 150242 for Cardiff.

Slow progress west of Newport due to an engineering possession on the fast lines. Noted several unusal locomotives working here, but this led to things being a little quieter than usual - particularly where freight is concerned.

Arrived to a very damp Central station, so took a short spin out to Queen Street on a Rhymney-bound 37425 just for fun. Also noted 37405 and 37411 working the Rhymney service today. Back to Central in time for two Class 60 hauled freights. No pictures due to being in the wrong place at the wrong time, and too wet to venture out beyond the platform canopy.

Failed to see my last Class 143, but saw almost the entirety of the others, along with a good supply of the usual units. Finally got a decent pictorial record of Wessex Trains second three-car Class 158.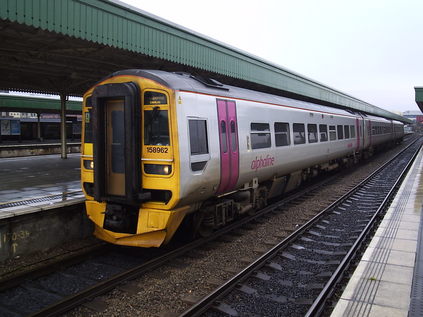 Took another short trip as far as Radyr via the City Line in order to see what was on Canton depot. Some amusement from the guard when we attempted to pronounce our destination in order to buy tickets! Noted several of the new units cascaded from Scotrail, including one rumoured to have arrived this morning. Changed platforms at Radyr and headed back to Central via Cathays and Queen Street.
Meandered damply home via a photo stop at Newport and a short spell at Temple Meads.
Lost::MikeGTN
I've had a home on the web for more years than I care to remember, and a few kind souls persuade me it's worth persisting with keeping it updated. This current incarnation of the site is centred around the blog posts which began back in 1999 as 'the daylog' and continued through my travels and tribulations during the following years.
I don't get out and about nearly as much these days, but I do try to record significant events and trips for posterity. You may also have arrived here by following the trail to my former music blog Songs Heard On Fast Trains. That content is preserved here too.
Navigate Lost::MikeGTN Find articles by category
Search Lost::MikeGTN
Other Places...