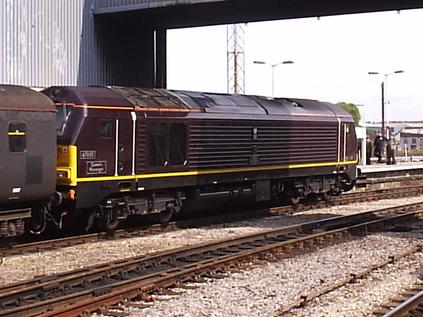 Posted in Railways on Saturday 24th July 2004 at 10:46pm
---
Something of a directionless weekend, having had an incredibly packed week here. Decided that it would be interesting to chase the Class 67s hauling the Holidaymaker Specials again. Particularly eager to get 67005 since I'd been denied the chance to get this from Cardiff to Gloucester back in May when a late Great Western service scuppered things. Since 'Queens Messenger' is expected to earn its keep when not hauling the Royal Train, I figured as a subject (however unwillingly) I was entitled to some haulage too.

Arrived at the station to find a huge slow-moving queue. I was just getting tickets when 67005 rumbled in - mercifully a few minutes early. Brisk trot to the front of the train for a seat behind the loco and a short run to Bristol Temple Meads.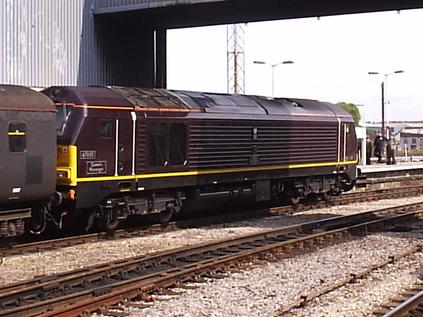 The service lingered until 1204 at Bristol to relieve a following Voyager which was dangerously overcrowded. The specials were certainly more populous this time than on my journeys a couple of weeks back. Refreshments and pictures, then a wait for the 43094 on one of the late running, southbound Virgin HST specials. Despite ditching these workhorses for Voyagers, Virgin have hired back a couple for the summer. Soon enough onto the 1248 to Exeter and 67003.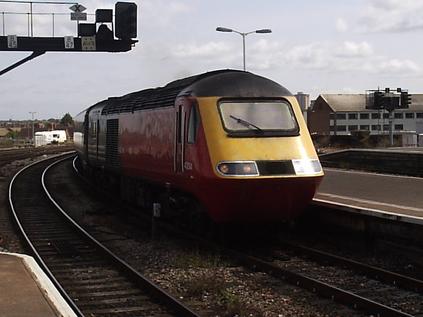 Plan from here got a little hazy. Had heard all kinds of tales about 1V19 - that it had failed at Preston, that 47851 was hauling it to Warrington, and that the elusive 67001 had taken over. As it was running so late, there had seemed a possibility of scooting back up to Bristol, and using it for a return to Weston. Soon enough however, the screens at Exeter showed the 1548 as cancelled. Decided to hop onto the next northbound service.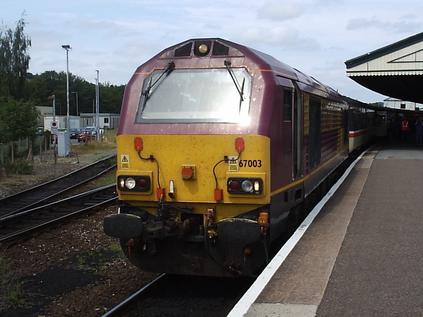 Firstly however, had to wait for a late running Paddington HST. Noticed my pet tram, 43130 on the back of the packed ex-Newquay service so I went for the photo opportunity.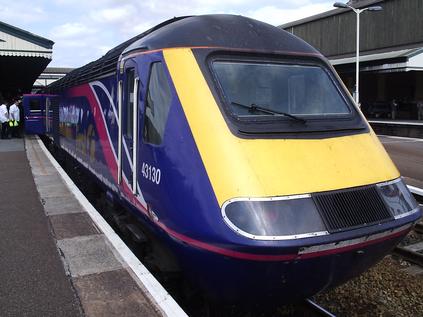 With 'Sulis Minerva' safely off to London, the 1420 Penzance-Glasgow arrived. The crush of surfboard wielding boys and bikini-clad girls was overwhelming. Happily flagged this, for a trusty pair of 143s on the 1436 to Cardiff. Never thought I'd be so happy to see a Donkey on a reasonably long distance service!
Glad to see that the Summer Saturday traffic remains busy, but not convinced the Voyagers are helping to solve the capacity problems from Cornwall to the North. Can't help but feel that more, longer locomotive hauled trains would fare better...
Lost::MikeGTN
I've had a home on the web for more years than I care to remember, and a few kind souls persuade me it's worth persisting with keeping it updated. This current incarnation of the site is centred around the blog posts which began back in 1999 as 'the daylog' and continued through my travels and tribulations during the following years.
I don't get out and about nearly as much these days, but I do try to record significant events and trips for posterity. You may also have arrived here by following the trail to my former music blog Songs Heard On Fast Trains. That content is preserved here too.
Navigate Lost::MikeGTN Find articles by category
Search Lost::MikeGTN
Other Places...