Posted in Railways on Saturday 3rd April 2004 at 11:04pm
---
A strangely lacklustre day in lots of ways. Woke up feeling rather groggy - I can feel the seasonal allergies approaching, and it will take a couple of days for the antihistamines to start working. Bright and sunny out. Had decided on a journey along the coast to tour 'dubiously named seaside resorts' - namely Littlehampton and Bognor Regis. Always strange, having allegedly grown up in one resort, and now living in another crumbling temple of Victorian leisure time, seeing how its done elsewhere is compelling, if a bit depressing.

Chaos at Temple Meads with Portsmouth bound services - the 0822 delayed indefinitely and requiring fitters attention on arrival. 0922 delayed by signalling. Platform changes and much grumbling of passengers later, and we're off - in a rather cramped 158749 from the London end of Platform 1 - which already contained 158748 meaning we only just squeezed on. I suspect 748 may have been the 0822 in fact! Somewhere around here the weather turned wet and somewhat thunderous.

Otherwise, the journey ran rather smoothly. The odd few minutes adrift here and there on the coast, as ever. To Littlehampton first - a rather grim little place with no character, but a rather large station. Didn't hang around much here. Headed straight to Bognor Regis. Slightly better. A massive station - one can imagine huge excusion trains arriving here. The circulating area is vast, and the booking office now houses a small market! The town itself is a little more bustling and pleasant than Littlehampton. Wandered around a bit. Excellent service means four trains an hour out of here, Weston can only dream of such service!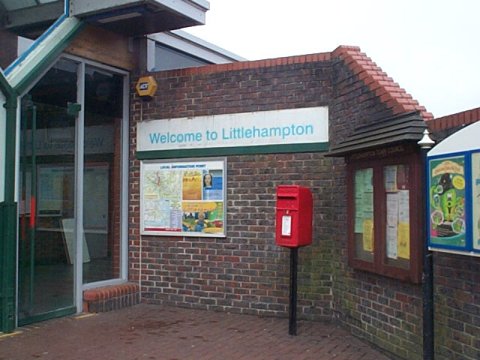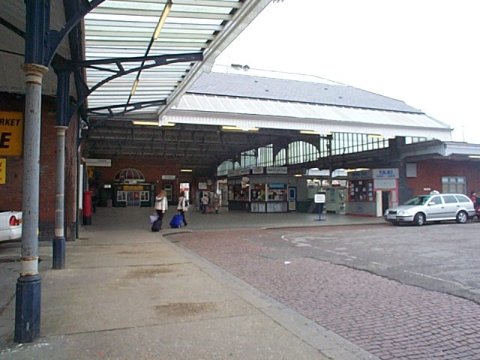 Bognor Regis Station Concourse
Very sleepy in a hot 150238 on the return leg to Bristol. Lots of strange swapping and changing of units connected to us at Westbury. End result is a stray 153 between platforms 6 and 8 at Temple Meads, which no-one seems to know what to do with! Read a great deal of John Halperin's "Gissing - A Life in Books". Excellent, detailed but rather depressing stuff. On getting back to Weston, wandered aimlessly for a bit.
An odd day. New track and interesting travels, but still feeling restless.
Lost::MikeGTN
I've had a home on the web for more years than I care to remember, and a few kind souls persuade me it's worth persisting with keeping it updated. This current incarnation of the site is centred around the blog posts which began back in 1999 as 'the daylog' and continued through my travels and tribulations during the following years.
I don't get out and about nearly as much these days, but I do try to record significant events and trips for posterity. You may also have arrived here by following the trail to my former music blog Songs Heard On Fast Trains. That content is preserved here too.
Navigate Lost::MikeGTN Find articles by category
Search Lost::MikeGTN
Other Places...