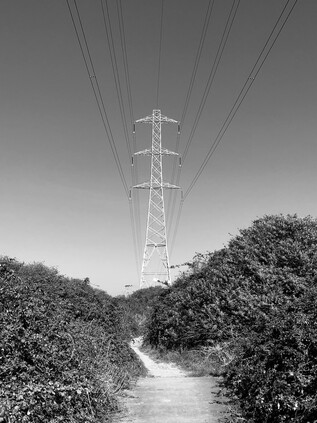 Posted in Updates on Friday 24th July 2020 at 7:07pm
---
Today I walked...
I've read a lot these past months about the best intentions of others - to use the period of enforced retreat from society to learn a new skill, to change a long-entrenched habit, or to unclutter their life of unwanted people or things. For most of us though, I suspect the reality was very different. Certainly, I didn't experience the much-publicised shame of seeing others managing to skate serenely through the 'lockdown' on social media - because, mostly, I didn't see many people doing much more than coping - and that sometimes only marginally. I took a vicarious interest in local online mutual aid groups, watching early blitz-spirit bravado evaporate into sour bursts of bile at others apparent breaches of the 'conditions' like an Orwellian prediction made real. I ploughed my energy into working from home as directed, disappearing into a sea of urgent, panicked responses to crises early in the morning and taking the evening televised Government briefing as a signal to surface. I realised early on I'd settled into a routine I could sustain with only occasional pangs of frustration or unhappiness, and generally with grim detachment. I'd found the false floor we'd all need to install to survive these coming weeks and months.
Early on I tried hard to get out for what we all called our 'government-mandated' exercise. This wonderfully British take on the thirty minutes of sanctioned absence from home did what all the best propaganda does here: it harked back to the Second World War. The whole enterprise reeked of ration books and dig-for-victory, and it felt like we were doing our solemn duty by taking these short bursts of outdoor activity. We convinced ourselves that exceeding these allowances would be unwise, or at least would invoke the ire of our neighbours who's curtains twitched at the sound of a front door closing. The reality of these walks was nothing like the fiction: it was hot for those first few weeks, blistered grass buffeted pollen into my face, the landscape was a drab, dusty yellow. When I encountered anyone else - which was rare in these already quiet suburbs - they would skitter aside to create space, looking up nervously to check I'd done the same. We'd each unconsciously hold our breath until we'd passed. It was as superstitious as any of the now laughable behaviours we learned about in the history of the Plague. Nothing about these walks was pleasurable, nothing about it was sustaining. In essence, they just reminded me of what I was missing and where I couldn't be. I soon fell out of the habit, my legs growing soft and useless as they undertook the staircase commute each day and little more.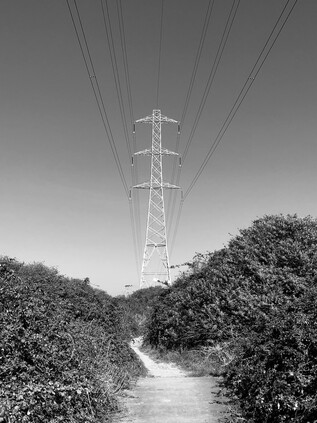 I realised that I needed to get moving today. If all goes to plan, I hoped to be able to resume my journeys to London soon and I knew that during this sojourn I'd gained weight and lost stamina, and the act of walking felt like a memory. I set out on the basis that if I could resume brief walks over the coming week, should my trip take place I wouldn't feel totally unprepared. Just a short circuit - one I'd done many times before - around the suburban hinterland of the town. I'd previously decided that this wasn't a fulfilling walk because it was too local, too inert - but I realised as I began the trek on a gloomy and warm afternoon that it was nothing to do with the location, it was entirely my approach to the territory. I quickly found my stride and while my calves thrummed in protest at this interruption to their gradual atrophy, I felt the surprising urge to push on. I took a wider sweep than planned, crossing the railway line via the creaking metal gates which I'd used countless times before but, this time, savouring the screech and slam. The taillights of a local service dwindled into the western distance, and I enjoyed the illicit thrill of crossing the tracks, briefly standing to watch the train disappear. Once into the unsettlingly uniform streets of the 1990s built estate beyond, I found myself noticing detail in the apparently featureless landscape. Nailed to the boundary fence of a well-to-do home was a carefully printed and laminated collage: photographs of dog excrement in various locations and quantities. The spike which secured them also affixed a pale pink bag of dogshit to the page. The whole ensemble was faded and sunbaked and had clearly been present for months. I wasn't sure what was more fascinating: that someone would expend the energy and ingenuity to fashion this passive-aggressive protest or that the target of the slight would leave it undisturbed as a signal of their guilt?
There was an uneven but regular stream of fellow pedestrians, some masked, all sensibly distant and well-practised at pre-empting the passing manoeuvre without the over-emphatic drama of those early days. The occasional pavement-cyclist zipped past too, ordinarily annoying but today strangely reassuring: the cyclists were back to being inconsiderate, and all felt well with the world here on the footpath. There were, of course, parts of the route which strayed into my more typical edgeland haunts of tall grass, gravel and pylons. I felt the slight thrill of distance from humanity for the first time in months. Those early lockdown walks had been in a world which was entirely vacant and liminal. The lack of contrast made the uncanny seem mundane, a thin veneer of strangeness settling everywhere. The world was just somehow less interesting when everything was off-kilter and disconnected. It was a little after 5 pm and the few buses I saw had a scattering of home-bound passengers which slowly thinned to emptiness as my walk continued. The playing fields, however, were busy with small groups of children. Improvised summer-holiday games underway which would last as long the light held. They were unconcerned with the passing adult world, glad to be released after a strange spell of being stuck indoors and schooled by their inexpert parents. I circled back, heading out of town and passing through a retail park. It was quiet, some of the stores continuing to close early, but the supermarket still buzzed with activity - those days of fighting for toilet paper and flour seemed an age ago. How swiftly we'd drifted into the normal of queuing and distancing, and we'd soon absorb the minor inconvenience of mask-wearing, mandatory from today.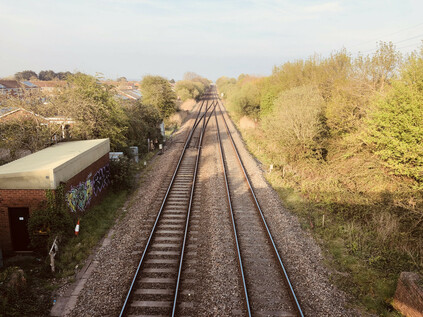 The final leg of the walk took me back over the railway, and onto a route I'd routinely walked homeward from the station. The tracks gleamed silver in the weak, evening sunshine. The trains may have been reduced in frequency and restricted to essential trips, but they had never stopped running. The shiny railhead was proof of continuity, that some sort of world had endured out here despite my absence from it. I took this as a sign that, while all was far from well in the world, there was a glimmer of strange new normality. Not the mythical 'new normal' which politicians peddled in the hope we'd not notice the difference, but an altered version of the world - the air a little clearer, the pedestrians a little politer, the grass and weeds a little taller. It felt enough like what I'd known to make me want to explore again, and that was a remarkable feeling. I wondered later if it had been the endorphins necessary to carry tired legs homeward which had swamped me in a strange, warm affection for these otherwise drab suburbs, but no - it was still there when I checked, an urge to walk again.
There is so much we all said we'd do with this hiatus in our lives, and I've achieved little of it. Words remain unwritten, the unbearable thought I wouldn't get to explore those places again making me reluctant to engage with them in print. Promises were swiftly broken, resolutions collapsing under the weight of soft, dull time. My one success during this period of rampant over-eating, under-exercising and binge-watching was completing a course of High-Intensity Cognitive Behavioural Therapy which I'd waited months for. What would have been weeks of sitting across an empty NHS consulting room from a therapist, with the ever-present barrier of the standby box of tissues between us has instead been a regular engagement via Microsoft Teams - and perhaps a more engaging and effective experience as a result? I've scuffled messily with my mental wellbeing for years, but never quite grasped and internalised the tools and techniques like I did this time around. The lack of noise and context making the learning oddly pure, the triggers and pitfalls of diseased thinking easier to isolate. I realised too though, that walking in the world is perhaps the best antidote to the mind being drawn to darker places. Today, I felt like I'd regained my balance - and in an oddly apposite parallel, it reminded me of the feeling of emerging after being laid low with Swine Flu a decade ago. I may not have mastered a language or maintained a fitness regime, but I feel like my anxieties are manageable just now and their intensity and extent within the scope of my control. Or sometimes - like when getting deliberately lost out here - mine to harness and explore.
Whatever... I walked and I know it made me feel immeasurably better. I'll write about it because I know that's part of the cycle. Someone might read it, which is - as always - a bonus.