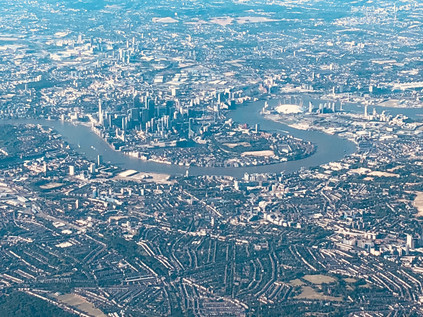 Posted in Travel on Monday 2nd July 2018 at 9:07pm
---
We are heading out to Germany for a few days to meet friends and see a little of Europe before it gets more complicated to do so. On some of the hottest days of an already warm World Cup summer, travel would present a number of challenges - but today, as ever it seems, French Air Traffic Controllers had decided to strike. The knock-on effects of this were minimal in many ways - a bit of a wait for take-off and a slightly irritated Captain - but there were benefits too... With slots over France in short supply, we took off on the eastern runway, heading directly over Central London and out along the estuary. Even at around 20,000 feet, the view was clear enough to see the city unfolding before me along the glimmering ribbon of the Thames. Seeing the territory I've walked and rewalked mapped out below was a rare and privileged sight for me.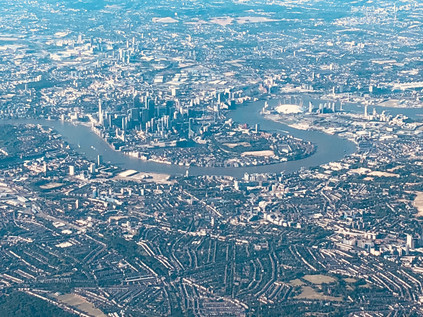 As the contorted city river gave way to the broadening maw of the estuary I thought of the connection between the Thames and the Rhine, once a great river through a united continent which was soon to be artificially separated once again. Beneath me the Dartford Crossing signalled a passing into Kent, and soon the tiny towers of Reculver could be seen below. Beyond this, a sweep of blue showed the channels which boats eager sought between the off-shore wind farms and the ominous heads of the forts at Shivering Sands. Soon there was nothing but water, and then almost imperceptibly the countryside below was Belgium. It didn't look so hugely different from up here, but culturally and politically it could be a world away just now.
Lost::MikeGTN
I've had a home on the web for more years than I care to remember, and a few kind souls persuade me it's worth persisting with keeping it updated. This current incarnation of the site is centred around the blog posts which began back in 1999 as 'the daylog' and continued through my travels and tribulations during the following years.
I don't get out and about nearly as much these days, but I do try to record significant events and trips for posterity. You may also have arrived here by following the trail to my former music blog Songs Heard On Fast Trains. That content is preserved here too.
Navigate Lost::MikeGTN Find articles by category
Search Lost::MikeGTN
Other Places...