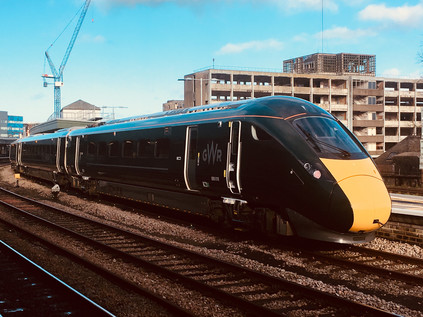 Posted in Railways on Friday 29th December 2017 at 6:12pm
---
It's a long time since I've set off aimlessly on a train, just for the hell of it. These odd days between Christmas and New Year have, traditionally, been an ideal time for this however - peak fares relaxed, trains quiet, and little else to do has meant I've often disappeared around the network on some sort of largely unplanned excursion. On a few occasions I've picked up one of the more local Rover tickets and spent a few days zipping around the local lines which I'd generally neglected in favour of more exotic trips during the year. In short, until I curtailed my rail-borne activities a few years back, this had been a time to escape from the sense of ennui and restriction which the festive season often brought with it.
Times change, and life here certainly has - but this year I found myself with three days off between Christmas and our new year trip. The house was empty save for me and two very sleepy cats, and so somewhere during the first day or so I realised I'd very swiftly finished the run of little jobs I'd assigned for myself and was twiddling my thumbs. Too restless to read, I began to think about a trip - and one immediately suggested itself. I'd wander up to Bristol to have a look at the stock move bringing a short rake of former Virgin 'pretendolino' carriages north to Crewe in preparation for a contractual-obligation run on New Year's Eve, then I'd try to get a first ride on one of the new Class 800 trains operating on the Great Western Main Line. If I could squeeze in a trip on one of the not-even-nearly-new Class 166s which have now been handed down to be used in the West, that would mean I hadn't completed the year without experiencing the changes on the network in my local area at least... I was slipping - my wife had already had one of her commutes on a Class 800 - but maybe I could catch up?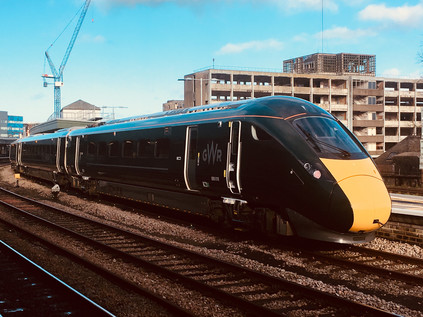 I didn't decide I was definitely heading out until this morning, and I did so in such haste that I set off earlier than needed. My journey to Bristol was on tidy and freshly green-vinyled 150244, which was also rather well refurbished inside with wifi, sockets and USB points throughout. It was a bright, cold morning - a good time to be out and about - and so I settled in for a long, chilly wait at Temple Meads with coffee. It was, in some ways just like the old days. My over-eager start meant quite a considerable fester on the platform, and I began to feel conspicuous as I wandered around to keep warm and see what was happening. There was a time I'd have been confident enough that I was well-known to not care too much, or would at least have felt like I was acting less furtively. I also realised that I'd not brought a proper camera, so the passage of the convoy from Laira to Crewe wouldn't get recorded. As it happened, low winter sun from the south west filled the cutting just before the moment of arrival, and any picture would have been a challenge. A few moments early, 57303 led 37059 rather ponderously through the station with four gleaming silver coaches in tow. I understand that these coaches have yet to be converted electrically for use with the Class 68 locos which will haul them - so anyone who does brave the short 'unadvertised' working between Manchester Airport and Manchester Piccadilly on New Years Eve will be very cold indeed!
During my wait, a pair of Class 800s had silently crept into Platform 13 and waited to form the 13:30 departure. The various published diagrams for these new trains have gone to pot due to the holidays, slow progress in driver training and initial teething troubles - so I hoped this cycle would repeat on the 14:30, which I planned to catch as far as Swindon. I was curious to try the Class 800 for a number of reasons - not least because the Great Western Main Line is one of the few routes I use regularly, and my comfortable and relaxing trips to London have become an essential part of keeping me on the straight and narrow in recent years. I wanted to know how the trip would feel in future, and how to navigate the new trains. I also wanted to acknowledge the beginning of an important transition - the High Speed Train has been such a feature of my travels over the last few decades that I almost can't believe we'll see the end of it here sooner than elsewhere. The Class 800s have earned derision for the Department for Transport, for GWR and for Hitachi due to teething troubles - but how often has any new stock arrived which hasn't struggled at first? I wanted to make my own mind up - from the point of view of a traveller as well as an enthusiast - which is sometimes a challenging shift to achieve.
But, it wasn't to be... I was relieved to get off the wedged HST I took out to Swindon, stepping over students lurking in the vestibule rather than taking seats which meant sitting next to other punters. Perhaps they did this in some sort of tribute to Jeremy Corbyn's own vestibular antics? Swindon station hadn't changed - a long windy platform with a tired and sleepy buffet on the platform and a deserted WH Smiths concession. I crossed to the newer Platform 4 and lurked in the warm of the long waiting room, popping out for each westbound train as it was due. Each one was a HST - with the parade of Class 800s which had passed towards Bristol regularly passing the other platform. I had one more opportunity before I needed to be back at Bristol - and yet again, it was a HST. I settled into the warm seat, put on my headphones and relaxed into the journey - it was good to be out and about as the sun sank behind the rolling Wiltshire scenery. It had been a good day - a reminder that even when I'd meticulously planned things in the past, they'd sometimes not worked out. I reminded myself that it was all a little like fishing - and sometimes you didn't get a bite...
Back at Bristol, I headed for the Taunton-bound train my wife was catching home from work, shuffling along with the trickle of unfortunate commuters working in these strange days between the holidays. I thought of the trip we were taking in a few days and of the excursions to London I'd already planned - the adventures have changed a little, and now they're ours rather than just mine. When the time comes, I'll be interested to try out the new trains - but I know I'll miss the smell of hot brake pads and the slamming doors of the HSTs...
...and the train home wasn't a Class 166 either!