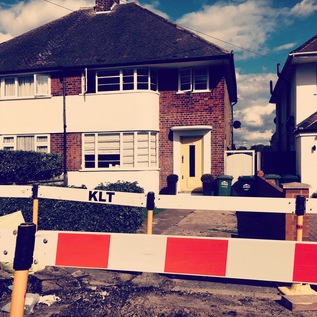 Posted in Travel on Sunday 6th August 2017 at 8:08pm
---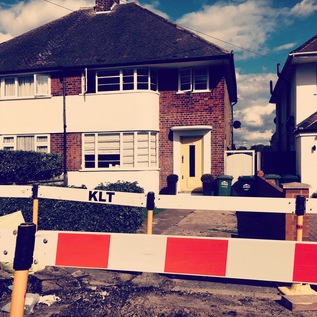 I'd never seen traffic like it - every road out of town was an unmoving snake of vehicles. Whichever instantly updated traffic map you referred to was a tangle of red ribbons centring on the motorway junction. Meanwhile, out on the road, an army of orange-jacketed men laboured on the removal and replacement of a road surface corroded by an oil-spill. As we crept home, inch by tiny inch, a man in a 'Thirst Patrol' t-shirt and his son walked along the queue, offering a kindness of bottled water through car windows. Some cars had been stuck for hours - and some would sit for longer than us as they edged out of town. Meanwhile, thousands of tiny aggressions exacerbated the fouled-up estate roads: drivers surged into chicanes designed to slow traffic, effectively blocking both lanes and causing even longer delays. In the midst of this I thought of the irony - we were going to take a road trip to Shepperton, the suburban home of J.G.Ballard. This kind of tyranny of the roads, this weaponisation of the motorcar, would have been entirely up his street - and so, soon would we.
A day later, an a world away from the scenes of a tense Friday night traffic snarl, we cruised easily along the motorway. It was busy for spells with holiday traffic heading west, but mostly we were able to progress effortlessly towards London. As we approached the nexus of Heathrow, the Ballardian reference points were directly evident: the huge metal and glass swoop of Terminal 5, the stacked access roads, the infrastructure of landing lights peppering the otherwise empty fields around the airport. We entered Shepperton via an unlikely rural route, the town suddenly appearing at a crossroads ahead of us. Left at the lights, and into an unremarkable development of 1930s homes ranged along a long, straight, dead-end street. Amidst this, at No.36, a familiar badly-repaired yellow door and the curve of a fine set of windows - this had been Ballard's home for forty years until his death in 2009. A place where this extraordinary man had led a deeply, almost deliberately ordinary life: raising his three children alone after the far-too-early death of his wife, writing on the clock between preparing meals and ironing school uniforms. Iain Sinclair writes about his encounters with Ballard here - and speculates that the suburbs fuelled his abstract urban dystopia, rather than distancing him from the city. Perhaps in fact his failure to engage personally with the modern city made him an almost weirdly accurate predictor of its function and dysfunction?
While the significance of place figures strongly in my own thinking and writing, I've never been given to personal pilgrimages. I'll track the route of a road or a river, seek out a deleted suburb or station, but rarely have I tried to deliberately locate the homes of writers I admire. It seems an intrusion too far, a breaking of the spell perhaps? But with Ballard it's different - his disconnection from the cities he documented and his oddly perceptive way of writing shopping malls, airport terminals and motorways mean that he is everywhere and everywhen in modern Britain. We knocked the door and met the happy soon-to-be-family who now inhabit Ballard's former home. They were charming, accommodating and keen to show us their new home. Much will change - but much will remain the same. The house will receive the updating which Ballard never quite got around to in his lifetime - it will be fitted to nurture a new generation. The new inhabitants know the history, and have gleaned a little knowledge of the former occupant, but they're not fans. They've seen people occasionally snapping pictures outside and they've been amazed at the interest. They've also oriented pictures of Ballard at work within the house and can place him in their new world. Ballard was by no means reclusive - but his life didn't permit great excursions away from Shepperton. Thus, many interviews and photo-shoots took place here. Those oft-seen jacket shots offering a glimpse of garden through a nearby window seem strangely familiar as we sip tea at a table in the room where he wrote and talk about holidays and plans for the house.
Soon we're doing business - lugging out the beautiful, tiled fireplace which has been removed from its original moorings on the wall upstairs. It takes three of us to manhandle it around the roadworks which line Old Charlton Road and into the back of our car. We bid our hosts, and Ballard's home goodbye and carefully reverse onto the quiet road in preparation for our return trip. The tiled mantle rests heavily in the car, a solid reminder of a curiously transient trip. A brief passage into the personal world of a much loved author, a view into a life lived on the periphery of the city. As I walked the edges of the docks and the quiet southern suburbs just a day before this trip, I'd thought often of Ballard - of his influence on me and on a generation of writers which I try desperately hard not to plagiarise. It's not easy - as Iain Sinclair once said:
When in doubt, quote Ballard

Iain Sinclair - Dining On Stones - 2004
The inevitable conversations about our weekends will occur in the office tomorrow. I'll tell people I went to Shepperton to buy J.G.Ballard's fireplace. I suspect most of my colleagues won't bat an eyelid...