Posted in SHOFT on Wednesday 18th July 2012 at 8:07am
---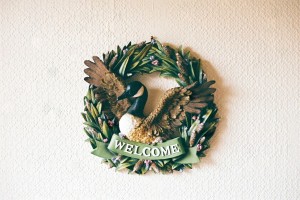 It seems fitting that what is very likely the last review on Songs Heard on Fast Trains should feature a number of performers who have cropped up throughout the life of the blog in various guises. Like this blog itself, they've marked some changes over the past several years and are probably sounding just a little more world-weary and damaged than when they set out on the journey too. But, that's perhaps no bad thing as it provides the seed for a pair of simply recorded but hugely engaging collections of music. Writing about music is something I've always done - and probably always will do somehow, somewhere - but it's clear that this particular vehicle has run it's course and is now causing irritation and dismay more often than it informs or delights. I know when I'm beat - but thankfully these folks don't have any intention of sloping quietly away while there is music to be made. Thus this split EP, delivered on the defiantly outsider medium of the cassette, presents two distinct views into a music scene which remains healthily challenging and richly inventive.
If there was ever music fit to soothe such tricky moments of departure, Sweethearts of the Prison Rodeo probably wrote it. Proceedings open with the lazy, mock self-congratulatory backslapping of "You Are An Excellent Human Being". The delicate construction is built around a swaggering bassline and washes of ghostly steel guitar both courtesy of Robbie Lesiuk, which provide a canvas for the laconic vocals of D.King. Coming on something like a central-belt Will Oldham, King's lyrics veer from cynical irritation to surreally descriptive passages while his vocal switches seamlessly between an Elvis Presley sneer and howls of genuine frustration. It's an odd, unsettling prospect at first but this blend of fragile, blasted country-pop and acidic Scottish wit comes together in a strangely addictive fashion. The stuttering "Let Redemption Sway You" follows, and is oddly like the Rolling Stones at their edgy, enervated late 1960s best, its distant lead guitar playing a respectful second string to a shuffling, urgent rhythm. This swiftly becomes a stripped-back gospel number, a chorus of voices transported directly from the Flying Burrito Brothers back catalogue accompanying D.King in his role as edgelands preacher, living on the margins and barking his message at unsuspecting passers by. Adam Stafford's influence is more apparent on "No Match for the Monster" which spirals around a thunderous, distorted bass and beat-box rhythm. King's vocals here are a mutant megaphone growl, snarling through a confusing, paranoid blues. His lyrical preoccupations tumble over each other, as the apparent after effect of weekend excesses are described as "lying dormant in an ecological cage" before he becomes rightfully enraged at "the atrocities committed by the British Empire". This is a twisted, angry and rather beautiful mess of a song, low in fidelity but high on ideas and bursting with snippets of lyrical brilliance. Somehow too, it reminds me of a rather less uncomfortably nihilistic Royal Trux in it's sprawling, damaged bluesy delivery. Finally, "Indecent Love" is a comparatively clean and shiny thing built around gently strummed acoustic guitars and fervent handclaps. Via a brittle echoing meander of steel guitar, King swaggers through the closest thing he manages to a good old fashioned love song. It's just as warped and uncomfortably deranged as the other songs here, but using a more conventional structure manages to worm its way into the memory.
While country music doesn't seem any closer to resolving its intractable image problems, Sweethearts of the Prison Rodeo manage to smuggle its soul out of the bloated excesses of the Grand Old Opry and install it somewhere in downtown Falkirk. The resulting tumble of blasted ballads, twisted spirituals and good-time rock and roll are proud to come from the wreckage of that once proud genre but are delivered with a cynical sneer which all those emerging hipster rock bands can only dream of perfecting. Ultimately, the "Control Horses" EP is self-assured, grimly humourous and dangerously addictive listening.

Sweethearts of the Prison Rodeo - Let Redemption Sway You
Adam Stafford is no stranger to writing experimental and challenging music which deviates from the usual structure of the rock song, as evidenced on the entirely acappella "Awnings" project. Here on "Slam Your Doors in Golden Silence" he takes on the challenge of writing four pieces for film, dispensing entirely with his distinctive vocals. In distinct contrast to the Sweethearts of the Prison Rodeo side, these accompanying tracks are a more restrained affair, but remain surprisingly accessible. "Where Cuckoos Will Spend The Winter (Will Soon Be Revealed)" is essentially built around a trio of guitar lines - a pensively plucked rhythm which plays host to a delicately pretty repeated motif and a wandering, echo-laden solo. These intertwining themes enter and leave the piece with the spaces filled by a shifting buzz of feedback which is never allowed to get out of control. "Working Hard to Breathe" centres on two jangling, nagging guitar notes while a glacially slow bassline shores up the piece. Perhaps the most distinctive link to Adam Stafford's more familiar solo material is the twisting lead guitar lines which dance around these elements. The sinister hum which shifts around the reverberating bass and guitar of "Vessels Shifted" has something of a David Lynch quality to it. An unsettling soundscape, with snatches of indecipherable speech in the background which have the uncomfortable air of a fevered, long-forgotten Reichsparteitag speech. Finally "Temperatures Will Respond" twinkles into being - a cascade of glassy, high-register guitar notes accompanied by plangent and sinister bass. The elements of the piece coalesce around the simple melody, additional guitar parts joining to shore things up as they build towards a cliff-edge, heart-in-mouth ending.
There is an overly simplistic view that instrumental music - and especially music written for film - is as simple as removing the words from a traditional composition. Of course it's not, and the discipline and restraint shown throughout these four pieces betrays Stafford's skill as a film-maker as much as his musicianship. The best soundtracks are able to augment and support what occurs on-screen without dominating or distracting the emotional focus. These pieces manage that ably, but also stand up as beautiful, intricate and often delicately celebratory pieces in their own right. It's a side to Adam Stafford that his songs and lyrics often obscure, and if it moves you to look at some of his filmmaking too then it's work is done.

Adam Stafford - Vessels Shifted
"Control Horses" and "Slam Your Doors in Golden Silence" will be issued as a split EP on limited edition orange cassette with an aqua case on August 23rd via Wiseblood Industries.