Posted in SHOFT on Tuesday 22nd May 2012 at 11:05pm
---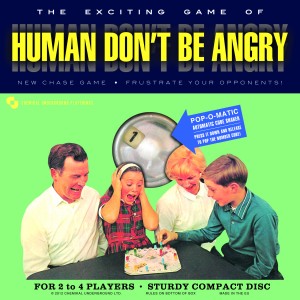 There are days when, even as someone who seems to be a source of technical support for everyone around me, technology defeats me. Today it was even more annoyingly totally out of my control, as vandals destroyed vital bits of the railway system turning travelling into a slow, hot and frustrating experience. Listening to the ill-informed griping, watching harassed staff being abused by idiots in suits, and looking at the faces of woe around me in the carriage, it was amusing to think of the name of tonight's headline act. There were a lot of angry humans around me today. As ever, pickings on a Tuesday night in Bristol were slim, and I pondered why bands who'd made the long trek down south always seemed to end up here on this quietest of days? Competing with the Olympic Torch Relay hadn't helped either, with Bristolians treating the arrival of that dim flicker of competitive spirit as an opportunity to get drunk in the sunshine. In some ways, who can blame them? It's probably the most they'll get from the London-centric circus that comes to town this summer. But I digress, and any drift into discussing that Grand Plan will get ugly.
The modestly filled upstairs room at The Louisiana quietened respectfully for Martin John Henry who took to the stage with just his acoustic guitar and a little bank of electrickery. Thinking back to his self-confessed nerves at Homegame a year or so back, it was actually really remarkable to see how his confidence and his songs had transformed in that time. Opening with "A Love Economy" from De Rosa's "Prevention" album, the set progressed through a number of songs from last year's superb but somewhat unsung solo debut "The Other Half of Everything" beginning with the fragile but affecting "Breathing Space". Using the electronics sparingly, and drafting in Human Don't Be Angry guitarist Paul Mellon, Henry was able to flesh out these largely acoustic takes on the songs into truly lovely, enthralling pieces in their own right. An edgily menacing "Only Colour" leads into another De Rosa track in the shape of "Pest" and suddenly it's clear just how many wonderful songs Henry has at his disposal, and how great it would be if he just kept playing. However, all too aware that his support slot was coming to an end, Martin delivered a plaintive take on "I Love Map" before closing with a re-worked Christmas song "Under The Stars", rejected from a BBC compilation "because I sing 'piss' in the second line". It turns out to be a spirited, rollicking winter tune with a leery edge of implied violence - fantastic stuff indeed and a lost to the prudes at our national broadcaster, who's recent decisions on the regional "Introducing..." shows indicates just how narrow their vision really is. Henry's set tonight exuded confidence in the performance and the material, sounded amazing as things seem to at The Louisiana's nowadays, and won him plenty of interest from a modestly sized but curious audience.
In contrast to Martin John Henry who I appear to have inadvertently stalked around Scotland for a while, I was a late-comer to Malcolm Middleton's most recent project, as I was to his other solo work. The ending of Arab Strap was just about the final straw for my musical frustration those years ago, and seeing them - coincidentally supported by Martin's recently reformed band De Rosa - at The Thekla on their final tour was one of the last gigs I went to for a very long time indeed. In the intervening years, Middleton's solo output has resulted in a collection of funny, painful and wry observations on relationships, the human condition and often by extension the identity crisis of the modern Scotsman. Despite only marginal exposure to this until recently, it was a bit of a surprise to first hear Human Don't Be Angry in all it's sprawling, post-progressive-rock glory. Tonight, it's hard to believe that the four musicians on stage are going to be able to recreate some of the delicate, multi-layered work on the recently released album, but rather amazingly they manage it perfectly. Middleton, joined by Henry on bass, the aforementioned Mellon on guitar and a live drummer, is a quiet and humble figure on stage who makes it all look annoyingly easy as the band meander into a wayward, opening instrumental which may have been loosely based on "After The Pleasuredome" from the recent album, on the back of their "Chariots of Fire" intro music. With a minimum of audience interaction, it's on to "The Missing Plutonium", where the urgent distorted throb of bass provided by Henry is filthily compelling, carrying the slight melody whilst Middleton and Mellon spin guitar magic around him. "First Person Singular, Present Tense" sees Middleton take, almost reluctantly to the microphone uttering the mantra of "looking for the person..." repeatedly with an air of increasing menace. This is about as vocal as he gets during my time in the venue, and on the eponymous "Human Don't Be Angry Theme" he elects to leave the vocals to disembodied electronics which echo oddly and unsettlingly around the small venue. Throughout these pieces, the influence - both in terms of sound and composition - of label-mates Mogwai looms large, with open, spacious arrangements. In Middleton's case though, these spaces are an opportunity to weave wonderfully dark webs of guitar work which take things spinning into other dimensions entirely. Somewhere during one of the pauses in the magic tonight Middleton introduces his new band to the audience and a voice from the crowd tells him "You're loud", adding after a brief pause "but GOOD loud!". I could probably have left the review at that, because his assessment is just about perfect.
With the railway still struggling back to normality after it's difficult day, I had to slip away a little early - something I utterly hate doing. But leaving the Louisiana with the sprawling, weird and epic racket of Human Don't Be Angry echoing around the street outdoors was a fitting exit.