Posted in SHOFT on Monday 21st May 2012 at 7:05am
---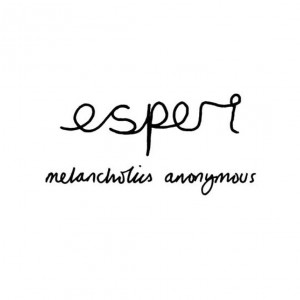 I've written before about Esperi, but make absolutely no apology for once again drawing attention to this, long-anticipated new release. In fact "Melancholics Anonymous" seems to have been in preparation forever, before suddenly and almost apologetically announcing itself to the world. It's fair to say that Esperi - whether it is indeed a band, an individual or a revolving collective of creative folks centred on Dundee-native songwriter Chris Marr - is one of the hardest working entities in Scottish music. A constant string of live dates over the past year or so paused only to allow Chris time to work with fellow troubadours Luke Joyce of I Build Collapsible Mountains and Panda Su. But this hasn't translated into a hectic release schedule however, and this is this first music committed to record since last year's "Esperi EP" on Olive Grove Records which essentially collected together songs which had been scattered around the internet for a while. These mixed the simple, open hearted singer-songwriter approach with more experimental washes of sound and playful instrumentals. But this all-new EP on Fall On Records finally sees the two sides of Esperi welded together. Happily the personal, human warmth remains perfectly intact, while new musical pastures are explored over the space of five delicate, heartfelt compositions.
The record opens with "Homer" which is, in many senses, trademark Esperi. A shuffling beat and a complex, jazzy bass line courtesy of the perhaps unlikely hand of Fat Goth's Kev Black propel the song at a surprisingly jaunty pace at odds with the title of the EP. Meanwhile Chris Marr unravels his reflective, half-spoken musings on fatherhood and parenting. After a quiet, delicate pause for handclaps and bells, Marr's voice is centre stage the song reveals it's eponymous but unlikely hero. There are genuinely tender reminiscences here which vie for emotional space with the swelling, heart-bursting additon of The Korda String Quartet which provides a discrete and sympathetic addition to the track, rather than drowning the song's spirit in strings which is always a temptation when you have musicians of this calibre on hand. The influence of the oddly and guiltily compelling show of the same name sees "Come Dine With Me" skitter in on a burst of untuned TV noise which resolves into more of Chris's beautifully intricate guitar picking and a wash of gentle strings. The sarcasm-drenched daytime cooking contest doesn't have too much further influence on proceedings, beside a reference in the chorus - but this song is full of the warmth of homecoming and shared histories. This also sees the first appearance of another Esperi signature in the use of toy bells and tinkling percussion, as ever performed on improvised instruments constructed from bits of household junk. This, along with Marr's remarkably skilled use of a loop pedal are staples of the Esperi live set, which translate to record surprisingly well.
On "Broadlands", the stripped down backing of just guitar and handbells allows Marr's lyrics to take a bolder, broader sweep. It's brief and simple, gently and reverently detailing life-long friendship and suggesting how a time-worn connection allows people to unerringly read each other in it's refrain "your eyes/never too hard to disguise". It's these interludes, short and direct, heart worn firmly on sleeve, which set Esperi apart from those who spin darker, more oblique tales. What you hear is most definitely what you get, and the song ebbs away into birdsong and countryside sounds far too soon. There is an otherworldly, dreamlike quality to "Luke" which seems to describe a much loved, sleeping dog, but in such delicate and tender detail that its impossible not to be swept up in Marr's strange mix of celebration and melancholy reflection. Weaving his breathy lyrical delivery around a sheen of noise and clinking, ringing percussion sounds and a quiet thunder of bass, it's here too that his lyrics become perhaps their most touchingly descriptive with lines like "watching you sleep/is like watching a meadow/with each breath that you take/your hair ebbs and flows". As ever, Esperi delivers those surprising, lump-in-throat moments when they're least expected. The EP closes with "Who I Am" which is a surprisngly forthright exposition of the Esperi ethic. It's tempting to reason that Marr is telling us exactly why he's working so hard for his songs to be heard as he quietly but forcefully suggests "it's in my bones/it helps me grow". The song gradually builds with gentle drums and resounding washes and crashes of cymbal adding an oddly nautical ebb and flow to the sound. Marr's quiet lyrical strength is at its best here, and when the song finally breaks free in a clamour of military drums, bells and crashes, it's liberating and illuminating in equal measure. Finally, it all dissolves into tape hiss and disappears back to Esperi's homegrown roots.
Once again Esperi has managed to capture the sound of hearts breaking and being reforged on this brief collection of songs which focus on passing time, love and loss, growth and change without descending into schmaltz or allowing sentimentality to get the better of them. While this EP strikes a middle ground between the song-based and experimental work which has been kept resolutely separate in the past, across the five songs here the lyrical themes couldn't be more varied or their detail more acutely observed. There are plenty of artists ploughing the solo singer-songwriter furrow nowadays, and probably always will be - but you'll struggle to find an artist more inventive and committed than Chris Marr.

Esperi_-_Come Dine With Me
You can download "Melancholics Anonymous" on a pay-what-you-like basis from Esperi's Bandcamp page. The video for "Come Dine With Me" can be seen here too. Esperi will play at the Go North festival in Inverness on 6th/7th June, with more dates to be announced shortly.