Posted in SHOFT on Thursday 17th May 2012 at 8:05am
---
Having tried, and mostly failed in keeping up to date with interesting new things here on Songs Heard on Fast Trains, I more than anyone appreciate how the mundane churn of day-to-day life can get in the way of doing creative, interesting or rewarding things. I also know all too well how there is always something out there to steal your attention and lure you into doing far more pointless things - isn't that what the internet was invented for after all? So today's selections are from two bands who have disappeared for quite a while but are now back with a vengeance. I'm not suggesting they've been playing dodgy Facebook games or laughing at pictures of cats wearing bread during this time. They've just taken a while to get these releases out into the world. If there is a common theme, it's perhaps that these two new singles reveal bands who have changed and developed - let alone grown in membership - during their absence.
The State Broadcasters - Trespassers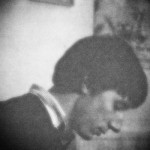 Some bands seem to have been a part of the furniture for so long that you sort of forget to hear them. That sounds a bit glib I know, but having had the privilege of being bombarded with new music these past couple of years there are bound to be bands which fall by the wayside. But if fate deals the right card, you'll encounter them later and have one of those forehead-slapping moments where you wonder why you weren't listening earlier.
The State Broadcasters
caused me just such a moment, and the reason they've sprung to mind now is their addition to the ever eclectic roster of
Olive Grove Records
who continue to judge the timing perfectly with their slow and steady release of new Scottish music. Having arrived on the scene during my period of musical disillusionment, there is some catching up to do as
The State Broadcasters
already have pedigree - a single and album on
Electric Honey
, some high profile support slots and an award at
Celtic Connections
not least among their achievements.
Emerging as a taste of a forthcoming second album, "Trespassers" is a curiously formal waltz, sparse at its outset with Graeme Black's melancholy voice and a piano doing all the work. As the narrative unwinds, the benefits of being a six-piece band of multi-instrumentalists become apparent with a reassuringly solid double-bass marking time, while dashes of piano and ukulele adorn the track. The lyric is a tale of disassociation and longing, which builds to a chorus drenched in chiming guitars and dramatic key changes. The highlight for me is the entrance of the lush, beautifully arranged strings which carry the song away to new heights. Overall, there is an atmosphere of regret and heart-aching sadness, but those uplifting strings bring things back from the brink. In an era when everyone is suddenly a folk musician, this is unashamedly heart-on-sleeve pop music which misappropriates all the wistful, dark honesty from that contested - and somewhat devalued - genre. Make no mistake, The State Broadcasters are coming after your heartstrings with this stuff - and they won't rest until they've seen grown men cry.
"Trespassers" will be available as a free download on 11th June, in anticipation of The State Broadcasters second album "Ghosts We Must Carry" which will arrive in September. The band play The Captains Rest in Glasgow on 14th June with Randolph's Leap as part of the West End Festival. You can find their debut album "The Ship and The Iceberg" on iTunes.
Jesus H. Foxx - So Much Water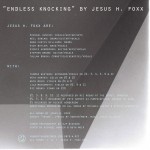 Whilst
Jesus H. Foxx
might seem a world away in terms of sound and approach, there are some remarkable similarities with
The State Broadcasters
. Also emerging from a host of other bands in the heady years at the end of the last decade, where the internet was making all kinds of things possible for small bands, they too have left a big gap between releases. They've left a huge hole in the Edinburgh music scene too during this time, because as I've remarked elsewhere, there just haven't been good guitar bands coming through at all in the last few years. A ramshackle, delightfully messy single "Tightt Ideas" preceded an EP in 2009. Since then,
Jesus H. Foxx
have officially been recording their debut album for
Song, By Toad
. This process has become one of those legendarily protracted experiences, up there with
My Bloody Valentine
and
The Beach Boys
- and for a long time we've had to be content with the assurance that "
it'll be ready soon...
"
Well, the album is here - and it's purely down to my laziness and lack of organisation that it hasn't had a full, over-wordy exposition here on this site. I might yet get around to it if real life gives me the time and the space. For now though "So Much Water" - a free single available for immediate download - captures the spirit of the record perfectly. Declaring it's intentions early with a glorious splash of colourful, ringing guitars, the song settles into a pensive and jittery rhythm. It's almost obligatory to reference Pavement when writing about Jesus H. Foxx but to be honest, the similarity - at least here - starts and ends with Michael Hunter's downbeat drawl and the phrasing of the vocals. A sudden explosion of competing voices and chiming guitar lines heralds a chorus which explodes again and again throughout the remainder of the song. This has much more in common with the familiar British indie-pop sounds of the last couple of decades than anything from across the pond. The band - numbering seven at full strength - uses it's multiple vocalists to excellent effect here, with chorus of backing voices appearing to support the long, blissfully jangling outro. There is a sunny, upbeat quality to "So Much Water" which is tempered by the laconic vocals and near-defeated lyrics. While elsewhere on their album you'll find strings, brass and all manner of rather wonderful cleverness this is the band at their simplest and most direct. Somehow Jesus H. Foxx manage to fuse together that scratchy, punky sense of urgency with lush summery guitar pop in ways which very few bands seem interested in attempting now. The fact that there is now a whole album of this awaiting your listening pleasure is something to be very happy about indeed.
You can download "So Much Water" right now, for absolutely nothing from Song, By Toad Records where the album "Endless Knocking" can be purchased too, and comes highly recommended. News of a launch event will follow at some point we are assured, but once you live in the world of Jesus H. Foxx you learn that the anticipation is all part of the fun.