Posted in SHOFT on Sunday 13th May 2012 at 5:05pm
---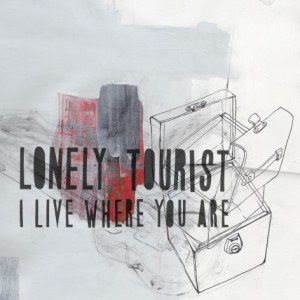 There is something compelling but dangerous about holding a mirror up to your life. Most of us stumble around weaving a fairly comprehensive web of self-deception which gets us through the week, stops us losing our minds and generally makes the everyday bits of life bearable. But imagine a record which exposes all of those awkward, hidden moments and makes them the stuff of song? Holding up a mirror and sharing the reflection is in some ways exactly what Lonely Tourist does. On this, his second album of self-contained mini-epics of realism and downbeat humour, Paul Tierney has developed the scratchy acoustic guitar and vocals sound he has deployed successfully in the past into a surprisingly full, often almost lush pop sound, which carries his lyrics of examination and resignation to new pastures. It's easy to think this kind of thing would get tired, and you'd find yourself telling Tierney to lighten-up, but it's done with such genuine pathos and good humour that you find yourself carried along with him, a strangely unsuspecting hero in these often self-deprecating songs.
The album opens with the spirited, twanging country-pop of it's title track, which I wrote about here recently. It signals something of a shift in Tierney's palette on this second album as Lonely Tourist which allows the full band sound to dominate a little more. There's certainly more variation in tone and texture this time around, and this has allowed the subject matter and lyrical preoccupations of these new songs to broaden too. However, they never stray far from the Lonely Tourist canon, and there is comforting familiarity in the themes of "A Lonely Tourist" which concerns itself with encroaching middle age and resentment for the opportunities and irresponsibilities of the young. Reflecting on a "bowl of fruit/bought and left" this lands at just the right time for me and I'm able to share in some of Tierney's frustration. The song builds, growing with his indignation before it suddenly slows to a waltz and he reasons "I can't go back/i'm a lonely tourist now". It's of course equally dangerous to assume that this is all completely autobiographical, but those little touches of local knowledge, and the focus on familiar places evident in Lonely Tourist's songs is always a source of delight to me. On "Rattling Around" the title refers back to "a lager can on the top deck of a 41", the revised route of this old stalwart bus now plying its trade between Avonmouth and Old Market. Not since Sarah Records featured catalogue number appropriate routes on their 7" labels has the local transport network found a musical outlet. But significantly, it's a little bit of Bristol registering in the songs of this expat-Glaswegian songwriter who elsewhere professes not to miss his city. But stylistically and lyrically it still looms large over "I Live Where You Are". This striving for recognition, becoming part of the "street furniture of this town" and this battle against indifference is echoed by the song's ending as it drifts away into bar chatter and clinking glasses. It's a fate many a musician will have experienced, and I sense that perhaps eulogising this in song is Lonely Tourists's way of dealing with it.
Shuddering in with a gnarled, fuzzy guitar line and reverb washed vocals "Jesus, The Don and The Dee" is a bitter break-up song, where once again travel and distance loom large in Tierney's story telling. Staged in the West End of Glasgow and involving a desertion to Aberdeen, metallic guitars kick this along at a steady pace towards a killer chorus. Swooning vocals and knots of agitated guitar provide a wonderfully bitter, resigned tone to this gem of a song which just won't shift itself from my head at present. Also memorable, I recall "The Greatest Ever Lines" from the recent set at The ABC in Glasgow. Played a little slower here, and with surprising tenderness given the subject matter, this is a dramatized first person take on plagiarism. Uncovered as our hero crashes into success and is deified as "the new Neil young", there is a paranoid dreamlike quality to this curious tale, but in another sense it's just another opportunity for Tierney to add to the unnecessary apologia for his craft as he takes on his own "fake sincerity". There's something about this lyric, and indeed the Lonely Tourist ethic which summons up for me B.S.Johnson's poem "The Short Fear" where observing that everything's already been said by someone somewhere, "The short fear is that even saying it in my own way is equally pointless". It's not the first time that Johnson and Lonely Tourist have aligned in my mind either.
"(they are on to you)" is a curious thing - a fragment which drifts in and out of the middle of the record. A bass-heavy, circular melody which reels around a scratchy electric guitar provides room for a regret tinged vocal delivery. It wheels prettily, with a shimmer of backing vocals, tangles of bright guitar and subtle beats. The lyric, a collection of observations about escape which unusually don't have a connecting narrative, slips away and then the whole thing is gone, fading into silence. For his next trick Lonely Tourist channels the spirit of George Harrison, and in the plaintively echoing vocals on "Oh My Father" he manages to create a maudlin reflection on family life. The drift of guitars and a classic pop melody allows Tierney's voice more space to reach notes his more urgently delivered songs just don't. The tale here hints at domestic strife, regret at missed opportunities, and a wish for final reconciliations. This part of the album hinges on a trio of more traditional Lonely Tourist songs where things get a little gloomier perhaps, and the poor guy gives himself a hell of a battering. On "Sick of This Winter" it's the Glasgow weather which doubles as the villain. Exploring the idea of being a stranger in your home town, Tierney resolves that the trick is in never looking back, and this song explores the merits of drifting and wasting time alongside upping sticks and moving away. It's delivered in the form of an urgent, up tempo stomping pop song which in common with the other upbeat pieces here, is incredibly infectious. Next up, opening with slurred, sampled vocals and sonorous piano chords "The Last Glass" tackles excess and willpower through the lens of a New Year's Eve promise. The stirring, organ driven chorus has something of that resolve and a sense of striving for change which hogmanay brings, but there's an unhealthy dose of fatalism in there too with the observation that "it's four deep at the bar/that's six feet down". Finally "Found Out" takes Lonely Tourist directly back to his roots with an urgently strummed, scratched out dose of bitter self-examination. It's a one-man character self-assassination which finds his own weak points, and once he has declared that he is found wanting as man and musician, he proceeds to stick the verbal boot in. Ultimately the message is that everyone will disappoint you - not least yourself - as he muses that "I wouldn't trust me". But "Found Out" hints at a redemptive character in the background keeping him on the straight and narrow. If these songs are snippers of autobiography, then for his own sake I hope there is just that.
But things aren't quite done yet - and the album comes to a close with the unlikely soundscape of "Viking Jazz" - essentially a rumbling, full-bodied post-rock anthem which turns expectations on their heads once again. Sampled voices drift around the mix, while a nagging bass melody urges the piece towards an explosion of guitars and static. This squarely challenges the idea which has been built over the course of this and his last album - namely that Lonely Tourist is just a mild-mannered, darkly self-deprecating guy with a guitar - and makes us reconsider this in terms of what "I Live Where You Are" perhaps really is: an album of wonderfully executed, classic pop songs with thoughtful if sometimes pithy and self-immolatory lyrical preoccupations. The simple fact that this is all done with grace, quick wit and ready humour prevents a descent into uneasy voyeurism or tiresomeness. While the trials and tribulations of going it alone in the cruel jungle of the music business don't perhaps loom quite as large over this second collection of Lonely Tourist songs, this time the process is turned inside out and the craft of the songwriter is exposed. It's still strangely compelling stuff.

Lonely Tourist - Jesus, The Don and The Dee
Lonely Tourist will launch "I Live Where You Are" at the Stag & Hounds in Bristol on 25th May. The album will be available from 28th May on CD or as a download from various sites, including Bandcamp.