Posted in SHOFT on Saturday 14th April 2012 at 11:04pm
---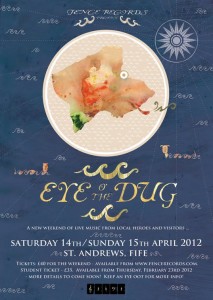 "I don't know where to begin..." sings The Pictish Trail, bathed in purple light in the sepulchral surroundings of Younger Hall - and he's right. Where do I start trying to describe this weekend? Do I describe the huge party, the meeting-up with friends old and new, and one of the most eclectic line-ups of any festival you'll see this coming summer? Or do I got for the almost mystical qualities which these Fence events seem to possess - the build up, the strangely happy bubble we inhabit during the event, and the difficulty in readjusting to real life for days afterwards? Perhaps I'll start right back at the beginning... There's a strange feeling which descends sometime around the beginning of the year. Life is just winding back up to normal speed after the traditional Christmas sluggishness, and the frankly heartbreaking vista of a new working year is opening up. People are tetchy and can't explain why, there is a sense of ennui everywhere. It's around this time usually that emails start to bounce around, tweets are twittered and panic booking of East Neuk accommodation is suddenly rife. Because it's around that awful, gloomy turn of the year when Homegame is announced. So, imagine a year when you enter those dark first weeks knowing that it won't be happening at all this time. It's almost unbearable - and then Johnny Lynch almost casually announces Eye o' the Dug. A few miles up the road, a bit of a different pitch, but essential it marks the gathering of the tribes in the north once again. It was always going to be an interesting weekend...
My own Eye o' the Dug experience began on Saturday, having skipped the pre-party due to being an old fart and not reckoning I'd make it through the trials and tribulations of the next couple of days intact if I started too early. I'd enjoyed a day of lounging around, revisiting old haunts, drinking coffee and watching the curious and ancient university tradition of the Kate Kennedy Parade taking place in St. Andrews. But another parade was under way too - as the crowds drifting along Market Street began to feature more familiar faces... This was going to be a big event - indeed huge by Fence standards. Rather like press reports of protest marches, estimates seem to vary about the total number - with some sources suggesting as many as 1200 attending. As the weather took another bizarre flip from soft evening sunshine to snowstorm, I entered Venue 1 - part of the sprawling Student Union building - not quite knowing what to expect. In the event it was a fine venue - spacious, plenty of bar staff and lots of opportunity to catch up with people in comfort. The security guards were a bit bewildered by the odd mix of people I think, but aside from some curiously fastidious crowd-control they left everyone mostly alone and concentrated on looking fearsomely detached. Meanwhile, Dewars were concocting evil tasting whisky-based cocktails and dishing them out mostly for free. Hence, a lot of people were in party mood from the outset. They were rewarded with Conquering Animal Sound, who delivered a icily cool set of new material which added new layers of complexity on the brittle, crystalline sound which defined "Kammerspiel". I'd never seen the band look or sound more confident, and it was interesting to note Anneke Kampman relying less on effects and sonic trickery and often letting her voice do all the work. Skipping effortlessly from a whisper to a howl, she was accompanied by some frenzied sound manipulation by James Scott who spun between his various instruments without ever letting his ever-secure top button slip. As the relatively lesser known act on a fairly high-profile bill tonight, I think Conquering Animal Sound won a few hearts among the student population and reinforced the reputation they had garnered at last years' Homegame with the Fence folks. What was also increasingly apparent was that with copious alcohol consumption and outbreaks of spontaneous dancing, it was getting harder and harder to evidence the 'two crowds in one place' theory of Eye o' The Dug. It seems the gamble had paid off!
Next up were Fránçois and The Atlas Mountains, and I was forced to confess that I've never quite got this band completely, and I've found it equally hard toput my finger on why not. However, it also occurred to me today that I'd never properly watched them live - and I was struck right away by the sheer energy which the band pour into their art. It was a set packed with shimmery, ecstatic washes of noise and sudden twists and turns. As Fránçois spun and jerked around the stage, squeezing seemingly impossible notes from his guitar, I finally understood what people were seeing here. They'll never be my favourite band I'm sure, but this was an incredible, intense performance which managed to whip the crowd into near frenzy. And that perhaps is what these Fence events do best - presenting you with something new, different and unexpected when you're at you most receptive. Things were getting a little hazy by the time Dutch Uncles arrived on stage. A band I knew virtually nothing about, but had heard discussed in hushed tones earlier in the day. In the event, they deal in a strange brand of synth-pop with sudden jitters and crunches of big, meaty guitar. Musically, they were interesting and had a neat line in turning-on-a-sixpence shifts in pace and time, but I never quite came to terms with the vocals which were a strange mix of buttoned-down, white boy soul and Bryan Ferry. The audience however, loved them and it was impressive to look out across Venue 1 and the sea of bobbing heads and actual, proper dancing going on.
Doing this also made me feel strangely queasy however, and I became aware that once again I'd been led off the straight and narrow by a Fence event. My physical and mental condition degenerated further during the extended DJ set by Alexis Taylor and Joe Goddard of Hot Chip fame. Somewhere in the middle of this, the fire alarm sounded. Potentially the slowest evacuation in history followed, and squished into the narrow space leading from St.Mary's Place into the building, it became apparent just how many people were here. Despite the minor inconvenience, and thankful for the virutal face-slap of fresh, cold air I plunged back into the building for Django Django. I'd been looking forward to this after falling unexpectedly under the spell of their delightfully odd, eponymous debut album a few weeks back. Dressed in dizzyingly matching shirts, they stood behind their machinery coaxing out remarkable noises. Again, it seemed to perfectly hit the spot for both of the sections of the audience, which had in any case mostly melded into a single, sweaty mess on the jammed dancefloor. All thoughts of this event being somehow outwith the 'spirit' of Fence, or too big to be as intimate as usual had entirely fallen away. In the midst of the shuddering beats and deliriously proggy sounds emanating from the stage, old acquaintances were renewed and new ones made. Even the stoney-faced security types were managing a smile by the end of the Django's set.
However, for me I realised that food and sleep beckoned. Having seen Errors fairly recently, and given that I was pretty much incapable of coherent speech I decided to leave it to the younger and fitter ones. As I surveyed the carnage for one last time before stumbling out into the cold night air, I was struck by how well all of this had melded together into an incredible event. The floor was filled with dancers, a conga led by a wheelchair wound it's way through the crowd, various musicians who were due to be performing in mere hours were comprehensively enjoying the evening, and would surely never be up in time? It looked, sounded and ultimately felt fantastic to be a part of this.