Posted in SHOFT on Sunday 15th April 2012 at 11:04pm
---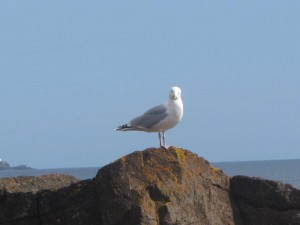 I awoke to bright sunshine and a distinctly fuzzy head, and decided that the only remedy was to get out into the fresh air and wander around St. Andrews. For a Sunday morning things were surprisingly busy, with irritatingly fresh-faced students already striding around town, some clearly having already done energetic, sporting things. Noticed a few more familiar faces looking distinctly green though, and slinking into Tesco to emerge with paracetamol and lucozade in their shaky grasp. I decided to make the best of my situation with a fine walk to the ruins of the Cathedral and around the town. I don't get to be a tourist very often, and it seemed like a good way to remove cobwebs. Pleasant though it was, it didn't quite manage to shift the fug, and it was with a mixture of delight and relief that I spied the Fisher & Donaldson's van arriving at Younger Hall as I found my way there a little before events recommenced, conveying it's ever-welcome cargo of guaranteed hangover-busting baked goods. This was tempered though by the sight of King Creosote unloading vast amounts of booze from the back of a car. Things were about to start all over again...
Today's events were to take place in The Younger Hall, from the outside a vast grey Greek temple of a place sitting on North Street amongst the tight knot of attractive, ancient university buildings. Inside it had a strangely reverential air - the venue for graduations and classical recitals, it was covered in wood panelling and huge gleaming organ pipes, save for a huge, strangely abstract Eye o' The Dug banner which adorned the back of the stage. Somehow it felt a little more like the mixture of halls and spaces in Anstruther which are appropriated for Homegame use, and once I'd got my bearings in the sprawling building it felt like a fine place to see some of the acts on the bill today, which would likely be a little less energetic than last night's performances. However, openers Randolph's Leap had absolutely no intention of lacking energy - bursting into life with the gusto and pomp of a headliner rather than an opening act, Adam Ross was accompanied by an expanded bunch of co-conspirators, including trumpet, trombone and strings. From the outset this was pretty special - fresh from public opprobrium regarding 'tweeness' and the whole Briangate affair, this band was resolutely not that - going as far as a hilariously poor Josh T. Pearson impersonation in their efforts to prove the case. There was no need at all, with the big, bold sound suiting Ross's compositions perfectly. Rollicking through a set including highlights from recent cassette release "The Curse of the Haunted Headphones" along with some unfamiliar new material, there were even outbreaks of spontaneous onstage dancing. Finishing up with a triumphant big band recasting of early relase "Crisps", the audience stomped and yelled for more. What a way to shake off the last of yesterday's cobwebs. With more of the audience beginning to drift into the hall following the excesses of last night, latest Fence signing Seamus Fogarty took to the stage. Having not managed to catch his performances previously this was something of a revelation to me, as he unravelled strange tales over gentle guitar backgrounds, strange echoing electronics or sometimes almost acapella. His voice, a gentle but emotion-cracked wonder, soared over the silent crowd and into the hall - all the more amazing as it came from the distant figure on the big, churchlike setting of the stage. Some of the material was familiar and bodes well for the imminent album - not least "The Wind" which has recently seen a haunting Geese remix, and the compelling semi-autobiographical storytelling of "Christmas Time on Jupiter".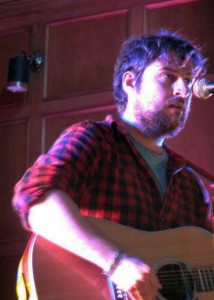 We shuffled downstairs next to the strangely shaped and rather cramped Stewart Room, which seemed to be directly underneath the main stage above. It was perhaps the perfect intimate space in which to witness Barbarossa - an artist from the early years of Fence who has been involved in all manner of other musical outlets over the years. Recently reactivated, James Mathé's own singer-songwriter project drew a huge audience from among the faithful for his beautifully soulful voice and simple, guitar and keyboard arrangements. I'm not ashamed to admit that this was new to me, and I was slack-jawed in mute appreciation along with many of the other casual listeners who hadn't known what to expect but were now hushed and reverential. Some gentle backing vocals from Rozi Plain just added to the sense of quiet wonder in this fantastic set. I can't wait to hear the forthcoming EP, which an informed guess might suggest will be a future "Chart Ruse" subscription effort. After struggling back up to the main hall - and realising just how awkward the building was to get around was despite it's great acoustics and atmosphere, we were treated to a set by The Pictish Trail. Johnny Lynch confessed a little later that with all the work to get this event up and running, he'd not thought a great deal about what to play. In the event, he turned in a warm and memorably emotional solo performance which will remain with me as an Eye 'o The Dug highlight, making this look impossibly effortless in the process. Mixing older tracks like "Words Fail Me Now" with the existential angst of new material like "Of Course You Exist", Lynch worked the audience like a consummate showman. Amid the heartstring tugging though were plenty of laughs, and a little audience participation was called for on "Not To Be" extended greatly from it's brief appearance on the "In Rooms" LP last year. As the song ended with exaggerated Pictish Trail vougueing and the audience yelling responses back at the stage, it wasn't hard to see why this essentially one-man-and-a-guitar act can pack the main hall here. There was just time before scattering off to find refreshment in the short break to catch James Yorkston performing with the lightning-fingered Jon Thorne accompanying him on double-bass, though sadly visa issues prevented Sarangi player Suhail Yusuf Khan from joining them. As ever, Yorkston was grimly humourous and darkly self-aware and his anecdotes and observations alone could have made up a suitably entertaining set. He too chose to use this opportunity to showcase new material, and the songs which made up the set varied between self-immolating guilt ballads to spirited rants, all of them accompanied by Thorne's dizzying playing. There were genuinely affecting, lump-in-throat-moments aplenty too, and as I cast an eye around the hushed Younger Hall, I could see I wasn't alone in being transported by James's muse. It was magical stuff for sure, delivered humbly and almost apologetically.
Suitably refreshed after a variety of hostelries and eateries had been rapidly besieged by Dug-goers, people began to drift back towards the venue and there was for a moment, a rather pleasant lazy feeling to proceedings as musicians and festival-goers alike sprawled in late afternoon sunshine and waited for things to start up for the last session of the day. If there was one tiny hitch in proceedings it was the extended soundcheck in the main hall which kept people confused and waiting to know quite what to do. As entrance to the Stewart Hall was also via this room, there was no clear idea where to queue. Eventually, some of us were lucky enough to be directed out of the building and into a mysterious door leading downstairs, just in time to catch Monoganon's set. Their set commenced with a couple of new songs which continued in the vein of last year's "Songs To Swim By" album, combining passages of delicate folky loveliness with crashing walls of noise. In the confines of the smaller room, Monoganon in full flight were a force to be reckoned with and happily, as the soundcheck issues upstairs resolved themselves albeit with a huge delay incurred, a steady stream of people managed to get down to catch the blistering end of their set. Another unintended consequence of the delays was that it was possible to stay downstairs for much of Kid Canaveral's set. My deep, near embarrassing love for this band has been detailed here before and the prospect of them clashing was a difficult one to consider, with the logistics occupying a bunch of us all weekend. With the room now full to bursting they struggled up to the stage with Dave MacGregor posing briefly as KT Tunstall. This interest should probably have been predicted by their triumphant set at last year's Homegame, as they proceeded to induce instant dancing in the already uncomfortably packed room. Beside the occasional bob of a Canaveral's head, I couldn't see much but I could hear new songs effortlessly tumbling out of this talented foursome, and on this basis the new album is going to be packed with the kind of moments which once again today induce involuntary smiling in even the sternest audience member. Even some of the security staff looked mildly entertained, and that was no small feat!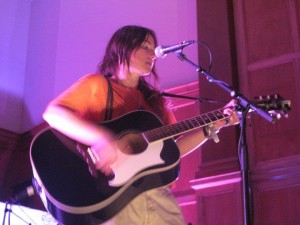 With upstairs still rather behind schedule, we were able to make the final ascent in good time to pitch up directly in front of the stage. The choice here had been terribly difficult - with Withered Hand and FOUND closing things downstairs. However, I'd been gently persuaded over the past few weeks that it would be good to see KT Tunstall. I'd never seen her play live, and my only contact with her work in recent times had been via the radio. Contrary to popular myth, I don't think there is any great rift between Fence fans and KT at all, but the rumour persists and there are some I think who like to keep it running. But, tonight at least, back on a familiar stage in their home town KT and some old friends were going to play together again. Whilst I regret what I didn't get to hear downstairs hugely, I am very happy I stayed for this. Like others, Tunstall had elected to play a set of new material - so new in fact that this was the first public airing for these songs. Accompanied by the simplest of band set-ups, including a fantastic steel guitar player, she picked her way through a set of bewitchingly beautiful songs. The tunes were often dark - countering her self-confessed "perky mofo" reputation - and far more anchored to place too, with several of the songs seemingly about the area and in fact the town where we were hearing them. The security guards' burly image had now slipped entirely, with a pair of them jostling each other at the side of the stage to get a good shot of KT on their camera phones. I'll confess that despite my reservations and probably some vestiges of inverted snobbery, I was utterly spellbound by KT's voice. Recalling only hearing it belting out big radio-friendly things - which she is, it must be said very very good at - it was a genuine pleasure to hear this, her more considered side. And any sense that the audience wouldn't be up for this was dispelled by the huge reaction the set garnered - and a quick glance over the shoulder showed that there were a fair few regular Fence folks up here too. Despite any concerns Tunstall had managed the never easy trick of delivering an entirely new set of songs and still pleasing the crowd. It was another of those Eye o' The Dug moments no-one will forget in a while. The news that she will soon be recording in Arizona with Giant Sand genius-in-chief Howe Gelb was also very significant, and the results could be very interesting indeed. The songs performed tonight, stripped back and delivered in the dry desert air, could be some of her finest work yet.
It will probably surprise regular readers to hear I had reservations about King Creosote and Jon Hopkins too. Having heard "Diamond Mine" performed a few times, and having played the record until it was almost worn through, this album has sort of absorbed itself into me - and oddly I've found it strange and difficult to listen to live. However, this was going to be something special. For starters it was the first time that it would be performed in full in the Kingdom of Fife - the geography which inspired and runs inextricably through the songs. Secondly, the band which assembled to deliver this was pretty special - with Geese providing strings and drums and KT Tunstall assuming additional vocal duties. Kenny Anderson shuffled on stage to a tremendous, warm reception, hushing the crowd as Jon Hopkins began to pick out the notes of "First Watch" on the absurdly large grand piano which had been shifted onto the stage for the occasion. What followed is almost impossible to explain in words... With no breaks for between song banter, and with an audience showing the utmost respect for the quiet, delicate nature of the songs the album was reinvented. Anderson was in fine voice, stretching for notes it was surely not possible to reach and lifting onto tip-toes to catch them. Tunstall's counterpoint vocals were utterly beguiling too, and the moments where she and Kenny harmonised and made eye contact should have melted the hardest heart - there is no animosity in Fife, just a genuine love for the craft of musicianship. As the other musicians left the stage, Anderson and Hopkins were left to deliver perhaps the most wrenchingly lovely versions of "Your Own Spell" and "Your Young Voice" which I'll ever hear, before an absolute explosion of appreciation from the rapt audience. Mercury Prizes, even Scottish Album of the Year Awards might be important - but this kind of immediate, emotional feedback must surely transcend all of that critical acclaim?
It was left to King Creosote and Jon Hopkins to close things, and they did so via a clutch of non-"Diamond Mine" material which delighted a crowd which probably didn't think it could be any happier, including a storm through "Spystick" and a superb take on "Home In A Sentence". It could have gone on all night, but as they left the stage again to a thunderous reaction Eye o' The Dug was all over, bar the post match drinking and the mournful "I don't want to go home" tweets, of which more than a few were going to be mine. During his set earlier, Johnny Lynch had asked the audience if this event had "killed the spirit of Fence?". With tongue perhaps firmly in cheek, he reasoned that yes, it had a bit - but that was OK. As scores of happy faces straggled along North Street heading for the after party or their much needed beds, I don't think anything died. In fact, this weekend, something might just have been reborn in this quiet corner of Fife.
"I don't want to go home..."