Posted in SHOFT on Tuesday 20th March 2012 at 9:03am
---
I seem to be surrounded by single releases at the moment, and catching up on them is a huge pleasure - but inevitably means that I'm going to keep writing these increasingly lengthy 'catch up' posts about seemingly random collections of music. Today however there are a couple of potential themes - firstly all three of these acts have some connection with Edinburgh. While not always quite as productive or dynamic as Glasgow which houses the machinery of the Scottish music industry, there is a sense of something stirring on the east coast among a clutch of young bands just seeing their first releases. Secondly, these releases are by bands which are right at the start of their journey - a fragile and eventful time which often produces some of the most interesting recordings of a band's career. All of these releases deserve a listen, and ideally for you to part with the few quid necessary to get hold of them. They may just become little pieces of pop history after all!
Morris Major - Can't Go Back EP
It's been a productive winter in Edinburgh it seems, with a whole host of bands coming up with new things in the next few months. Since their debut EP graced these pages what seems only a short while ago,
Morris Major
have clearly been busy too, with a successful
Song, By Toad
gig under their belt and the recording of this new EP following swiftly in a period which for most acts is the fallow season before the year starts in earnest. This sense of urgency may come from the fact that
Morris Major
are racing against the clock - real lives bearing down on their ability to play and record together, and there is a sense of this in both the urgency of the music and
Matthew Harrison
's jaded but defiant lyrics here. As winter seems to have returned this morning, "Intrepid" is a suitable soundtrack. Its oddly summery cascade of ringing guitars are a contrast to a lyric which hinges on a journey through wintery conditions which dares to ask "
why does a nation stand still?
". There's a little nod to the notorious lack of resilience in the capital too, with the wry observation that there is a "
crisis in London town/some white stuff is falling down
".
Title track "Can't Go Back" has a pensive feel, a strange eastern European flavour adding to the air of paranoia. The guitars skitter playfully around the strangely foreign sounding tune as the lyric relates a tale of anonymity and flying under the radar - with Harrison claiming "I don't want to be seen/for reasons I just can't explain". Finally "Mines, Mills and Factories is a clever and measured post-industrial hymn to lost empire, forgotten prosperity, and dissolved pride - the work of "ignorant minds with reckless hands". Like most political songwriting this could all be very clumsy and dogmatic, but it comes across as gently human and considered, with Harrison expressing regret and frustration but never slipping into impotent rage. The churning guitars and complex basslines drive the song on with quiet insistence, just like the message here. The ability to write intelligent, captivating lyrics about something beyond love and lust is rare, and to couple it to deftly played, addictive tunes is a triumph. There may well be some changes coming up in the Morris Major camp over the next few months with members of the band scattering to the winds, and I can only hope that somehow, the inventive songwriting at the heart of these gems continues and that they resurface in some new form soon. In the meantime, download both this and their previous EP and marvel at how beautifully direct pop music can still be exciting and relevant.

Morris Major - Intrepid
The "Can't Go Back EP" will be available at Bandcamp from 1st April. Morris Major also appear at Edinburgh's Wee Red Bar on Friday 23rd March and Bannerman's on 4th April.
Letters - The Halfway House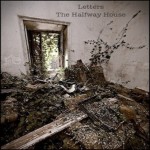 It's strange how some bands receive so much early press that they seem to have been around for a very long time, when in fact - like
Letters
their earliest recordings are probably about a year old. After being tipped as one to watch in lots of influential places around the turn of 2011,
Letters
have done their growing-up as a band in the gaze of the often congratulatory but sometimes harshly critical blogosphere. But more positively, the latest fruits of this process of public maturity can be heard on "The Halfway House" which is a taste of what's to come on their debut EP "Older Motion Pictures" due later in the spring. The basic premise here is good old fashioned, anthemic pop music. Big soaring choruses, dynamic shifts and changes in pace, and vocals which ache with commitment. That alone would make this dark, noisy pop music pretty interesting in my book. The twist here though is the cello playing of
Georgie Williamson
. Throughout the song the instrument appears in several guises - firstly acting as part of the solid rhythm section and sawing out a moody undertone, but later in it's own moments of spiralling glory as the song builds to a rousing ending.
"The Halfway House" is heartfelt, chest-swelling stuff with a lyric which switches from tiny, detailed observations to sweeping descriptions of places and journeys, the opening few lines in particular being a masterclass in scene-setting - but I'll leave those to delight you on first listen as they did me. As such this is darkly pretty, stirring and sneakily catchy stuff. You're going to see those terms crop up a lot in reviews of Letters over the next year I'm sure - but it's not lazy journalism, it's just about the best description I can string together of this gem of a song. Any early concern that Letters palette was limited by their approach and their reliance on the cello is unfounded - they have the ability to conjure with moods and tones which makes me long for the EP and eventually the album to finally hear what they're capable of. If the point of releasing these songs is to hook us in, then mission accomplished.

Letters - The Halfway House
You can buy "The Halfway House" for just a pound on iTunes, the proceeds of which will help Letters to record their debut album. If ever there was a musical cause worthy of your quid, this is probably it. Letters are touring right now with Where We Lay Our Heads, appearing at The Captains Rest in Glasgow on 22nd March before heading into the Highlands.
Radials - Radials EP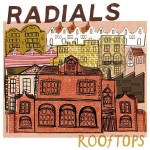 One of the first records I reviewed here was the debut album by Edinburgh based
Come On Gang!
. It was a tough one to write in many ways, as the band had already performed their farewell show and it was as much a historical document as an exciting new release from the outset. It was however a fine album of lyrically reflective, punky pop songs which has lasted well and still gets played here lots. The various members of the band have scattered to other places, such is the Edinburgh music scene, but
Radials
sees the reappearance of vocalist and drummer
Sarah Tanat-Jones
in London as part of an entirely new band. On the surface at least, things are similar to the
Come On Gang!
blueprint, with
Sarah
's wonderfully wistful, dynamic vocal gracing these four urgent, delicate tunes. Opener "Ships In The Night" burns slowly but brightly,
Sarah
's vocal reaching incredible heights over a complex pulse of bass and a beautiful tangle of indie-pop guitars. Next up "Hands" is musically equally driven, but with an almost folky vocal which keeps the song from exploding for most of it's length - but when it does so, it reaches a scorching, drum heavy ending.
"Rooftops" is a quieter proposition, delicate and restrained, but delighting in some of the most intricate guitar work to be found here. This showcases perfectly the variations in tone, pace and colour which Radials can achieve despite taking the form of a fairly traditional trio completed by Matty Saywell's guitar and Al Baker's almost superhumanly deft bass work. Finally "Dashboard" manages to deliver that most elusive of things - an English road song. The Americans have always had this cornered with their long straight highways and epic coast-to-coast journeys but Radials were built for this, with tarmac and tyres embedded in their name. A rumble of distorted bass and Sarah's regret at reaching the edge of the city and losing the open road see this fade into the distance. It's easy to forget that Radials have only existed since last Autumn, and in that time seem to have become an industrious three-person arts collective with beautiful DIY sleeves and posters, and now this EP packed with tight, complex and spiky tunes. I can't wait to hear more, and I hope I manage to see this band play live very soon.

Radials - Ships In The Night
Maintaining the DIY ethic, each CD is hand-painted and comes in a 7" single sleeve with a fold out print cover featuring four separate artworks - one for each track. Time, thought and effort have gone into producing this - from the cover, right through to the intelligent pop music which graces the disc. It seems only right you buy a copy soon, by visiting the bands online store. Radials are playing all over London, and will be appearing an Manchester's Night and Day Cafe on April 19th, and Sneaky Pete's in Edinburgh on April 20th.