Posted in SHOFT on Monday 9th April 2012 at 10:04am
---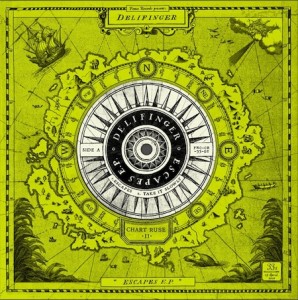 When Fence Records announced their most recent grand scheme for making music just that little bit more special, I felt a familiarly strange mixture of excitement and heart-sinkingly blind panic. Because, when Fence tell you something is limited it genuinely is going to be a scare pleasure. Be it the finite number of precious Away Game tickets, or "Chart Ruse" - this subscription-based series of 7" EPs all playing at 33rpm to squeeze in as much music as possible, the announcement is followed by blind panic among the Fence faithful. For me, this meant desperately competing for a terrible internet connection at a freezing East Croydon station, imagining the innocent passers-by accidentally stealing my PayPal password over the airwaves. It was worth the chaos and concern however, as so far lucky subscribers have received Withered Hand's splendid "Heart Heart" EP, and will shortly get their hands on this new release by Delifinger.
Delifinger - also known as Matthew Lacey - is part of the OLO Worms. That curiously complex Bristolian collective which is going to be responsible shortly for one of the most dizzyingly varied debut albums of the year. As one of the songwriters which provide some form and structure to the otherwise strangely scatter-gun approach which the OLOs take, Lacey's craft needs to be subtle and versatile - and this EP showcases this very ably indeed. There are hints of his other work here too, as title track "Escapes" edges in gently with ominous beats and strange electronic noises. Lacey's delicate multitracked vocals take on a strangely traditional, madrigal-like quality in the claustrophobic atmosphere of the track. Somewhere in the midst of this, the droning equipment comes to the fore and the guitar takes centre stage. Since there is just a hint of summery west coast pop buried in here too, it ends up being both ancient and modern all at once. Meanwhile the more upbeat "Take It Slowly" is a gorgeously odd nugget of country pop, complete with a bassline borrowed from a Johnny Cash hit and a swooning chorus reminiscent of Gene Clark at his lyrical finest. Harmonising effortlessly with both his own rebounding voice and that of Anneliesa his wife, Lacey's simple but effective guitar is augmented by charmingly low-budget organ sounds in these sections too. Again I'm struck by the timelessness of Lacey's writing - and this could just as easily be some late-sixties psyche pop single spinning on the deck. It's simple, direct and incredibly enjoyable.
When we reach the portentously titled "It's Not Going To End Well For Me". Delifinger has entered the strangely reflective zone where he is often at his best. The musical backing here is perhaps more reminiscent of his work in OLO Worms with fractured sound fragments sliding in and out of a soundtrack constructed from rumbling bass sounds and synthetic drums. Lacey sets out the dark territory he's going to explore with the opening couplet "There's too much on my plate/my bones deserve a break". This is a tale of being stretched too far, and the danger of being on the edge of your patience and tolerance. As the hiss of tinny percussion sounds slides in, the vocals slip even further into the background and start to shatter and fragment. Clipped, weird yelps and spectral moans echo around and everything becomes just a little bit disconcerting, as somehow this is the soundtrack to an inner monologue which you get the sense you really shouldn't be hearing. While this reflective approach bewildered me a little in the live performance at The Fleece, it makes much more sense here, reverberating spookily in my headphones. The organ which heralds the coming of closing track "Mining" rumbles equally ominiously, and rather surprisingly that is just about the size of it - a brief, strangely gloomy drone fading out as the needle lifts.
Atmospheric and far more complex than the simple instrumentation might imply, Delifinger has turned in a strange, sometimes impenetrable but always compelling EP which is a very worthy addition to this series of Fence releases. It will of course come with a remix by another Fence type by the time it reaches subscribers, and will be subject to the witheringly defiant approach to digital releases which means a download code might follow, at some unknown future occasion. Until then, the rare pleasure of lifting a real, tangible audio artefact out of it's beautifully designed sleeve and placing it onto the deck should be celebrated. The fact is that Delifinger will transport you to a place where formats just don't matter.
In deference to the concept behind the "Chart Ruse" series, there will be no audio preview at the end of this review. You'll just have to take my word for what strangely subdued pleasures await with the "Escapes EP" - though you can watch the video for "Take It Slowly" here. Non-subscribers can pre-order the EP from Fence Records directly here. Delifinger shares a launch with Seamus Fogarty at The Wilmington Arms, London on Thursday 19th April, and in his native Bristol at Café Kino on Friday 20th April.