Posted in SHOFT on Wednesday 15th February 2012 at 11:02pm
---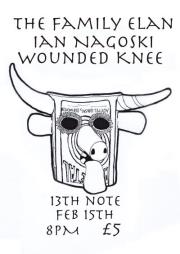 I arrived in Glasgow yesterday to find a city in chaos - a rail strike, the impending financial implosion at Rangers FC, and perhaps worst of all a city in the grip of Valentines Day. Also, the sudden realisation of the impact that devolving licensing of free events to Local Authorities may have on small arts and music events has stirred up something of a grassroots rebellion in the past day or so. In a sense tonight's show at The 13th Note is just the sort of thing which may well not happen if authorities decide to charge for such licenses. So, having skulked in my room last evening to avoid the deluge of nervously overdressed couples stalking the streets, I was eager to get out and about tonight, and this offered the ideal opportunity.
Having encountered Wounded Knee several times on record, not least on the really excellent "House Music" cassette at the tail end of last year, I was keen to see Drew Wright perform live. He took to the stage alone, with just an electric guitar. This was deployed as much as a percussion instrument as anything as he strummed out a hypnotic rhythm and started to sing. On record, there is rarely any instrumentation in the traditional sense to detract from Wright's vocal - and this was true tonight also, as his voice climbed and dipped around the rhythm. The lyrics of this extended first song seemed attuned to this too, with their reference to "the strumming of the strings of defeat and salvation". The small audience showed a great deal of appreciation to Drew's apparent surprise and delight as he continued with his setting of Burns' "My Love is Like A Red Red Rose". In the hands of Wounded Knee this became a strangely moody two string blues, full of menace and portent. Perhaps a highlight for me, unsurprisingly given my occasional theorising about music and place, described a series of walks around the countryside which rings Edinburgh as Wright observes "I am alone/never lonely". Referencing "The Highlands in miniature in your doorstep" the song revolves around a list of bus routes which make these remote country edgelands accessible. Given the themes of land, place and identity which thread through "House Music" it was good to hear this expressed on a local scale, with a genuine connection to the places clearly expressed. Wright closed with "The Deadly Wars", an old song unearthed during his residence at the School of Scottish Studies and again based on Burns. This short set was entrancing, magical and genuinely intimate in the tiny setting. Most of all, Wright's deep, resonant voice echoing around the room will stay with me for some time.
Sticking with the theme of place and displacement was Ian Nagoski. This was something of a different proposition, and one which could all have gone badly wrong with a testy and hard-to-impress Glasgow audience. The basic premise is Nagoski talking us through his development as a record collector. It will be a familiar story for any zealot or specialist - you start out feeling it's impossible to carve out a niche, and end up a specialist in a tiny area of expertise which is yours - and often pretty much yours alone. For Nagoski that specialism lay in the foreign-language 78s produced in dizzying number by the major recording companies in the US during the early part of the 20th century. Far from being a nod to a diversifying USA it was, even then, a commercial proposition - giving the Ottoman Diaspora something of home. As Nagoski admits, it was just as often schmaltz, rather bloody-handed patriotism or cheap titillation, but his breadth of knowledge of the lives of these long-dead and obscure artists brought the scratchy, aging recordings to life. It's easy to dwell on technical aspects when describing the unfamiliar in music, but Nagoski takes the social, political and geographical context and builds his stories compellingly around it. I sympathize entirely with this approach, and the concept of weaving new discoveries and their back-stories into your own narrative. I sympathised too with his thoughts on the nature of obsession and the need to create. I never dreamed I'd be sitting in the basement of The 13th Note listening to the thoughts of a quietly-spoken American enthusiast, punctuated by scratchy, pained wails transported from the distant past. If you told me I'd be here, I'd have speculated it wouldn't work. But, strangely - and compellingly - it did.
Finally, Nagoski departed by introducing The Family Elan. A three-piece focused on the multi-instrumental talents of Chris Hladowski which seemed to channel those disembodied, disenfranchised voices from their gramophone horn and deliver them afresh through thoroughly modern loudspeakers. On paper the band should be a bizarre proposition - heavily amplified bouzouki, electric bass guitar and in Mark Hearne a versatile and dynamic percussionist who is, for me, perhaps the hero here. The Family Elan are tight, taking the shifts in pace and geography in their stride as they switch between an Azerbaijani warning that you "cannot cross the mountain" and equally "must not stand on the pomegranates" alongside a trance-like, almost psychedelic take on Bollywood tunes. It's interesting to think about all those times Eastern music has influenced western - not least in the meandering 1960s love affair with mysticism. But now, oddly the reverse is true as Hladowski hefts his bouzouki, soloing like a proper rockstar and applying distortion and phaser to weirdly queasy effect. Their final track tonight, apparently from the north coast of the Black Sea ploughs a traditional enough furrow until it breaks down into a slow, trashy distorted grunge epic. It's either abject genius or superbly silly - but either way it's quite brilliantly played and hugely appreciated here.
Tonight was far from a normal night in many ways - but, it shows that no matter how diverse or eclectic the subject matter, the nature of musical or literary obsession is pretty much always the same. Whether it's expressed through a connection with a distant life, or as Ian Nagoski put it via a non-denominational 'prayer' to make things different to how they currently are, it's comforting to know I'm not alone in my approach. And given the rapt and respectful audience tonight, I think I may well have been in good company.