Posted in SHOFT on Tuesday 29th November 2011 at 5:11pm
---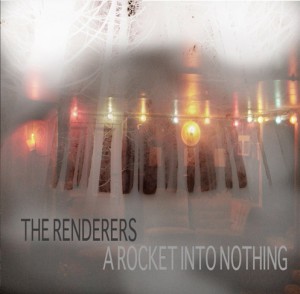 I first heard The Renderers about twenty years ago, which is a fairly terrifying realisation. My first contact with them was via the blissful, chaotic melodrama of the "Million Lights" 7" on Merge Records, which remains one of my all-time favourite singles to this day. Then I discovered a surprisingly straight-faced country pop debut album on Flying Nun called "Trail of Tears" which despite being incredibly enjoyable, rather surprised me in its clean production. A few years later they were back to their uncompromising Dunedin roots with the scorching, harrowingly fuzzed up Americana of "That Dogs Head In The Gutter Gives Off Vibrations" - but throughout these recordings Maryrose Crook's damaged, soulfully ghostly vocals remained the focal point in the storm of noise created by husband Brian. At this point I lose the scent somewhat - bored with music closer to home, I found myself listening to old things more and new things much, much less. Strange, sorry times indeed. Equally the band became a little more remote and harder to pin down, with releases scattered over a host of tiny labels all over the world. However the story has a happier ending than I might be suggesting here. I got to thinking about The Renderers again on hearing the wonderful Edinburgh School for the Deaf album earlier this year, which shares some of that insistently noisy but resolutely tuneful sensibility somehow. Memory pricked, a bit of judicious searching got me to this very recent release, the first Renderers record for a number of years - but one which manages to sound just as fresh and exciting as those first recordings from Port Chalmers did.
So, for the uninitiated, Brian and Maryrose Crook are the core of The Renderers, with a history which links them individually or collectively to a whole host of other notable acts. As the band has developed over the past two decades or so, the line-up has mutated too - in the process involving a cavalcade of some of the finest musicians in New Zealand. A physical move north to Christchurch preceded this release, as did a work-related wander around the globe, but this doesn't seem to have had a major effect on their sound which remains anchored in the noise and melody which they've explored over six albums or so now. "Down River" signals this continuity, ushered in by a shudder of feedback and a rumble of drums before Maryrose takes the song out of the swamps and into the hot, dry desert air. Brian's layering of guitar - both delicate melodies and a sheen of atmospheric noise - gently begins to conjures the mood for the rest of the record. "Shadow and It's Shadow" ups the pace somewhat, a warped sixties garage pop hit heard through damaged speakers with scouring sweeps of noise which mutate into odd, middle-eastern sounding riffs. Maryrose's voice takes on an equally sinister tone to utter the lyric - a curious collision of occult references and spiritual disconnection. The shuffling, insistent noise never quite lets up, the track fading out with Brian still cranking out white noise and screeching from his guitar. It'll probably come as no surprise that there are no obvious big hit singles in evidence, but if there is anything even remotely close here it's "This Shining Life". By far the most accessible entry point for the newcomer, Maryrose's gorgeously cracked vocal accompanies one of Brian's trademark off-kilter solos perfectly. The lyrics drip reflection and regret, and are visited by the cast of itinerant losers, angels and demons which frequently find their way into The Renderers songbook. This isn't so far from the territory covered on earlier work such as the superb "Million Lights", but it's far from a tired formula.
Brian takes the lead vocal on more of the tracks here than perhaps he has in the past, including the drunken swamp-jazz of "Restraint of Beasts" and the remarkable "Assassin", a gorgeously warped ballad which shows incredible restraint in not imploding into noisy chaos right away but working itself up to several false crescendos, each more intense than the last. His vocal, an understated, almost Dylanesque nasal drawl, suits the laconic screed of noise and the building urgency of this longer piece perfectly. "Typhoid Mary" with its churn of feedback and keening guitar solos gets perhaps closer to an anthemic chorus than The Renderers have come since their first, far more traditionally structured album. The chorus here though remains fuzzy, distant and a little off-centre, with a rare vocal duel between the Crooks before returning to the grinding noise. Then the ear-splitting entry of "Vanishing Point" chugs in with thundering bass and speaker-tearing guitar noise and maybe even a hint of distant organ as Brian rattles through an alienated, dystopian rant against an increasingly epic backdrop. The album closes with the clamouring sea shanty of "Hypnotised", which sets up a jangle of acoustic strums behind a backdrop of grumbling amps and chaotic percussion as Maryrose intones the lyric. Then, shards of jagged guitar kick in, before the whole thing fades to an uncharacteristically quiet ending,
In some respects, The Renderers are a simple enough proposition - lots of beautifully ungoverned noise, some exquisitely buried melodies and two distinct, unique voices. But its one of those 'more than the sum of the parts' moments when this all comes together at the right time, and thankfully there are plenty of those moments on "A Rocket Into Nothing". Moments where, when you don't think things can get any noisier or more chaotic, somehow Brian and Maryrose manage to take a song spinning off to new, previously unforeseen heights or stuttering, growling lows. Just now there seem to be a surprising amount of bands from my youth coming back from obscurity with, it's fair to say, some fairly variable results and a few precious memories tarnished along the way. In the midst of this it's good to reconnect with a band that's never really been away and is still capable of producing moving, vital and visceral music.
You can buy "A Rocket Into Nothing" on CD from Ba Da Bing records, or digitally via iTunes or Amazon MP3. Their back catalogue is a little harder to track down, but is worth every effort.

The Renderers - This Shining Life