Posted in SHOFT on Thursday 24th November 2011 at 8:11am
---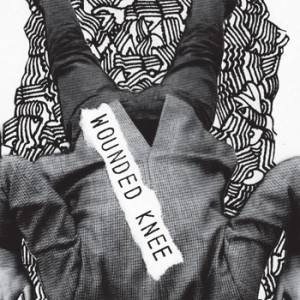 I recently read a blog which suggested that somehow releasing things on cassette was some sort of wilful hipster act of assured obscurity. As someone who ran a tiny label long before CD writers and blank media were cheap enough to consider and before the internet made it easy to distribute music, I suppose I recognise a necessity and a pragmatism in the format which might be lost on those who've grown up buying CDs or downloading digital music. For me then, perhaps releasing cassettes - despite their recent decline towards obsolescence - still has a sense of purpose. And after all, it's still perhaps one of the most direct and accessible routes available between the musician and the listener. So, I can't help but wonder how the writer who dismissed cassette releases as largely an act of vanity will regard this release from Gerry Loves Records - which is essentially a cassette re-release of an already out-of-print tape. Is it the ultimate in vanity releases, or is it perhaps just the right way to treat this unusual music?
Wounded Knee is Drew Wright - a Leith-based singer of strange, disembodied shanties and oddly soulful folk tunes - and this cassette, clocking in at around an hour and a total of 21 compositions, is an expansive and sometimes confusing ramble through his world. The project hinges on Drew's voice, which delivers sonorous, melodic incantations over the most minimal of instrumentation. Occasionally there is some electronic percussion, perhaps a dusting of droning keyboards, and a range of background atmospherics - but rarely are these intrusive and they almost never stray into the foreground. For the most part in fact, they are mixed low and almost hidden while Drew's voice is left to carve out the melody. That said, there are a couple of curious and playful instrumentals scattered throughout - such as the kazoo powered "Scotsport" which provides a reasonable approximation of an already pretty strange 1970s STV theme tune. But it's important not to mistake low-tech for low quality - and while there is little in the way of polish or production here, there is nothing throwaway about the songs Drew has selected. His lyrics, particularly mark out a strange tension between simple lilting delivery, traditional song constructions, and more complex lyrical preoccupations. Wright's songs owe more to the spirit of the rural Highlands than the cityscapes of the Central Belt, and on "Muckle Sang" he takes us rambling into the hills in search of spiritual enlightenment with the landscape becoming "the temple/where we contemplate the infinite" before concluding that perhaps it's nature he's been worshipping all along. "Lowland Lullaby" explores similar territory, alongside a simple and beautifully direct melody picked out on a cheap keyboard. Whilst the songs are timeless, they are precisely located in a geography which seems to seep into their bones.
Another advantage of homegrown cassette recordings was always their ability to allow artists to respond quickly to life around them without storing up songs for the next expensive recording session. Thus, some of the songs on "House Music" reflect an overtly political response to events which is barbed and acutely observed, but never overtly vitriolic. "Coffee Ballad" uses the beverage of choice around these parts to explore allegorical relationships between 'strong' and 'rich' versus 'poor' and 'bitter'. Wounded Knee's political stance is however far more directly expounded in "Anti-Facist Reel", where a twanging, warbling, almost comic background lifted directly from Rolf Harris's back catalogue sees Drew ask the very reasonable question "Why would anyone vote BNP? It's a fucking disgrace". It's a refreshingly honest take on these issues, and perhaps surprisingly it doesn't jar with the more pastoral material here at all. Wright's lyrical pallette is rich enough to encompass both the broadly political and the more personal, as amply demonstrated on "Burnett" which sets an oblique, partly-revealed domestic tale in a post-industrial edgeland landscape with "sent home on full pay/insubordination" sitting alongside "wild garlic in the air along the old railways". It is, in fact, hard to single out individual songs because every listen to this collection yields new couplets and lines which strike a chord as Drew's deep, searching voice delivers them with gravity and often perhaps, a hint of regret.
Recognising one of the points raised by our erstwhile anti-cassette blogger which perhaps has some merit, there is a question about how accessible this music is? Originally a cassette only release on Wright's own Krapp Tapes imprint - with a concious nod to Beckett of course - this re-release does at least offer a digital download to those no longer possessing - or perhaps never having seen - a working tape deck. The music too requires some effort - and for me Wounded Knee only really began to make sense once I'd immersed myself totally, headphones on, Drew's voice echoing and booming around me. It's absolutely worth the effort. These songs are subtle and poignant, often funny, but always wonderfully detailed word paintings. The lack of traditional musical backing and the curious selection of sound-effects and background noises is perhaps a little uncomfortable at first, but it works to push the voice and the words into the foreground where they belong. This tape isn't going to deliver some sort of whirling, stomping Radio 2 pleasing Mumford-like folk pastiche, but it's packed full of the hymns to the land, acutely observed stories and political statements which folk song has delivered for hundreds of years. On that basis alone it's absolutely essential listening.
Wounded Knee's "House Music" is available now from Gerry Loves Records on cassette with immediate digital download for just a fiver. You can also purchase it together with the recent 10" EP also featuring Fox Gut Daata, The Japanese War Effort and Miaoux Miaoux for a bargain price.

Wounded Knee - Muckle Sang