Posted in SHOFT on Tuesday 18th October 2011 at 8:10am
---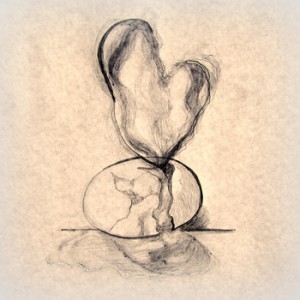 I realise I'm way behind the rest of the blogging world where this record is concerned. The general musical miserableness of returning from a packed week of shows in Glasgow to a rather empty gig calendar, along with a flurry of criticism for the blog has seemed to put me off my stride a bit. I'm allegedly a grown-up who can handle constructive criticism, but I struggle with the idea that a blog - essentially an individual and personal response to music - can be described as "too positive". I have limited time, with real life hovering menacingly over me while I tap out this stuff - but yes, perhaps I could use that time to spit bile and negativity - goodness knows there are plenty of targets out there! However, I'm sticking to my guns and I still plan only to write about things which I love and which excite me enough to put fingers to keyboard in the wish to tell people how great they are. I still maintain this blog is the modern equivalent of how a good few years back I'd be dashing over to a friend's house with a hastily dubbed cassette, exclaiming breathlessly "you've got to hear this...". So you won't find me panning major label releases or doing demolition jobs on individuals in the industry - there's a whole mainstream music press out there just waiting for your attention if that's what you want. But I suppose I've paused a little because I wanted to attach this rant to a review of something which demonstrated what I meant better than my clumsy explanations ever could. Something which summed up those life-affirming qualities, and which demonstrated just how some music is so unconditionally engaging and fantastic that I want to write about it - and just at the right time Beerjacket has supplied exactly such a release with "The White Feather Trail".
Beerjacket is Peter Kelly - in interviews a quiet, wry and almost reluctant character - but by far one of the most dedicated musicians in the business with a remarkable catalogue of support slots for some fairly major acts. Over the course of a growing back catalogue of self-recorded and released albums, he has carved out a style and a reputation which makes the fact that "The White Feather Trail" is in fact Beerjacket's first 'studio' recording as such all the more surprising. The literate, lyrical style which Kelly has developed is perfectly demonstrated on the opening "Blood Roses" which appropriates biomedical imagery to describe an intense analysis of a relationship. Dissection and experimental cures provide an oddly jarring clinical edge to the otherwise tender, heartfelt delivery. In a Glasgow PodcArt interview Kelly was unwilling to expose the circumstances or background to this song in particular, but it's clear just how personal this work is as Kelly's voice dips and weaves around the gently picked acoustic melody with incredible dexterity. The benefits of a more structured recording environment begin to show on "Cave" which adds a banjo and vocal harmonies to a folky stomp of a song with a soaring and naggingly memorable chorus. Louise Connell otherwise known as Reverieme guests on a number of tracks - but in particular duets on fairly equal billing on "Eggshells". Her voice fits neatly into the spaces left by Kelly's sparse instrumentation as he adds archaeology to his scientifically exacting pallette of lyrics with observations like "you are the standing stone gathering moss". This addition of a female vocal counterpoint does a little to soften the sometimes uncomfortably personal intensity of the lyrics, and rather than hitting you head-on with the keenly observed emotive bombshells, phrases and snippets are left to sneak up and catch you blissfully unprepared.
Personal highlight "Island" kicks in with sinister, dark guitar textures and quiet backing vocals from Connell while Peter Kelly's voice soars over the understated musical backing. It's perhaps unsurprising that he is unwilling to give too much insight into the origin of songs, with stark and honest proclamations like "I've always been afraid of truth above all". This perhaps sums up the mood of the record - a preoccupation with honesty, both in terms of external relationships and in self-examination. It could all get very, very maudlin - but given Kelly's ability to neatly and exactingly deploy metaphor, this never quite happens and the listener is drawn, almost unwittingly, deeper into the songs. A lighter mood is created by the increased pace and bursts of melody on "Jack Chasing Jill", but the lyric is no less obliquely self-critical. This song does however amply illustrate Kelly's talent for mastering a range of styles - delivering an incredibly catchy, pop-influenced sensibility within the confines of just an acoustic guitar and voice as Louise Connell assists in closing the song with sweet, impossibly alluring harmonies. The almost traditional accompaniment and lilting delivery of "Crooked Finger" is deceptive, hiding a bitter and desperate tale, with Kelly delivering lines such as "you should take a hammer to both knees just to be sure" with a surprising relish. We'll probably never get to know quite who or what this is all about, but the painfully dark, withering sentiment is something with which we can surely all identify - even if we wouldn't perhaps be brave enough to deliver quite as starkly as this? Closing with the shuffling, upbeat road-song of "The Monsters", Kelly returns to his default position of resignation "we'll run from all the right answers/and we'll blow all of our chances". Again it's a little grim and an uncomfortable truth to face, but Kelly and Connell's vocals make it easier to bear.
And perhaps that is the key to Beerjacket? These are simple, honest stories which have a ring of truth for all of us, presented with a heart-on-sleeve openness which makes avoiding emotional engagement impossible. There is no doubt that this is lyrically a dark, compelling and bittersweet clutch of songs, tempered by remarkable musicianship and beautifully simple arrangements. I set out here trying to explain what makes me want to write about music, and this represents exactly the reason - intelligent, crafted records like "The White Feather Trail" simply deserve to be heard as widely as possible, and this is my enthusiastic, personal exhortation to go out and track it down. You could waste time sneering at the lack of honesty and authenticity in the music industry, or you could listen to Beerjacket and find something faith-reaffirming. It's your choice - but I know which course I'm going to follow...
"The White Feather Trail" is available via Beerjacket's Bandcamp as either a physical CD or a digital download. Peter's impressive back catalogue can also be found at the same site.

Beerjacket - Island