Posted in SHOFT on Thursday 15th September 2011 at 10:09pm
---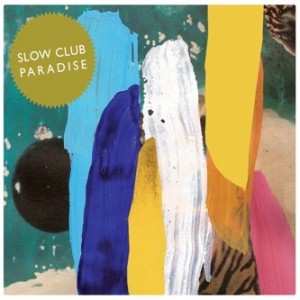 My introduction to Slow Club occurred on what promised to be another glum night in Crewe back in 2009. It's fair to say I've spent a fair few similarly dull nights there over the past decade or so, but rarely have I been quite so surprised. A remarkably glamourous, young looking duo took the stage against the drab backdrop of a Crewe pub, delivering a short but spirited set of songs which couldn't decide if they were pop or folk despite the flyer trying to pass them off as some sort of dreadfully serious anti-folk act. It didn't really matter - I was immediately intrigued. So, almost two years, an album which I listened to almost obsessively for months and a triumphant Homegame set later I find myself in the tricky position of writing about new music by a band I've enthused almost stupidly about everywhere. I'm sometimes accused of sycophancy here, but the mission is to write about things I like, not to act as some sort of arch, journalistic reviewer. Even so, sometimes it's far from easy to stay even slightly objective in the face of music you know is going to become very important to you as it grows more familiar. Yes readers, it's going to be another of those unfocused and incoherent pieces for which this blog is gaining a reputation...
If Slow Club's fine debut album 'Yeah, So' was an uplifting cry of defiance, then 'Paradise' is a somewhat darker and more complex beast. There is a brooding atmosphere from the outset, with almost the entire record drenched in reverb, and with the generally uncomplicated instrumentation echoing around a sparse, empty room. There's also a pervading sense of loss, regret, even bitterness perhaps here. But the songs still manage to fill the vast space with warm, human emotion - and Charles and Rebecca can't entirely avoid the involuntary outbursts of pure, unashamed enthusiasm which made their first record such an instant success for me. Familiar from a recent single release which was coupled to an understated and classy video, 'Two Cousins' is a drum heavy, swaggering and soulful stomp. Strange washes of orchestration punctuate proceedings, and a piano-driven chorus provides one of those definitive Slow Club moments when you're grabbed and lifted up on the giddy spirals of vocals. A word is appropriate here on the metamorphosis of Rebecca Taylor. Universally portrayed in the music press as some sort of disinterested indie ice-queen since the first record, her personality shines through the vocals on this record - childlike glee in it's highs, growling anger at the world's injustice and a soulful ache of regret elsewhere. The clarity of her voice is unchanged, but its range and character have grown immeasurably into something truly amazing.
There is a lightness and simplicity about the plaintive 'Never Look Back' which has become an early album highlight for me. It starts by tackling an incredibly challenging, emotive event in a remarkably honest way. Charles Watson leads the song in with a somewhat incongruous swinging, jazzy intro until huge drums and surprisingly thunderous guitars enter for a soaring chorus where Rebecca's voice reaches for the stratosphere. This is a genuinely affecting, heart-stoppingly frank song which will leave even the most seasoned musical campaigner moist-eyed. A blast of relief from the tension arrives with the opening war-cry of 'Where I'm Waking'. A sultry, swaggering come-on punctuated by epic tumbles of echoing guitar and Motown drumbeats. Parts of this wouldn't be out of place in a seventies soul classic, while other sections belong in a twanging Johnny Cash-era country song. This ability to adopt and adapt pop history but still remain as fresh and modern as a Hoxton haircut seems a theme throughout 'Paradise'. A stroll in East London over last weekend sets 'Hackney Marsh' in some personal context and, like the place it's named for, this is an open, spacious quiet place punctuated by surprises and incongruities. Leading in with the simple observation that 'currency can ruin friendships/a mattress can do it too', this builds to a soaring howl of a chorus, which gives way to a perfectly placed saxophone solo. It's another of those moments - vintage Slow Club in many ways, but the focus on bittersweet reflection suits the theme. As the marshes disappear under shopping centres and the Olympic Legacy, this song captures the quiet ache of the bruised landscape and dust-covered spaces remarkably well.
It strikes me around the middle of the album how the duo's confidence in their art has grown since the first album. There is a sense, looking back that some of that record relied on happy accidents and an innocent belief that there was really nothing they couldn't pull off if they tried - and it worked almost flawlessly too. But here on 'Paradise' there is an assurance and a more concious understanding of the process. Charles' guitar veers deftly from chunky riffing to a sweet sixties-infused twang mid-song without a second thought, a wider range of instrumentation is deployed and Rebecca switches characters on a whim, playing Dusty on 'Beginners' switching effortlessly to Janis on 'Half Drunk' with it's Twin Peaks Theme bassline. 'You, Ash & Earth' is a dreamlike swoon of dark smoky vocals and an echoing piano. It sounds like an AM radio era pop song picked up decades later on a distorted radio, while a faint electronic pulse locates it in the present. A deliriously fine, shuffling chorus with gorgeous layers of vocals follows, before a soaring and spine-tingling climb where Rebecca's voice reaches impossible new heights. Charles manages his own vocal highlights too, as at the end of 'Horses Jumping' where an orchestral sweep and an aching piano melody supports his emotional, broken stretch for the sadness tinged notes. Another highlight - another moment banked to be revisited again and again. Finally, 'Palms' arrives to close proceedings. Brimming over with enthusiasm and joy, redeemed from the darkness with jagged rockabilly guitars and dizzily infectious vocals, the spirit of generations of girl groups is invoked from the 1950s right down to the present day - pure, almost annoyingly catchy pop to bookend the record.
This is a sprawling album, maybe even a bit confusing at times because it's so utterly packed with ideas, perfect pop snippets and surprisingly toughened-up tunes. It's the sound of a band confident and happy to be doing it their own way and not playing to a crowd who would probably have been content with a carbon copy of 'Yeah, So'. This is brave, dark and earthy but also beautifully brittle music which sometimes confounds and never quite plays to expectations. If you're looking for an easy listen, Slow Club aren't offering it on 'Paradise' - but if you don't mind digging in and living with a record there is a wonderfully reward awaiting you here.
You can purchase "Paradise" in a Deluxe Edition including videos and extra tracks at iTunes, at Amazon or your local independent record store.

Slow Club - Never Look Back