Posted in SHOFT on Wednesday 23rd February 2011 at 6:02am
---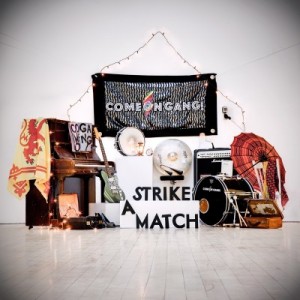 Its clearly been very tricky for anyone writing about this record to avoid the strange truth - that in discussing this self-assured and rather wonderful set of songs, they are considering both a debut and a finale. Indeed, as they release this album, Come on Gang! are no more - quitting on a high, and in a spirit of celebration with farewell gigs a week or so back in Edinburgh. So how to write about this then, given that so much writing about music is about expectation and looking ahead to the next exciting morsel to drift by? Firstly, its extremely important to note that this is by no means some thrown-together attempt to capitalise on the publicity around the band's dissolution. This is a carefully crafted set of noisy, intelligent pop songs which positively exudes hard work and honest, old fashioned musical perfectionism. This has been honed through a series of singles including "Wheels" and "Fortune Favours The Brave" both of which are included here, and it's the latter's triumphant anthemic stance which first hooked me - resulting in an ill-advised tweet where I described it as a "non-ironic 'I Will Survive' for the 21st century". I stand by the description though - and this defiant, uplifting blast of positivity remains something I return to when I feel downtrodden or put upon.
The Come on Gang! sound is one of those 'more than the sum of its parts' affairs - a three-piece, fronted by singing drummer Sarah Tanat-Jones, they combine fairly traditional rock band resources with Sarah's frankly remarkable voice to surprising effect. With a delivery which would probably sound equally at home in a traditional folk setting, Sarah's clear and high vocal soars above the melodic but forceful push of the music. The first side of the album (if I'm permitted that pre-digital concept) is a masterfully sequenced rush through Come on Gang!'s finest moments. There aren't many records which get this bit right - where the arrangement of tracks sucks the listener right into the music from the start. The last record which got it quite this perfect from my perspective being Pixies "Bossanova" where nothing on that first side seemed out of place, and only the crackle of the run-out groove woke me from the shock and awe of its perfection. This starts with the playful, swinging live favourite "Coffee Shop" kicking off with an almost twee skip down the city streets, and building into a skyward spiral of guitars and vocals. However, it's not all pretty here - and the darker "Red Thread" grounds the record with a rougher, noisier edge - but it's here where the vocal dynamics seem to make most sense, with Sarah's voice reaching a howl of frustration at times.
The second half of the record suffers in comparison to the first, only because it would be hard to match the beautifully set-up tumble of ridiculously good songs which that features. The songs here grow a little more slowly and reflectively, but are ultimately just as rewarding - especially the searing "Santa Maria" which builds around a vocal which leans strangely towards the madrigal or traditional song of a bygone age. However, the storm of guitars drags it unequivocally screaming into this century. Finally, the album comes to a close with "Start The Sound" - a piano driven ballad which asks "If I stop right now will you listen?". It's an emotional close to a record which captures a moment in the existence of Come on Gang! and is a rare and genuine expression of the rock star rhetoric of burning out versus slow embarrassing fade away. The song closes with Sarah singing "We've come so far.." and it's impossible not to wonder how far Come on Gang! could have gone? As it stands this is a wonderfully diverse, life-affirming record which I know I'll go back to for all kinds of reasons, at all sorts of times.

Come On Gang! - Fortune_Favours_The_Brave
Lost::MikeGTN
I've had a home on the web for more years than I care to remember, and a few kind souls persuade me it's worth persisting with keeping it updated. This current incarnation of the site is centred around the blog posts which began back in 1999 as 'the daylog' and continued through my travels and tribulations during the following years.
I don't get out and about nearly as much these days, but I do try to record significant events and trips for posterity. You may also have arrived here by following the trail to my former music blog Songs Heard On Fast Trains. That content is preserved here too.
Navigate Lost::MikeGTN Find articles by category
Search Lost::MikeGTN
Other Places...