Posted in SHOFT on Monday 3rd January 2011 at 10:01pm
---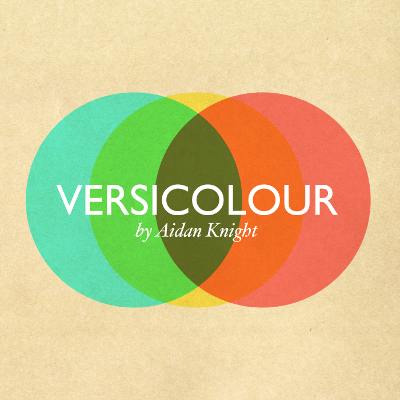 As the end of the year approached, with the 'best of 2010' lists all in and being given due consideration, the last thing I expected to happen was for something to arrive out of left-field which should have been up there among the finest releases in the last twelve months. But, the internet is a strange place - and a chance recommendation channelled through a Facebook posting delivered a video of Aidan Knight performing in his living room. A sparse, empty room which echoed with the strange sounds of french horns and guitar trickery while, appearing rather fragile among the serious looking musicians, Aidan Knight strummed deliberately at his acoustic guitar and sang about knitting!
Granted this doesn't sound like the way moments of clarity normally occur, but the video was so compelling that I found myself on Bandcamp parting with money for 'Versicolour' mere minutes after hearing what I later confirmed was really called "Knitting Something Nice For You". I was rewarded with a gem of a record which deserves wider acclaim than it has received so far for sure. I fired a quick email to a Canadian friend too, just in case I was about to make a fool of myself by waxing lyrical over someone who was a household name elsewhere over the Atlantic, but no - aside from noting that Aidan in his press shots appeared to look like "every other downtown twenty-something right now", they too drew a blank.
So what snared me so quickly about 'Versicolour'? The descriptions dotted around the internet certainly don't do it justice when they trot out the all-too-easy 'chamber folk pop' misnomer, along with the assumption that all Canadian music somehow leads back to The Arcade Fire. This record defies easy categorisation, and whilst built initially around the fragile picked guitar and vocal which Knight himself provides, the ensemble of musicians deserves huge credit for crafting an understated masterpiece. Notably, these songs are simple - some of them almost little more than half-expressed ideas at first, which develop into vast sweeps of brass or weirdly off-key country. By "Jasper" - the official closing track of the album - the band are belting out a gospel and western number, wonderful splashes of female vocal and sonorous bass backing the slide-guitar fuelled stomp through a quasi-religious lyric. Along the way we also get the slower burning, but compelling "Fighting Against Your Lungs", where a simple picked guitar and fragile vocal lead deceptively into a brass-drenched Salvation Army bandstand singalong of a tune. If what I'd heard so far had hooked me, this track - personal associations aside - dragged me dangerously deep into this lush, luminous record.
I'm aware I've not lived with this album long enough to write sensibly about it yet, and that this will come across as a breathlessly positive piece - but I wanted to share the unbelievable rush of optimism and delight that hearing this for the first time provided - and the credit for that belongs entirely to Halina and friends at Glasgow PodcART. There is more to discover here - not least a more recent EP. But I predict pretty soon Aidan's name will be heard in lots of places where quality, workmanship and fragile beauty are valued.

Aidan Knight - Jasper
Lost::MikeGTN
I've had a home on the web for more years than I care to remember, and a few kind souls persuade me it's worth persisting with keeping it updated. This current incarnation of the site is centred around the blog posts which began back in 1999 as 'the daylog' and continued through my travels and tribulations during the following years.
I don't get out and about nearly as much these days, but I do try to record significant events and trips for posterity. You may also have arrived here by following the trail to my former music blog Songs Heard On Fast Trains. That content is preserved here too.
Navigate Lost::MikeGTN Find articles by category
Search Lost::MikeGTN
Other Places...