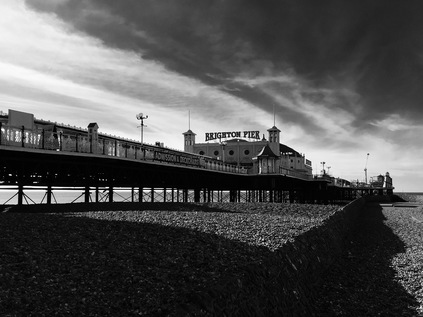 Posted in Travel on Wednesday 15th March 2017 at 11:03pm
---
It's a long time since I've made this trip...
As we skirt the edge of the Hamble Estuary in bright, spring sunshine I can almost ignore the weird doubling-over sensation in my gut. We've spent a few days in Brighton - a long promised destination, and one which has figured fairly often in my previous travels. That's because for a while, in the early part of the last decade, there were proper trains heading that way each Friday. I'd escape from work early, dash up to Bristol and hop about the four tired old carriages for a long afternoon's slog along the South Coast. Then, after some swift shopping in Brighton, I'd head right back. I even remember the time everything went badly wrong at Southwick and despite our driver's valiant attempts to coax the engine to Brighton, we blocked the busy route along the coast for some time. There were taxis, mad dashes to Mr Dong's takeaway in Cosham, and ultimately the satisfaction of getting out of a bind. Brighton is somewhere I've dashed into, around and out of swiftly. I'd never stayed in Brighton until this week.
Our hotel - really a some what glammed-up guest house on New Steine, just off the promenade, was comfortable and despite some oddities was entirely redeemed by serving a killer breakfast. We were a short walk through interesting, confusing Kemp Town from the Pavilion - and we took advantage of this to finally visit this bizarre example of Regency bling. The building was beautiful down to the surprisingly well-equipped kitchens which were light, airy and clad in clean white tile. The music room, victim of a mindless arson attack and storm damage over the years, was truly awe-inspiring. A high-vaulted, wonderfully colourful soaring place of wonderful decorations and surprisingly well thought out acoustics. Beyond the Pavilion were the Laines - numerous streets mixing genuinely innovative small businesses with the kind of 'alternative' shop which crops up in such spots. The wonderful Resident Records and several fine book and craft stores rubbed shoulders with junkshops rebranded as vintage emporia, vegan cafés and speculative tourist traps. The atmosphere though was rather special - like the Freemont Streetmarket in Seattle had landed on a warm spring afternoon in Sussex.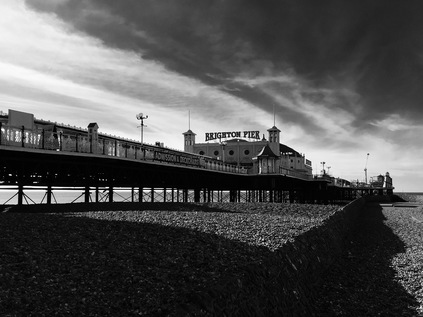 One of the goals on this trip was to experience The Salt Room, a recently opened restaurant on the sea front which garnered a wonderful review from Jay Rayner a month or so back. We weren't disappointed, and wandering along a breezy, dark prom after a fantastic meal which rather unusually felt like it had been worth every penny, we were both happy and pleasantly full of good things. Our other eating experiences here were less fantastic - with one local Spanish eatery which I won't name very likely giving me the dose of stomach cramp and nausea which seized me so inconveniently this morning before we headed back. Suffice to say, the owner and I are going to have words...
But after a long weekend in London, then heading for the coast to take early seaside walks, drink good coffee in the amazing Twin Pines, and to relax after some taxing times - well, it's been a good break which even some minor accommodation issues and a dodgy tummy can't ruin. Brighton was the unmistakable mixture which makes up the British Seaside - slightly down-at-heel and peeling, but surprisingly resilient to change. The city has embraced it's alternative reputation, and feels genuinely inclusive and welcoming despite being somewhere our grandparents would recognise readily.
There are a few more pictures from the visit here.