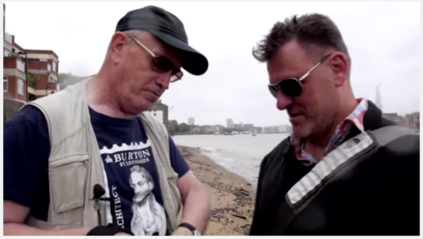 Posted in Film on Sunday 3rd July 2016 at 11:07pm
---
Arriving at the Rio Cinema yesterday, after an overheated morning walking to Barking Creek seemed odd. It was a fairly long leap from the stink of the River Roding's outfall to this rather special old building towering above Kingsland Road and proudly defying the sweep of new towers up from Dalston Junction. I was here for a film premiére - I can confidently say the first I have ever attended in fact. Schlepping in with my rucksack and my barely concealed aroma of the road and river, I was just a little concerned that I would be straying into a foreign world where I didn't fit. However, I was greeted at the door by the equally road-weary John Rogers - filmmaker responsible for today's feature, and long-time correspondent who I'd never actually chanced to meet in person. This is perhaps even more unlikely since we've trodden a fair amount of the same paths over the years of his filmmaking and my writing about a hard-to-pin down part of London which we both seem to instinctively know is our territory.
That said, I'd never flatter myself by comparison with John as, today's film being fine testament, he has managed to work with some of the most interesting and accomplished fellow walkers of this curious and liminal path in recent times. Firstly with his London Perambulator documentary following the idiosyncratic autodidact Nick Papadimitriou around his beloved Middlesex, and now with London Overground in which Iain Sinclair and Andrew Kötting retrace and disentangle their remarkable single-day walk around the now circular Overground railway line. The book is a curious journey - starting with shared stories and walking reveries between the duo, and drifting into a dreamlike middle-section as night falls and the city darkens. The tales drift away to other people and other times, the line somehow linking them back to a shared memory of the city. Where John has succeeded is in not simply trying to reproduce this walk - instead, the territory has been retrodden in sections, sometimes with both Sinclair and Kötting - occasionally, memorably reprising his 'straw bear' act from By Our Selves - but often with other fellow travellers like Chris Petit on hand. Indeed watching Petit and Sinclair strolling through Kensal Green cemetery is like eavesdropping on the private reminiscence between two old soldiers who have trodden and retrodden the material London offers, still finding new morsels and oddities all these years later. Kötting's much more down-to-earth antics are anchors, reminding us not to take this all to seriously. A walk is still a walk, despite the shifts and subtleties we might attribute to it. Despite how seriously it affected its particpants.
Because, in fact, John's film exposes the alarming conclusion of the book as one of it's central themes. Kötting's near-fatal motorcycle accident on his former home turf as he leaves London after the walk is as much the start as the end - the walk is a journey through his opiated memory, troubled by the recalled insertions of Sinclair's own history. As the damaged motorcyclist sleeps through his trauma, he rewalks and relives the circle of the Overground. The film moves fluidly through these dreamlike shifts between scenes and conversations and thus avoids being a mere documentary of a walk around a changing, disappearing London. Sinclair is candid and thoughtful throughout - able to talk with authority but little certainty about the last London - the city's end-stage as it moves into a post-post-Thatcherite era of offshore ownership and privatisation of land, air and water. His gentle tones and careful prose are pitched perfectly alongside John's camera work which is happy to linger on a curious railing or brick while the author speaks - a touch of Patrick Keiller in uncharacteristic close-up perhaps? Memorable too, are the scenes where Sinclair reads from the book to the accompaniment of local activist/solicitor Bill Parry-Davies' saxophone. These moments link Sinclair back to the beat poets he writes so effectively of in American Smoke - and to their own perhaps unexpected connections to the Overground railway too.
This cut of the film was edited specifically for this launch at the East End Film Festival, and there is every chance that by the time it sees another viewing it will include different scenes from the vast archive of footage which John built up on the walks and interviews he conducted. This is a good reason to seek out London Overground if you see it playing - it will be, a little like the railway which anchors it's existence - a changing and ever-surprising circuit.
Lost::MikeGTN
I've had a home on the web for more years than I care to remember, and a few kind souls persuade me it's worth persisting with keeping it updated. This current incarnation of the site is centred around the blog posts which began back in 1999 as 'the daylog' and continued through my travels and tribulations during the following years.
I don't get out and about nearly as much these days, but I do try to record significant events and trips for posterity. You may also have arrived here by following the trail to my former music blog Songs Heard On Fast Trains. That content is preserved here too.
Navigate Lost::MikeGTN Find articles by category
Search Lost::MikeGTN
Other Places...