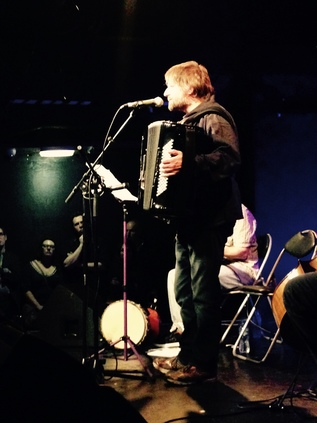 Posted in SHOFT on Saturday 31st January 2015 at 11:01pm
---
It's a sparkling, frosty night in the city. Bristol always benefits from a cold, crisp day - and there is something about the wintry atmosphere of anticipation outside The Marble Factory which makes for a buzz among the gathering crowd. We stamp and blow into our hands while a horde of hi-vis clad security, more used to unseasonally dressed, boggle-eyed ravers, look on disinterestedly. Here, tucked somewhere into the industrial zone behind Temple Meads station, is possibly one of the odder places I'll have seen Kenny Anderson perform. From civic halls in rural Lancashire, via rooms above Fife rugby clubs, I feel like I've walked a path with him this past decade. And that's why most of us are here tonight - because there is something about Kenny - or at least his musical-persona-cum-rotating-band King Creosote which makes us feel like we're part of something a little more significant. Something a bit special.
As we're waiting for the doors to open, I overhear a conversation nearby: "I've only heard one song on the radio, and it sounded good...." - and I realise I've written about just this sort of incident before. The unfounded feeling of mild superiority, the slight curl of disdain for the uninitiated. Don't pretend. We've all had it. It's a human enough trait. But any sense of this soon gives way to something very different: I'm excited for her. She's going to hear music she'll want to scurry away to discover. It'll be 'just hers' - a secret that she'll try to share with mildly amused friends. She'll want to find all she can of Kenny's improbably immense back catalogue. And I'm jealous. Because I'll not get to do that again...
But I'm not here to project whimsy onto snippets of probably misheard chatter, and when we're finally inside the huge space which is not really any warmer than outside, it strikes me that its almost two years since I saw King Creosote the band, as opposed to the more familiar solo or small ensemble show which has been ranging the length of the country this past year or so. Most recently this has been on the back of "From Scotland With Love", the beautiful and cheekily irreverent soundtrack to an hour of wonderfully evocative archive footage which aired just before the Commonwealth Games last summer. First up is Sorren Maclean who is part of the band tonight, and has been part of a fair number of Scottish bands over the past few years. Here though he is playing his own songs. Delicate and quiet, embellished with a little of Pete Harvey's cello and some fine fiddle playing - and somewhat typically drowned out by audience chatter. There's a cover of Bob Dylan's "If Not For You" thrown in there too, which is slowed to an emotive crawl, flecked with strings and delivered in his clear-as-a-bell Mull voice. I'm not sure the audience gave Sorren nearly the chance he deserved - but for those of us who listened, it was a rare treat in a support act which fitted the bill perfectly.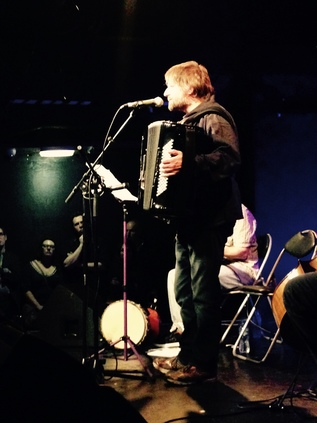 It's worth noting that The Marble Factory is in fact part of a larger concern - the Motion nightclub. Next door in what appeared to be a modestly sized aircraft hangar, preparations were already underway for the influx of gurning ravers, and a peek through the security door separating this smaller space from the gaping cavern beyond made me shudder with remembrance of my youth. That was never for me. This also meant that tonight's show was an early one, designed to finish at 10pm sharp to let things get underway at the club. I secretly thanked the youngsters who would be coming to dance for sparing this particular old man too late an evening, as the infuriatingly ever-young Kenny and his band took to the stage. There were familiar faces aside from Sorren and Pete: Amy MacDougall who has been part of the band for a while (sometimes known as Bam Bam) and Captain Geeko the Dead Aviator. Accompanied by an organist, a stand-up bass player and violin, this was the biggest group I'd seen KC front since his last stint with The Earlies in 2011. The tone was set early one with a run of songs from "From Scotland With Love" which started with a soaring take on "Something To Believe In" and culminated in a triumphant and tear-inducing "Paupers' Dough". Scanning back over the audience, there were a good few singing along with the uplifting refrain of "you've got to rise from the gutter which you're inside". There were also many, many happy and bewildered faces who clearly hadn't quite expected this. I've never seen an audience respond with anything less than warmth and enthusiasm to Kenny, and this was no exception. On the stage too, something remarkable was happening, and with the band effortlessly reading each other's cues and Kenny clearly thoroughly enjoying himself, things were sounding pretty good. The set was also peppered with new material - either yet to be recorded or from the currently vinyl only "Three On This Island" record which remains frustratingly elusive to me.
Cover versions have always been a feature of KC shows, and following an anecdote about his learning of instruments being linked to celebrity deaths, the band launched into a weirdly heartfelt take on Demis Rousoss' hit "For Ever and Ever". By playing it straight, not giving in to the temptation to make it a novelty, and teasing out the ache at the heart of the song, a radio hit that blighted my childhood was transformed beyond all recognition. As a counterpoint, the stomping proto-polka of "Largs" whipped the audience up into cheers and handclaps - even some mild bouncing around! No-one seemed to remember how chilly it was, or the fact that they had a cold walk back to cars and buses very soon. At the end, Kenny decided to dispense with the theatrics around the encore and encouraged the band to crouch down on stage in plain sight as the audience hollered for more, feigning surprise when they stood up to play us just a couple more songs. This included "Homeboy" which hasn't graced a KC set with a full band for quite a while, and concluded with a roaring, triumphant version of "The Happy Song".
So was Kenny happy? It's always hard to know if the misunderstandings and disappointments documented in his songs are recent, or hark back to the past - and so many of his songs have lived previous lives, reinvented and reinterpreted as he works with different musicians. But tonight, on stage with a band he clearly loved playing with and to an appreciative and surprisingly large audience, he looked pretty content. I hope the people who'd come out on the strength of that one song on the radio are now avidly seeking out new King Creosote material, just like I was after I first discovered them.