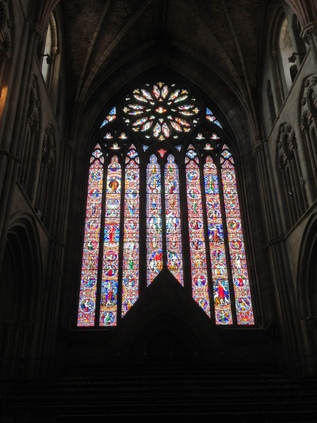 Posted in Travel on Sunday 15th September 2013 at 9:39pm
---
Wedged into a tiny train, far too small for the surprising amount of Sunday travellers, it's easy to be cynical about travelling around the UK by rail. Of course, I've spent a fair portion of my life doing so - but on the series of revisits in company which are now taking place, a little comfort seems far more important. I'm getting older, and wiser perhaps - and I'm very aware of the value of the little disposable income we have just now too. But that's not meant to detract in any way from an almost perfect weekend spent in my home county. Indeed the train up here yesterday was smooth, quick, relatively quiet and direct. Arrival at Foregate Street station recalled earlier visits for me - indeed one of my earliest trips in the 90s was a complicated set of connections to enable me to get here, then to head for Birmingham via the less travelled road to Snow Hill which had just re-opened. That set off a series of track collecting activities which brought together my love of geography and railways in very dangerous ways.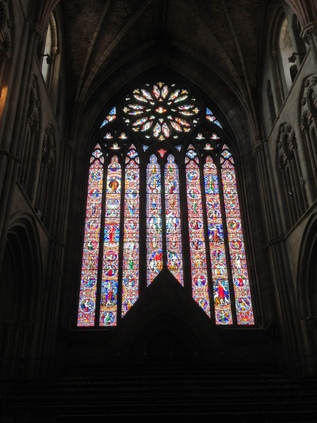 Alighting and heading down to the bustling streets is always a bit of a strange surprise. Railway stations are so often not in city centres, so to be plunged directly into one is both pleasant and strange. We soon met our friends and wandered the city. For me it was recalling how much or indeed, how little had changed since I was last here. For others it was a more novel experience. We stopped into a small pub with sloping timbers and erratic floors and found great food and even better beer. A rainstorm passed over, and we headed out into the city again, working our way towards the impressive Cathedral. It was a good while since I'd been here, and it was a delight to experience it again in newly appreciative company. We spent a good while examining the memorials, marvelling at the statuary and paying respects to Elgar, linked strongly here by music and history - a name introduced to me early at school not far away, but still not dimmed by over-familiarity like some early influences. We decided to walk out to the suburbs to our bed for the night. Out of the Cathedral precinct and down stairs, noting the historic record of flood levels as the stone walls developed a green coating of river weeds. We emerged on a broad lawn beside the Severn - the weather had brightened and the youngsters of Worcester were lounging happily. We set off along the river path - and I felt suddenly and strangely content to be beside water again. After a short walk, not entirely easy with a rolling case in tow, we arrived at the junction of the Worcester and Birmingham Canal with the River. A flight of wide-beam locks raised the water level to Diglis Basin - houseboats and barges moored alongside old industrial buildings, the sun shine now picking out the brass and bright painted designs. We slowed and entered a canalside pub, enjoying the fading evening in good company.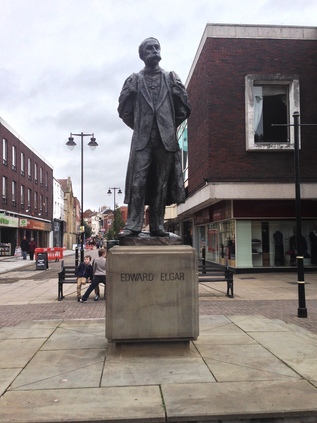 Today was a gloomier, overcast proposition but we set about finding Elgar's statue - and unexpectedly a plaque honouring his enthusiasm for cycling. Next we headed for good coffee and watched the world go by. Worcester is one of those cities which manages to stay resolutely bustling on a Sunday - not unlike Gloucester where I would often find myself heading in the winter. The city centre is blighted by unwise development and curiously bad modern buildings, but enough remains to make it a charming and resolutely English part of the world. Our travels just now are often swiftly arranged and based around limited resources but slowly we are working our way to the spots that I've loved - and some indeed that I've never visited. Long may our wandering continue...
Lost::MikeGTN
I've had a home on the web for more years than I care to remember, and a few kind souls persuade me it's worth persisting with keeping it updated. This current incarnation of the site is centred around the blog posts which began back in 1999 as 'the daylog' and continued through my travels and tribulations during the following years.
I don't get out and about nearly as much these days, but I do try to record significant events and trips for posterity. You may also have arrived here by following the trail to my former music blog Songs Heard On Fast Trains. That content is preserved here too.
Navigate Lost::MikeGTN Find articles by category
Search Lost::MikeGTN
Other Places...