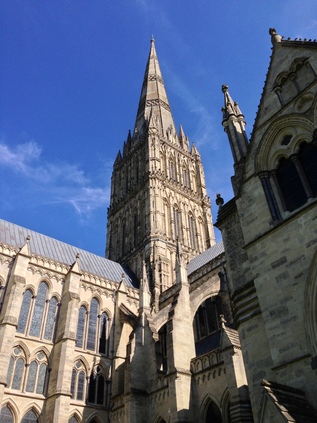 Posted in Travel on Sunday 30th June 2013 at 10:30pm
---
Having spent a week feeling under the weather, this weekend couldn't come soon enough for me. Over the past few months, weekends have taken on a new significance - and I find myself consciously trying to make sure they count. It wasn't easy this time - I was still feeling sick and fractious yesterday, but we'd managed a run down to Taunton on what turned out to be a rather warm afternoon. Today however was a little different - we were to meet some tourist friends here from the US, and travel with them around some West Country highlights. This began with a far-too-early start for a Sunday morning, and a pleasantly sleepy train ride to Bath Spa. Here we met our friends and wandered around the Georgian city. I'm not the best tourist in Bath - it's a little too overwrought and self-concious for me - but I have learned to like the place much more in recent times, and I think we gave good account of it. The Pump Rooms, the Abbey and Pulteney Bridge all managed to surprise and delight the assembled group at least. But we had other targets for the day too...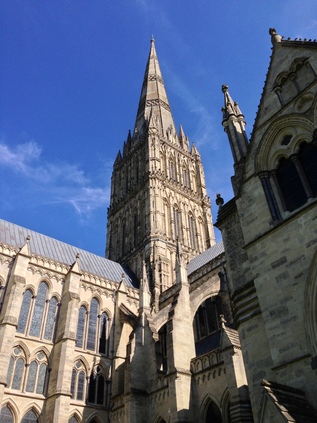 Hopping in to the hired car, we set off into deepest Wiltshire in search of history. The driving was, at best, pretty terrifying - but I guess switching from right to left is a fairly significant change. Nevertheless, despite the slightly erratic veering into the kerb, we soon began to make some progress. After a couple of wrong turns, we were on the Salisbury road, dipping into valleys and soaring out of them onto high ground. The
Chalk Horse at Westbury
helped to orient me, as did a passage under the railway line near the tiny Dilton Marsh station. I was on familiar turf here, but seeing it from a very different viewpoint. While the train cuts through the valley with grace, the road bucks and curves relentlessly along the floor.
We arrived in Salisbury in time for a lazy lunch. The sun was high and the city looked rather spectacular. I'd last come here many years back on one of my earlier escapes, and I'd enjoyed wandering around the High Street with it's haphazard, overhanging buildings and reek of history. It was perhaps a little more special to do so with new faces, and the realisation that some of these buildings significantly pre-dated their nation's founding was an interesting one to see. After eating, we gravitated towards the cathedral, it's almost absurdly tall spire shooting high above the rooftops and creating a somewhat dizzying prospect from down below. Inside a service was in progress, which limited access to some parts of the building, but created a heady atmosphere as the choir sang. I was finally beginning to feel better than I had for days, and couldn't wait to be on the road for our next destination...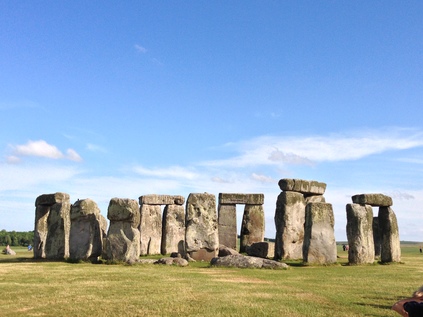 I first saw Stonehenge on a family trip many years ago, and I recall significantly seeing it again on the drive to Gatwick Airport for my first flight to the USA in 1994. It has always been a distant, almost unreal thing. Suddenly appearing over the brow of a hill, set against a steely sky. It moves ominously across the windscreen - silent and impressive from a distance. It looks like a model, a tiny Spinal Tap style replica placed carefully onto Salisbury Plain. So, after a high speed drive to make it before closing time, we found ourselves shuffling along with a still surprisingly strong crowd, through a building site. The road which cuts close to the Henge is finally closing, the A303 still shudders and rumbles just across the fields, but at least things will be just a little quieter. Emerging from the subway under the now deleted road, we find ourselves just feet away from the ancient monument - and despite my earlier thoughts about how this might feel, I'm oddly moved. We work our way around the monument, and finally there is a gap where I can get a picture of the stones sitting against a perfect, blue summer sky. We're tired, and the week has taken it's toll on us - but now, here on the windswept plain it feels right to be in Britain, the history stretching and winding back from us. The future uncertain, but anticipated eagerly. But staring at the massive sarcens before us, the question remains.... "why?"
It's getting late and the sun is giving way to a slow, midsummer haze which will become dusk. We decide to stay neolithic and head back to civilisation via Avebury. I navigate us onto the curving road to Marlborough. Another white horse on the hillside, and then a sudden descent into the pretty town - it's another off-the-railway place nowadays which I'd normally never get to. I make a mental note to come back here. Suddenly, Silbury Hill looms over the road. A dark, conical mass. Sinister and remote from anything else, it looks uninviting and gloomy. It's impressive and unsettling in equal measure, as we turn and keep the barrow on our right. Almost just as unexpectedly, Avebury is upon us! The road zig-zags through the village, and on all sides of us there are monuments, avenues, stones standing jagged and precarious. The whole village is encircled by what must have been a vast stone ring, containing other smaller circlets. Our swift flypast doesn't quite do this justice, so it's another one added to the list.
Finally back on the motorway we make good progress to Bristol. Tired and sleepy, a little road weary and battered from the full-tilt rollecoaster ride around Wessex, but happy to have finally seen these sights for myself. There is so much left of this country to explore, and a new incentive to do just that...