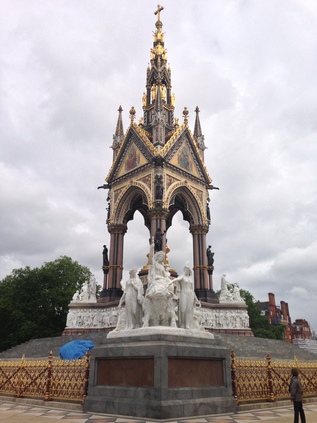 Posted in London on Sunday 23rd June 2013 at 10:47pm
---
This trip had caught me somewhat unawares, coming at the end of a month which had been pretty eventful and as a result, fairly expensive. So, it was London on a shoestring - something I'd done plenty of times before. Indeed London is a city where it's very easy to do lots and spend little - and while its always easier to do the opposite, there is a kind of purity in keeping it simple. An added complication was the demise of my Oyster Card. I've had the card for years - and despite a few issues which have always been refunded, it's worked fine. But now, TFL have decided to take issue about a payment which was due during my debit card switch over period. I could just pay - but they've decided to cancel the entire account instead. So this felt like a very odd trip in some ways - London without the traditional means of getting around, and with very little planned. A blank canvas?
First stop once at Paddington was to get a new card and load on some credit. From here we made the eastward run to the place we were staying with friends once again. We arrived on a blustery but clear evening - the longest of the year - and relaxed. It was good to kick back after a fairly tough week or so, and the prospect of a day of exploration in areas I hadn't visited for a while was a fine one. With a fairly late start the next day, we set off on foot to Snaresbrook station. The terrain out here is always surprising. Once out of the Lea Valley and over the ridge into the Roding, the change in tone and situation is evident immediately. A little vestige of Epping Forest on the corner is testament to this being a much more salubrious neck of the woods. But just a stop or two down the line and we're in Leyton - closer to my usual wandering zones - comfortable with my discomfort. We press on to Mile End and make the cross-platform leap to the District Line and straight to South Kensington. Exit is by the Museum Tunnel - the second time I've used this - and it's still an impressively engineered, fiercely practical way of moving dry, happy people around this vast complex of knowledge.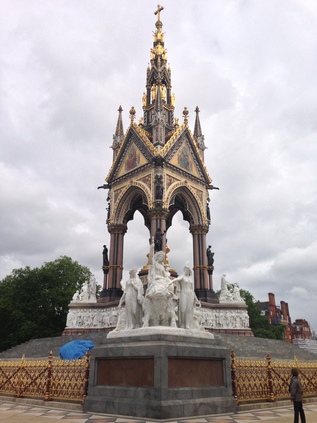 After a pleasant morning coffee in the quadrant, surrounded by the fine buildings of the V&A, we perused the South Asian and Indian collections before regrouping in the stunningly tiled refreshment room. Our next plan was to wander up the grand Exhibition Road and find the Albert Memorial. I hadn't walked this way for a very long time, but the geography was quickly recovered - the long, straight planned sweep up to Hyde Park, the huge bulk of the Royal Albert Hall oddly hidden until up really close, the suddenly a flash of gold in the otherwise grey skies as the first glimpse of the memorial appears. We spent a while here, interpreting the text below the figures of great artists and examining the corner groupings which represent each continent - aside of course from examining the gleaming golden man himself, set in a starry-ceilinged booth. It was both spectacularly overdone and deeply touching in once. Seeing it thus, through new eyes after long years, it seemed both fresh and surprisingly real, standing against the wind. Return was a meandering trek - a top-deck bus ride along Oxford Street, a shopping trip on the Caledonian Road, then the Underground back to base.
Another lazy Sunday start led us onto the train, alighting at Stratford and heading to get coffee in Westfield. I remain intrigued by this place - it's odd mixture of public life and private function, and especially the rather zealous security guards who prowl, only an armband and a walkie-talkie between them and real trouble. We whiled away an hour or so, before heading out to press our noses against the fence of "London's most exciting new suburb". The site was quiet and empty, and felt odd. We made a run to John Lewis and headed for the bus back west along Whitechapel Road, switching near the Bell Foundry for the direct bus back to Paddington.
We packed quite a bit into a couple of short lazy days this visit, and a tired but happy run home confirmed this. London opens new doors each time I visit, and even more opportunities arise each time I visit in company. The contrast between the treasures and wonders we saw in South Kensington, and the skeletal pointlessness of the Arcelor Mittal Orbit couldn't be greater - but I still love the eastern fringes much better somehow...