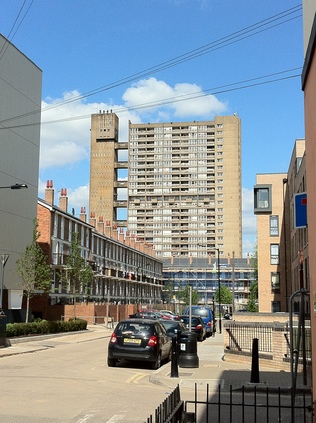 Posted in London on Sunday 2nd June 2013 at 10:06pm
---
It's fair to say that life has changed quite a bit in recent times - and while my excursions to London are less frequent they have also become a little more important in terms of keeping me connected to the city. This weekend has been a purely tourist jaunt in many ways, though even a sightseeing trip can't avoid re-treading old paths. I found myself stalking the corridors of Windsor Castle around thirty years after I last visited - but also finally explored the tunnel between South Kensington station and the museums which I'd read about so often but never actually needed to use. But on a Sunday afternoon in surprisingly good weather I found myself with a little time for the kind of wandering which wouldn't work well on the tourist itinerary.
I began in the unlikely territory of Wanstead, hopping a bus in the High Street and heading into the suburbs. Curving around the wide, yellowing expanse of Wanstead Flats, we nudged through traffic and shadowed the railway through Maryland to Stratford. In more familiar territory I disembarked and changed for the DLR. It was odd to be unencumbered - no bag, not even a coat - and I felt almost inauthentic and exposed. The DLR took me to All Saints, where I ascended and crossed onto Chrisp Street. No market today, just baked pavements and cars sluggishly trawling, banging out dance music. I felt even more out of place, unwelcome - a rare feeling here and one I wasn't expecting.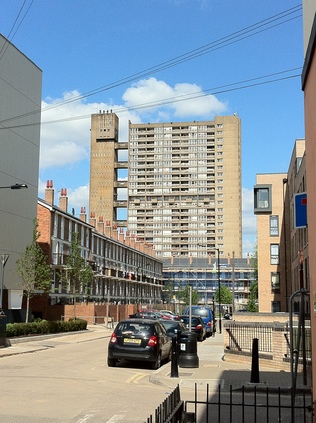 My target was the Brownfield Estate. I'd read an article which had extolled the virtues of Balfron Tower - the eastern cousin of Trellick Tower which signalled my arrival at Paddington each time I found myself in London. Trellick is brutal but oddly graceful - tall, set away from other buildings and surrounded by a low-rise development of sister blocks. Balfron Tower soon made it's presence felt too - squatter somehow, the service tower seemingly more delicate against the bulk of the utilitarian residential block. It too was the tallest building for quite a distance, but it didn't seem so completely free of clutter and couldn't been seen clearly until up close. When it did loom up out of the ground, it was stark, shocking and unsympathetic. But, doubtlessly impressive. The ground level area was dirty, empty of people and subject to redevlopment. A few children yelped by after bursting from a nearby door. A student couple looked disdainfully at me as they left the tower, scornfully regarding me flicking my camera out to get a shot of the building. Otherwise, any sound was confined to the hum of the distant East India Dock Road and an occasional Heathrow bound jet scoring the otherwise blue skies.
I picked my way north, skirting Glenkerry House - another block with a Goldfinger style tower attached - but this one was less residential and looked like some sort of lookout tower policing the Blackwall badlands. The lazy summer sunday feeling returned a little as I progressed towards Langdon Park. A bus slowly plopped over the traffic calming measures, and I found myself beside Langdon Park DLR station, where a new youth centre is being built from gleaming pink plates of copper which beat the sun back at me pleasantly. Each platform was adorned with chunky, cast metal writing which looped the name of the station in friendly hand script.
My short excursion was done - and I considered how London and it's environs could still fascinate and draw me in. From the surprising interest of Windsor Castle to the odd, magnetic presence of Ernő Goldfinger's powerfully brutal blocks, the built environment and it's affect on the city and the people remains a strange attraction. As the anniversary of the grand spectacle of 2012 approaches, and I gain a year of perspective on the feverish, almost desperate walks I undertook at such a strangely liminal time of my life, I'm beginning to understand how important the city is to me too.