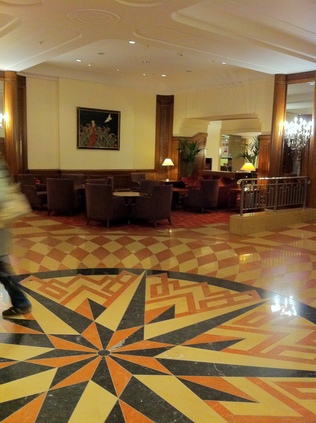 Posted in London on Friday 11th January 2013 at 3:18pm
---
A trip to London has rarely seemed so bleak. I have been kidding myself for weeks that I'd do something significant or defining today, that after leaving Heathrow airport, I'd take some sort of diversionary bus ride east to find the land on which all this began. That I'd stalk the Old River Lea to rediscover the summer locations where I pored over missives from across the ocean, before walking on into the post-Olympic haze across endless expanses of empty ground resplendent with possibility. Of course I've done nothing of the sort. Fresh from a painful parting at Terminal 5, I've stumbled back to London and drowned my sorrows in free coffee. Now I'm sitting in the corner of the station, watching a disinterested falconer chase away pigeons. She chunters into a mobile 'phone while her charge strains at its leash to escape her arm and tear apart a pigeon which, wise to the incarceration, looks quizzically up at the bound bird of prey. There is some sort of metaphor here for not getting what you want, but my tired, emotionally overwhelmed brain can't quite grasp it just now.
But London hasn't always been like this of course - and just a week ago there was another trip here. Originally it would have been the trip on which I wrote about how painful and harrowing things were, but illness and re-arranged flights have changed things - strangely for the better. This left us with half a journey to London booked, which meant a Saturday afternoon departure from home. On arrival we checked into the Hilton Paddington - a hotel I'd always wanted to visit, and which I'd ended up getting an absurdly good deal on. It was by far the best hotel we'd visited during the trip - a beautiful haze of art deco features and furnishings, a curved staircase leading to a period frieze, and rooms which echoed the same heyday of the Great Western Railway perfectly. We settled into this immediately. It was our kind of place.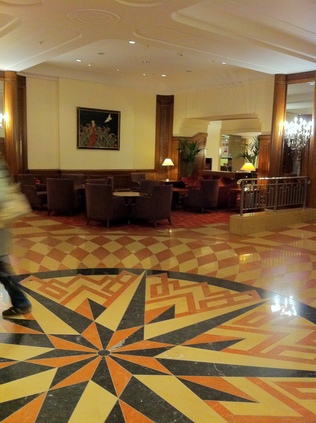 The purpose of the trip was to take in a comedy show in Wandsworth. I've walked these environs before in search of William Kent, and I knew that this wasn't going to be a salubrious jaunt. We took the bus as far as the ludicrous but oddly interesting ski-ramp roof of Vauxhall bus station, and negotiated the crossings to Wandsworth Road. Passing the hulk of New Covent Garden Flower Market, I reminisced about my 2004 wanderings here to find the address of Kent's father's print works. As we made further progress, side-streets stood out - Larkhall Park, sharing a name with one of his street addresses. Wandsworth has changed little in the intervening eight years - except for the area immediately around Vauxhall. Rebranded St.George's Wharf, an absurd skyscraper is beginnning to loom above a modern, waterfront development which rivals anything the north bank has to offer. But a walk south into the Local Authority blocks sees a distinct cultural and demographic shift. The Lost Theatre is tucked into a curious, modern building - a small but well-equipped venue which puts the audience close to the performer. The audience was a little sparser than I expected - but this provided a perfect, conversational air to Andy Zaltzman's performance. Despite asserting that he's "not a banter-based comedian", his set was gently interactive despite hauling in some of his 'greatest hits' too - including the sprawlingly silly, and very funny tale of "Mickey Paintbrush".
Heading back on the bus, it's good to be out of the cold evening and watching the lights of the city rising as we head north again towards Vauxhall. A quick change here sees us on a 436 heading along Park Lane, the hotels and car dealerships glittering in the winter night, while taxis line up to take people home from the whirling, gaudy fairground rides which are still operating in Hyde Park. It's strange to be arriving at the front of the Hilton and walking up the red carpet into the beautifully appointed reception hall, and even stranger not to be heading into the station for the ride home. There is a sense of luxury, not least at the extra days which seem endless now, and which mean that an early morning trip to Heathrow tomorrow can be deferred. London has rarely seemed so intimately scaled, so rich with possibilities and options for future visits. I think about my plan to head back into the city after the Heathrow trip - at this point almost a week away - and it still seems like the best possible idea...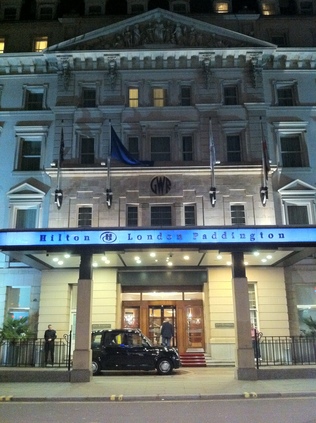 Back at Paddington, the falconer has moved on and the pigeons have returned to an unconcerned search for discarded food. My train will soon be ready for boarding, and I'm aware that it's going to be an effort to drag my aching back and legs onboard. The flight will have been airborne for almost two hours now - and will have cleared the tip of Scotland for sure. I think of Scotland, of future trips planned - and of desperate dashes around Glasgow last October. Feverish 'phonecalls from dingy music venues, pictures of junk shops, revisited locations seen through new perspectives. The year is starting from a whole new viewpoint for me, informed by that trip and all that came after it. London will figure large in this future I'm certain. It's time to go home - but it doesn't feel quite like home just now. There is something missing...