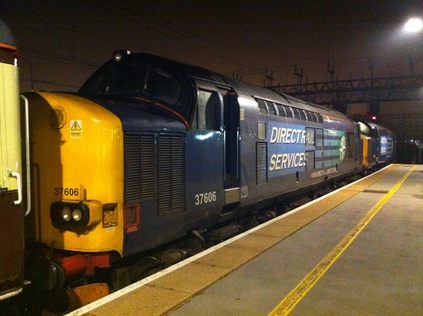 Posted in Railways on Saturday 24th March 2012 at 10:36pm
---
After a bit of an absence, it's back to the railtours with a vengeance these next couple of weeks. With a BLS trip to Immingham next weekend, and Pathfinder's long-awaited redate of their 'Coal Grinder' trip today, it's going to be a bit of a festival of red lines in the atlas. Given that it's been something of a low-mileage year to date too, and because Premier Inn had offered a free night I had to take soon, I'd also elected to head up to Crewe yesterday to do this tour from the start. As I stomped down to the station at 04:30 I doubted the logic of this. I could have been getting on three hours later at Bristol Parkway and have had at least an extra hour or so in bed, but instead I was wandering bleary-eyed around a very misty station with a bunch of very odd people indeed. Pleased to see a couple of familiar faces before long, and I was soon settled into the seat I'd hardly leave all day as we sped into the fog.
After an early breakfast to avoid the queues and picking up the rest of our as ever, lively party we continued towards Bristol and the Severn Tunnel. I realised that this was my first Class 37 haulage of the year - a rather unusual situation in itself, but also that I was travelling behind a member of the dwindling class I'd not had before. With a new 66 on the back too and some pretty big track on offer this promised to be a good day out. As the fog burned away the sun rode high above south wales. Enjoyed some new ales and chatted sleepily as I tried to maintain consciousness for the interesting bits - never easy on a warm, beery day. Eventually we curved off the mainline and headed for Tondu. The length of our train meant that the planned reversal in Llynfi loops was out, and we used Garw instead. I'd been here once before on a previous Pathfinder job. Making sure we headed right to the end, we continued this year's tradition of trying to do as much as possible on these trips - a welcome change from the era of 'paperwork issues' and lost track. Reversing we used the Ogmore Vale Extension to head past Parc Slip and Margam Yard, before a last fast run along the mainline via Cockett into Llanelli. Here things got interesting, with a reversal onto the Genwen Loop near Trostre Steelworks, then a brief chug along the bottom of the Central Wales line before heading away and climbing towards Gwaun-cae-Gurwen. This route, for which we'd received a special dispensation to travel, has only recently come back into freight operation and we were clearly a novelty with many folks coming out to see the train. Noted special notices fixed onto crossings announcing our presence today too, such is the rarity of trains passing. Finally at the top, near the opencast workings, we pushed as far as we could before coming to a rest. Mission accomplished at last, many months after originally planned!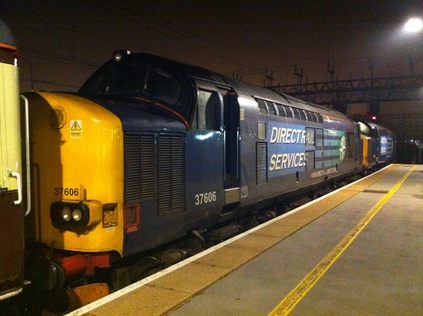 After heading back down the branch we took the rather unusual curve onto the district line at Hendy Junction, then turned south at Jersey Marine and took a long slow trip along the line to Burrows Sidings. Now a site reserved for crippled wagons, we pushed as far as we could to the boundary of ABP property before reversing once again and taking the line between the chords from the district line. At Neath and Brecon Junction this divided again - one branch tantalisingly heading for Onylwyn while we took the eastern fork and climbed, rather gingerly towards Resolven. At a crossing we came to a halt, and the pair of 37s didn't quite get us moving. The tail loco was swiftly powered up and gave a mighty shunt which got the heavy train moving again. We finally made it to the top of the line, bathed in beautiful sunshine and again drawing the attention of crowds of locals, including one rather gruff looking woman in her dressing gown who leant on her wall and surveyed us with disdain until we left her in peace. Back down to Jersey Marine to reverse again and take the third arm of the junction and regain the district line. Only a little late now due to some very odd timings, we sped up and headed east along the mainline. Through the centre roads at Cardiff Central, and then onto the relief lines in order to take the Bishton Flyover, there was no stopping us, and we arrived at Bristol Parkway a little early, and in plenty of time for my connection.
As I used the familiar trains home, I had chance to ponder the day - an early start, a long day and no photo stops or off-train breaks at all. Some were grumbling about it online, others just excited to have done the very rare track as advertised and planned. These are just the sort of tours I find myself enjoying more and more as time goes on - and combining these with more regular trips keeps me moving and exploring. That can't be a bad thing.